Microsoft Excel VBA Complete
» back to Search Results
Topics included in this 2-day course: Building Solutions, Macro Basics, VBA Programming Basics, VBA User Form Basics, Deployment Basics, Customizing Macros, Enhancing VBA Code, Handling errors, Accessing External Data, Excel automation.
Course Start Date:

Dec. 12

Location: Ottawa

(Map)

Time:

9:00 am - 4:00 pm

(Note on end times)

Please Note: End Times are approximate and depend
on the number or students and pace of the class.
It is important to allow for the class to run a little bit longer,
or finish a little sooner, than expected.

Duration:

2 Days
Delivery Method(s):

Instructor Led

Mentored training is a revolutionary training method
that provides you with the quality training that
you have come to expect, and combines it with
flexible learning and a self paced environment.
For more information click here.

Seats Available:

YES

Category:

Microsoft Excel Training
Course Outline

Course Length: 12hrs (2 Days)
 
VBA is the programming Interface for Excel and is used to automate tasks and generate easy to use code with other applications. VBA can be used in any version of Microsoft Excel. VBA's ability to automate and produce efficient results makes any Excel worksheet easier to use. Simple codes are written into short programs and are used to perform specific, repetitive tasks.

Learning Objectives:
In this course, you will:
- Record And Run Simple Macros
- Use the VB Editor and Code Window
- Create and Edit VBA Code
- Work with Objects
- Work with Variables
- Create Procedures and Functions
- Work with Forms and Controls
- Understand Debugging
 
Target Student:
This course is designed for students who need to automate repetitive tasks and create simple macros that run in spreadsheets. Knowledge of Excel spreadsheets is recommended.

Course Outline:
Section 1: Basic Macro Concepts
How to Record a Macro, Re-recording a Macro
How to Play, Delete, Edit and Rename a Macro
Using Relative Referencing
Running a Macro While Recording Another

Section 2: Macro Security

Section 3: Personal Macro Workbook

Section 4: Dealing with Ranges that Change Size over Time

Section 5 - 8 Different Ways to Run a Macro
Adding to Ribbon, Creating Buttons, etc.

Section 6: Visual Basic for Applications - Basics
The Visual Basic Editor
The VBA Toolbars
Modules
Protecting a Module

Section 7: Writing Code
Objects, Properties and Methods
Using the With Construct
Recording vs. Writing – Pros and Cons
Getting Help with the Object Browser
Declaring and Using Variables
Using Formulas in Macros

Section 8: User Interaction
Input Boxes and Message Boxes
Formatting Input or Message Boxes with the Format Function

Section 9: Adding Special Characters including Line Breaks

Section 10: IF Statements
Message Boxes that Allow for Input

Section 11: Running Other Procedures

Section 12: Event Trapping
On Error
Auto_Open() and Auto_Close()




Prerequisites & Certificates

Pre-Requisites

This course is intended for participants who are familiar with Microsoft Office Excel 2007.

Certificates offered

Training includes 1 course manual, a Certificate of completion, and a voucher for 30 days of After Training Support




Cancellation Policy

Compuease Cancellation Policy
We at Compuease work hard to arrange our schedules around your needs. Last minute cancellations put additional strain on our schedules and therefore we have the following Cancellation Policy for our Public Classes. You may cancel or reschedule a registration at any time up to 10 business days before the class without penalty. Canceling or rescheduling a registration within 10 business days requires full payment of the course fee. You are welcome to transfer your seat in a class to another individual at any time before the class.




Map & Reviews

CompuEase Training Classroom
130 Albert Street
Suite 801
Ottawa, ON
Canada K1P 5G4




Reviews

We have not received any reviews specific to this course as yet, however here are some reviews of the training vendor.
Registration is fast, and will take approximately 3 minutes. There is no membership fee.
» You are also welcome to Make an Offer

Not enough budget for this course? Maybe you just love to make deals!
In either case, our Make an Offer feature gives you the opportunity to name
your own price. Try it out, you might get lucky, just keep in mind it can
take up to 1 full business day to get a response!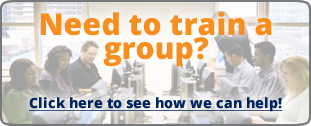 This course currently does not have any dates other than this one scheduled. Please call 1-877-313-8881 to enquire about future dates.
Not interested in this Course?
Tell us why:
This page has been viewed 46 times.