PowerPoint 2007, Regular Beginner (Available in French or English)
» back to Search Results
In this 2-day course you will be producing a simple presentation from the design to printing using various available tools.
Course Start Date:

Oct. 23

Location: Montreal

(Map)

Time:

9:00 am - 4:30 pm

(Note on end times)

Please Note: End Times are approximate and depend
on the number or students and pace of the class.
It is important to allow for the class to run a little bit longer,
or finish a little sooner, than expected.

Duration:

2 days
Delivery Method(s):

Instructor Led

Mentored training is a revolutionary training method
that provides you with the quality training that
you have come to expect, and combines it with
flexible learning and a self paced environment.
For more information click here.

Discount Seats Available:

2

Category:

Microsoft Powerpoint Training Courses
Course Outline

In this 2-day course you will be producing a simple presentation from the design to printing using various available tools.

Course Outline
Day 1
The Environment:


Starting PowerPoint;
Opening an existing presentation;
Exploring the PowerPoint screen;
Displaying a presentation using PowerPoint;
Changing zoom percentages;
Navigating a presentation;
Getting help.

Basic Concepts:


Creating a new presentation;
Inserting a new slide;
Deleting a slide;
Adding text to a slide;
Print previewing;
Selecting what you preview;
Checking spelling as you type;
Saving your presentation;
Using AutoCorrect;
Selecting text;
Copying and moving text;
Repeating operations.

Formatting:


Changing text formatting;
Working with bulleted lists;
Adding speaker notes;
Working in Outline view;
Working in Slide Sorter view;
Modifying the slide master;
Adding a page header/footer.

Pictures and WordArt:


Using the ClipArt Gallery;
Working with WordArt.
Drawings and Annotations:

Using the Drawing toolbar;


Text boxes;
Drawing objects;
Selecting objects;
Changing an object's color(s);
Resizing objects;
Moving and copying objects;
Inserting text into objects;
Rotating and flipping objects;
Changing the stacking order of objects;
Grouping and ungrouping objects.

Day 2
Tables:


Creating a table;
Navigating a table;
Selecting cells;
Resizing tables;
Changing the appearance of a table.

Organization Charts and Diagrams:


Making organization charts;
Entering data into an organization chart;
Creating, deleting, moving, and editing boxes;
Creating diagrams.

Introduction to Charts:


Creating a chart;
Exploring the Ms-Graph screen;
Interpreting a graphic;
Data series (by row or by column);
Working with chart options;
Formatting chart objects;
Choosing a chart type;
Returning to PowerPoint.

The Slide Show:


Creating and launching slide shows;
Spice up presentations with transitions;
Animation effects.

Printing:


Displaying presentations in black and white;
Changing a slide's setup;
Printing a presentation.

Appendix:


Saving and recuperating when errors arise;
Signaling errors;
Recuperating the application and the document.




Prerequisites & Certificates

Pre-Requisites

Microsoft Windows

Certificates offered

Certificate of completion




Cancellation Policy

All registration cancellations made within five (5) working days of the date of the course are billable at 100%. Synesis reserves the right to cancel any public courses due to lack of sufficient participants.


Map & Reviews

Versalys
1440, rue Ste-Catherine Ouest
10e, bureau 1010
Montreal, QC
Canada H3G 1R8




Reviews

We have not received any reviews specific to this course as yet, however here are some reviews of the training vendor.
Registration for this course has been closed.
This course may be available on a different date listed below.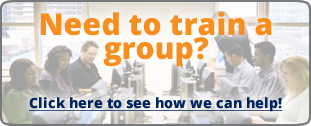 This course is also scheduled on the following dates:
Not interested in this Course?
Tell us why:
This page has been viewed 33 times.