Project Management Fundamentals
» back to Search Results
This course is a primer on the basics of Project Management. It will provide students with the big picture of how Project Management tools & techniques are used to establish a firm foundation for a project, create project plans, select and organize a...
Course Outline

This course is a primer on the basics of Project Management. It will provide students with the big picture of how Project Management tools and techniques are used to establish a firm foundation for a project, create project plans, choose the most appropriate scheduling method, select and organize a team to perform project tasks, monitor and control ongoing project performance, and close the project upon its completion. Students will also learn how to minimize risk throughout the project life cycle by using contingency planning techniques. This course does not make use of any Project Management software application, but focuses instead on the conceptual underpinning that students must know in order to use any Project Management software application effectively.

Delivery method: Instructor-led, group-paced, classroom-delivery (including "virtual" electronic classroom) learning model with structured minds-on and hands-on activities.

Benefits: Students will learn how to use Project Management techniques to plan, organize, control, document and close out their projects successfully and with minimum risk.

Target student: Students enrolling in this course should be planning to lead a project (primary audience) or serve on a project team (secondary audience).

Performance-based objectives Lesson objectives help students become comfortable with the course, and also provide a means to evaluate learning. Upon successful completion of this course, students will be able to:

* 1. Describe the steps in each phase of the Project's Life Cycle and the various roles that Project Management plays throughout.
* 2 Identify the purpose and required elements of a Statement of Work (SOW).
* 3. Discuss techniques used in setting up and running a smoothly-functioning project team.
* 4. Identify the elements of a Deliverables Breakdown Structure (DBS) and Work Breakdown Structure (WBS) and the role these documents serve in planning a project.
* 5. Discuss how Gantt Charts and Network Diagrams are used to identify the Critical Path for completing a project on schedule.
* 6. Identify elements of an Activity Plan and the role it plays in documenting time and duration of project activities.
* 7. List elements of a project budget and describe how they are derived.
* 8. Describe how to control for deviation from plans and schedules using Earned Value Analysis techniques.
* 9. List elements of reports documenting project status or requesting changes to the project plan.
* 10. List important steps in project close-out.

Course content Lesson 1: The Project Life Cycle
What is a Project?
Task 1A-1: Differentiating between projects and non-projects
Project Life Cycle
Task 1B-1: Listing the steps and deliverables in a project
The Role of the Project Manager
Task 1C-1: Understanding the role of the Project Manager
Apply Your Knowledge 1-1

Lesson 2: What Makes a Project Successful?
Project Definition and Scope
Task 2A-1: Defining project purpose
Task 2A-2: Defining project goals and objectives
Task 2A-3: Defining project scope and scale
Task 2A-4: Defining project deliverables
Task 2A-5: Identifying stakeholders
Task 2A-6: Defining sign-off and review hierarchies
Task 2A-7: Defining a reporting plan
Apply Your Knowledge 2-1
Statement of Work
Task 2B-1: Putting the elements together
Apply Your Knowledge 2-2

Lesson 3: The Project Team
How Do You Select the Right People for Your Team?
Task 3A-1: Evaluating criteria for team member selection
Task 3A-2: Creating a team skills roster
Apply Your Knowledge
Evaluating Team Rules and Procedures
Task 3B-1: Defining Elements of a Team Charter
Task 3B-1: Setting Up Internal Reporting Procedures
Apply Your Knowledge 3-2

Lesson 4: Project Plans
Risk and How to Control It
Task 4A-1: Identifying Sources of Risk and Approaches for Controlling It
Check Your Skills 4-1
The Deliverables Breakdown Structure (DBS)
Task 4B-1: Creating the DBS
Apply Your Knowledge 4-1
The Work Breakdown Structure (WBS)
Task 4C-1: Creating the WBS
Apply Your Knowledge 4-2

Lesson 5: Project Schedules
Including Team Members in Scheduling
Task 5A-1: Discussing the reasons for including team members in scheduling
The Gantt Chart
Task 5B-1: Reading a Gantt Chart
Check Your Skills 5-1
The Network Diagram
Task 5C-1: Reading a Network Diagram
Check Your Skills 5-2
The Critical Path
Task 5D-1: Defining dependencies
Task 5D-2: Identifying the Critical Path
Float
Task 5E-1: Calculating Float
Apply Your Knowledge 5-1

Lesson 6: Project Activity Plans
Activity Planning
Task 6A-1: Creating an Activity Plan
Task 6A-2: Estimating Time and Duration of Activities
Apply Your Knowledge 6-1

Lesson 7: Project Budgets
What Is a Budget?
Task 7A-1: Listing elements of a budget
The Draft Budget
Task 7B-1: Discussing estimating techniques
Apply Your Knowledge 7-1
Budget and Schedule Balancing
Task 7C-1: Discussing bringing budgets and schedules into line with reality
Apply Your Knowledge 7-2

Lesson 8: Project Operations and Control
Is the Project Moving Forward?
Task 8A-1: Discussing issues in maintaining project momentum
Is the Project on Target?
Task 8B-1: Monitoring project progress
Check Your Skills 8-1
Earned Value Analysis
Task 8C-1: Checking for deviation from schedules and budgets
Check Your Skills 8-2
Getting Back on Track
Task 8D-1: Discussing ways to manage trade-offs
Apply Your Knowledge 8-1

Lesson 9: Project Reporting
Types of Reports
Task 9A-1: Identifying elements of a reporting system
Apply Your Knowledge 9-1
The Project Status Report
Task 9B-1: Discussing a Project Status Report template
Apply Your Knowledge 9-2
The Change Request
Task 9C-1: Discussing a Change Request template
Apply Your Knowledge 9-3

Lesson 10: Project Close-Out
Elements of Close-Out
Task 10A-1: Discussing the Close-Out Punch List
Project Hand-Off
Task 10B-1: Discussing the Hand-Off Checklist
Evaluation of Success
Task 10C-1: Learning from project experiences
Task 10C-2: Discussing reporting criteria for project outcomes
Apply Your Knowledge 10-1
The People Side of Project Close-out
Task 10D-1: Helping the team to deal with change
Task 10D-2: Discussing criteria for team member evaluation
Apply Your Knowledge 10-2


Prerequisites & Certificates

Pre-Requisites

None.

Certificates offered

Certificate of completion




Cancellation Policy

Cancellation Policy & Satisfaction Guarantee
You may cancel or reschedule your registration without penalty up to 5 business days before your class date.

F.A.Q's...
Training Details
ASAP Training Ltd. is located at 950 - 167 Lombard Avenue, in Exchange District. A training manual is provided. We encourage all students to bring in a USB stick for student files as we no longer hand out course files on a CD.

Finding Us
ASAP Training Ltd. is located in the picturesque downtown Exchange District at 950-167 Lombard Avenue, in the Grain Exchange Building, you can access the building from Rorie Street and Lombard Avenue.

Class Times and Other Details
ASAP Training Ltd. classes begin promptly at 8:30 am and end around 4:00 pm. Our doors open at 8:00 am. Coffee and tea are provided for students. We have a kitchen with a microwave and refrigerator available for student use if they wish to bring their own lunch. Lunch break is one hour from approximately 11:30 to 12:30. A telephone and sitting area are available for student use. Our office is a non-smoking facility and is wheelchair accessible.

Restaurants
There are many restaurants available within walking distance of the school.

Parking
For your convenience, we have also provided a map of the available Parking Lots in proximity to the Grain Exchange Building, indoor and outdoor parking.
http://www.grainexchangebuilding.com/leasing/parking.html


Map & Reviews




Reviews

This course has not yet been rated by one of our members.

If you have taken a course through this vendor please log into your account and leave feedback for this vendor. You will be helping ensure our members get directed to the best training facilities.

Here are some reviews of the training vendor.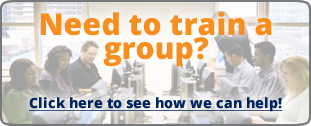 This course currently does not have any dates scheduled. Please call
1-877-313-8881

to enquire about future dates or scheduling a private, in house course for your team.
This page has been viewed 248 times.