Fast Track to ColdFusion 9
» back to Search Results
Fast Track to ColdFusion 9 is a 3-day course that provides experienced Web developers with the knowledge and hands-on practice they need to start building and maintaining dynamic and interactive Web applications using ColdFusion 9.
Course Outline

Fast Track to ColdFusion 9 is a 3-day course that provides experienced Web developers with the knowledge and hands-on practice they need to start building and maintaining dynamic and interactive Web applications using ColdFusion 9. This course uses the official courseware developed by Adobe.

Course Outline Unit 1: Introducing the Course


Meeting the Prerequisites
Understanding the Course Format
Reviewing the Course Outline


Unit 2: Introducing ColdFusion


Understanding Dynamic HTML generation
Introducing the ColdFusion Language
Introducing the ColdFusion Administrator
Working with ColdFusion Data Sources
Walkthrough 1: Configuring ColdFusion


Unit 3: Getting Started with ColdFusion Builder


Understanding the Relationship between Eclipse and ColdFusion Builder
Exploring the ColdFusion Builder Interface
Creating a project and your first application
Debugging Applications
Accessing help in ColdFusion Builder
Using Advanced Features
Walkthrough 1: Creating a Project


Unit 4: Learning ColdFusion Fundamentals


Creating ColdFusion Variables
Walkthrough 1: Creating Local Variables
Using variables from HTML forms
Displaying variable values
Walkthrough 2: Outputting variables to the screen
Commenting Code
Branching with IF statements
Walkthrough 3: Using conditional logic
Reusing code with "cfinclude"
Walkthrough 4: Using "cfinclude" to include a page header


Unit 5: Publishing Database Content


Connecting to a Database
Querying a Database Table
Viewing Debug Data
Dumping a Recordset to a Browser
Walkthrough 1: Creating a query and dumping the data
Displaying Database Data
Walkthrough 2: Displaying Database Data
Using the Resultset Structure Data
Introducing CurrentRow
Using URL Data in Dynamic Queries
Walkthrough 3: Building a dynamic query
Creating Dynamic SQL for Multiple Search Criteria
Query Parameters and Caching
Walkthrough 4: Add query params and caching


Unit 6: Working with Complex Variable Types


Using ColdFusion functions
Walkthrough 1: Displaying the current date
Looping over data
Working with lists
Walkthrough 2: Working with lists
Working with Arrays
Walkthrough 3: Displaying information using an array
Working with structures
Walkthrough 4: Using an array of structures


Unit 7: Introducing ColdFusion Components


Reusing code
Using Custom Tags
Walkthrough 1: Using Custom Tags
Creating User Defined Functions
Walkthrough 2: Searching for content using a User Defined Function
Introduction to components
Walkthrough 3: Creating a Component


Unit 8: Introduction to Object Oriented ColdFusion


Creating Instance Based Components
Caching Instances in memory
Walkthrough 1: Create a component
Understanding Component Variables and Scopes
Walkthrough 2: Creating a constructor with arguments
Adding methods to a component
Using property getters and setters
Walkthrough 3: Adding methods and properties


Unit 9: Using the Application Framework


Addressing the Web's Statelessness
Using the Application Framework
Configuring Application Settings
Walkthrough 1: Configuring application settings
Working with ColdFusion's scopes
Handling Application Events
Walkthrough 2: Handling Application Events
Handling Request Events
Walkthrough 3: Responding to Request Events
Locking Shared Scope Variables
Handling Session Events
Using Session Events
Using onServerStart() and applicationStop()


Unit 10: Tags Galore


Using "cfmap" to generate a Google Map
Walkthough 1: Adding a map
Using "cfspreadsheet" to create an Excel spreadsheet
Walkthrough 2: Creating a Spreadsheet
Creating PDF files with "cfdocument"
Walkthrough 3: Creating a PDF file
Using "cfimage" to dynamically construct an image
Walkthrough 4: Adding CAPTCHA to a form
Using "cfmediaplayer" to play video
Walkthrough 5: Adding video
Working with "cfform"
Walkthrough 6: Adding data validation to a form
Working with the File System – "cffile" and "cfdirectory"
Walkthrough 7: Adding images to an application
Sending electronic mail with "cfmail"
Walkthrough 8: Generating mail
Using "cfprogressbar"
Using "cfmessagebox"




Prerequisites & Certificates

Pre-Requisites

To gain the most from the class, you should already have: A familiarity with Web terminology An understanding of Web server characteristics Experience with the HTML tag set and syntax Familiarity with the SQL command set, including SELECT, INSERT, UPDATE, and DELETE

Certificates offered

Certificate of completion




Cancellation Policy

Our cancellation/reschedule policy requires notification at least 10 business days before the class start date for a full refund. Please note that you are responsible for notifying NTG of your inability to attend class or you will be invoiced for the full payment.

Should you need to cancel in less than 10 business days before the start of the class, you will be given a 100% credit towards a future class that must be taken within 6 months of the start of the original class. If you are not able to reschedule to a future class, you will be charged 50% of the upfront registration fee.

Classes are subject to cancellation by NTG up to two weeks prior to the class date. It is important to keep this in mind before you purchase a non-refundable airline ticket.




Map & Reviews




Reviews

This course has not yet been rated by one of our members.

If you have taken a course through this vendor please log into your account and leave feedback for this vendor. You will be helping ensure our members get directed to the best training facilities.

Here are some reviews of the training vendor.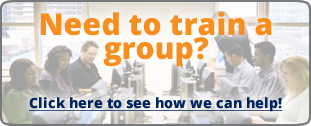 This course currently does not have any dates scheduled. Please call
1-877-313-8881

to enquire about future dates or scheduling a private, in house course for your team.
This page has been viewed 590 times.