» back to Search Results
The Advanced ColdFusion 9 Development course provides ColdFusion application developers with the knowledge and hands-on practice that they need to build, maintain, and scale effective web applications.
Course Outline



The Advanced ColdFusion 9 Development course provides ColdFusion application developers with the knowledge and hands-on practice that they need to build, maintain, and scale effective web applications. This course uses the official Adobe courseware, developed by Fig Leaf Software. During this class, you build an advanced AJAX-based web portal while dynamically generating pdf files, excel files, Google maps, and output video. You will also learn about object-relational mapping (ORM), techniques for facilitating enterprise code maintenance and advanced scalability/caching techniques.

Unit 1: Introducing the Course and Portal Application

Unit 2: Advanced ColdFusion Component Concepts


Creating instance based components
Associating data with components
Defining CFC Properties
Using Getters and Setters
Restricting Method Invocation by Role
Walkthrough 1: Persisting Components in Memory
Building Components with Inheritance
Walkthrough 2: Using Inheritance
Building Components with Scripting
Walkthrough 3: Building Components with Scripting
Using CF Administrator API Components
Walkthrough 4: Using the Admin API and Java Components


Unit 3: Code and Content Reuse


Creating CFML custom tags
Walkthrough 1: Creating a Simple CFML Custom Tag
Creating CFML Simple Nested Custom Tags
Walkthrough 2: CFML Simple Nested Custom Tags to abstract your site's GUI
.NET Integration with ColdFusion 9
Walkthrough 3: Using a .NET Assembly to add spell checking to ColdFusion
Creating Web Services
SOAP-based services
RESTful services
Walkthrough 4: Creating a Web Service
Calling Web Services
Accessing through Basic Authentication
Using WSSE Authentication
Walkthrough 5: Calling a web service


Unit 4: Handling Errors and Exceptions


Introducing error handling
Customizing application error messages
Walkthrough 1: Implementing a Global Error Handler
Creating an Application-Wide Error Handler
Using onError()
Using onMissingTemplate()
Walkthrough 2: Handling Page-Level Errors
Handling Exceptions with Try/Catch
Walkthrough 3: Capturing form information after an aborted save attempt and writing it to disk
Creating an Exception-Handling Framework
Using "cfthrow"
Capturing thrown errors in onError()
Walkthrough 4: Building an Exception Handling Framework

Unit 5: Advanced User Interface Design


Introducing ColdFusion AJAX Functionality
Debugging ColdFusion AJAX Applications
Using the ColdFusion AJAX Logger
Using Firebug
Walkthrough 1: Debugging AJAX Applications
Making Background Data Requests
Returning data from Remote CFC Methods
Securing your AJAX Requests
Using "cfajaxproxy"
Walkthrough 2: Making Background Data Requests
Developing the User Interface
Using Container Tags
Using "cfpod"
Using "cflayout"
Using "cfwindow"
Walkthrough 3: Using Layout Controls to Create a Tabbed based GUI
Working with Bind Expressions
Working with Bind Expression Syntax
Binding Text fields with the @modifier

Binding to "cfselect"
Using a Bind Expression with "cfajaxproxy"
Walkthough 4: Using Bind Expressions with "cfajaxproxy"
Submitting Form Data Asynchronously
Using ColdFusion.Ajax.submitForm()
Explicitly invoking CFFORM Validation
Retrieving Object/Attribute Values
Building the Action Page
Deploying ColdFusion.Ajax.submitForm()
Walkthrough 5: Asynchonously Submitting Forms
Using Special Text Input Fields
Using Autosuggest Text Fields
Working with the DateField selector
Using the WYSIWYG Editor
Walkthrough 6: Implementing the Rich Text Controls
Working with "cfgrid"
Walkthrough 7: Using "cfgrid"
Visualizing Data with Google Maps
Walkthrough 8: Using "cfmap"
Working with Video
Walkthrough 9: Using "cfmediaplayer"


Unit 6: Working with Documents


Generating PDF Files from ColdFusion
Walkthrough 1: Generating a PDF
Manipulating PDF Files with "cfpdf"
Walkthrough 2: Adding Watermarks and Security to a PDF
Pre-filling PDF Forms
Walkthrough 3: Filling a form from a CF web service and
Posting Data from a PDF Form to ColdFusion
Walkthrough 4: Handling PDF Form Submissions
Working with Spreadsheets
Reading Data from a Spreadsheet
Populating a Spreadsheet
Writing a Spreadsheet to Disk
Walkthrough 5: Dynamically creating an Excel file with a Graph
Creating Dynamic Presentations
Walkthrough 6: Creating Dynamic Powerpoint and Flash Presentations


Unit 7: ColdFusion ORM


Introduction to ColdFusion ORM
ColdFusion ORM Architecture
Configuring ColdFusion ORM
Walkthrough 1: Enabling ColdFusion ORM
ColdFusion ORM Mapping
Walkthrough 2: ORM Component Mapping
CRUD Operations with ColdFusion ORM
Walkthrough 3: Performing CRUD Operations
Defining Relationships in ColdFusion ORM
Walkthrough 4: Working with Relationships in ColdFusion ORM
ColdFusion ORM Session Management



Unit 8: Performance, Scalability, and Robustness (Optional )


Configuring for Scalability
Walkthrough 1: Adjusting JVM and CF Administrator Settings
Understanding and Identifying Scalability Bottlenecks
Walkthrough 2: Identifying Bottlenecks using the debug output and server monitor
Using Asynchronous Processes to Improve Performance
Walkthrough 3: Creating Asynchronous Processes with "cfthread"
Caching Recordsets
Walkthrough 4: Caching queries using cachedwithin and as properties of components
Caching Content with "cfcache"
Using "cfcache" to cache RSS Feeds and programatically exprire the cache




Prerequisites & Certificates

Pre-Requisites

To gain the most from this class, you should already have: Completion of the Fast Track to ColdFusion 9 course or equivalent experience from building ColdFusion applications. Experience developing web applications using ColdFusion for at least three months after taking the Fast Track to ColdFusion 9 course. Practical experience using CFML tags, functions, and variables. Practical experience with the SQL command set, including SELECT, INSERT, and UPDATE. General familiarity with scripting syntax.

Certificates offered

Certificate of completion




Cancellation Policy

Our cancellation/reschedule policy requires notification at least 10 business days before the class start date for a full refund. Please note that you are responsible for notifying NTG of your inability to attend class or you will be invoiced for the full payment.

Should you need to cancel in less than 10 business days before the start of the class, you will be given a 100% credit towards a future class that must be taken within 6 months of the start of the original class. If you are not able to reschedule to a future class, you will be charged 50% of the upfront registration fee.

Classes are subject to cancellation by NTG up to two weeks prior to the class date. It is important to keep this in mind before you purchase a non-refundable airline ticket.




Map & Reviews




Reviews

This course has not yet been rated by one of our members.

If you have taken a course through this vendor please log into your account and leave feedback for this vendor. You will be helping ensure our members get directed to the best training facilities.

Here are some reviews of the training vendor.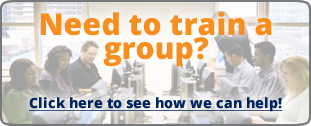 This course currently does not have any dates scheduled. Please call
1-877-313-8881

to enquire about future dates or scheduling a private, in house course for your team.
This page has been viewed 279 times.