» back to Search Results
In this course you will learn how to: Migrate an XHTML website to HTML5; Enrich semantic content with the new HTML5 elements and attributes; Enhance user interaction using standard HTML5 markup; Control audio and video without Flash.
Course Start Date:

Nov. 15

Location: Ottawa

(Map)

Time:

9:00 am - 4:00 pm

(Note on end times)

Please Note: End Times are approximate and depend
on the number or students and pace of the class.
It is important to allow for the class to run a little bit longer,
or finish a little sooner, than expected.

Duration:

1 Day
Delivery Method(s):

Instructor Led

Mentored training is a revolutionary training method
that provides you with the quality training that
you have come to expect, and combines it with
flexible learning and a self paced environment.
For more information click here.

Seats Available:

YES

Category:

HTML Training Classes
Course Outline

In this course you will learn how to: Migrate an XHTML website to HTML5; Enrich semantic content with the new HTML5 elements and attributes; Enhance user interaction using standard HTML5 markup; Control audio and video without Flash.

Course Outline

Why Use HTML5?

Plain old semantic markup
HTML5 and mobile Web development
Adoption: HTML5 is everywhere

The Document Metadata Container

The document type declaration
The root element
Document metadata
MIME type requirements and defaults

Sectioning Content

What is sectioning content?
Outlining with sectioning elements
Understanding the <section>, <article>, <nav>, <aside>, <footer> and <address> elements
Other sectioning content elements

Grouping Content

Understanding the <main> element
Using the <figure> and <figcaption> elements
Other grouping content elements

Text-level Content

Changes to the <em> and <strong> elements
How to use the <i> and <b> elements
Replacing <acronym> with <abbr>
Understanding the <small>, <time> and <mark> elements
Other text-level elements

Embedded Content

Adding sound with the <audio> element
Specify alternate media using <source>
Adding visual media with <video>
Adding syncronized captions using <track>
Other embedded content elements

Form Content Elements

The new <input> type attribute values
Enhancing the interface using <datalist>
Using the new <output> element
Understanding the <meter> element

Interactive Elements

Creating a disclosure widget with <details> and <summary>
Applying the "open" attribute
Other interactive elements

Enabling HTML5

Using Modernizr and the HTML5 Shiv
HTML5 fallbacks and cross-browser polyfills
HTML5 validatio


 


Prerequisites & Certificates

Pre-Requisites

EWHT101 - HTML/XHTML or equivalent is mandatory

Certificates offered

Certificate of Completion




Cancellation Policy

Eliquo Training and Development Inc. will make every attempt to be flexible in regards to class cancellations and rescheduling. In an attempt to make sure that everyone enjoys a consistent training experience, Eliquo offers the following cancellation policy:

Any student cancellation that occurs a minimum of six (6) business days prior to a scheduled class is eligible for a full class credit or a 100% refund on the cost of the class.

Due to scheduling logistics, if you cancel or re-schedule a registration within five (5) business days of the course date, payment is due in full at that time and will be held as a credit towards a re-scheduled date or a future course booking. Course credits are valid for 12 months from the date of the original class booking.

All cancellations and rescheduling must be in writing and sent either by email to registrations@lastminutetraining.ca or by fax to 647.258.9319. Verbal communication of a cancellation will not meet our refund requirements.

In the event that a class is cancelled due to insufficient enrollment, your full registration fee will be refunded or you can reserve a seat in the next available class. You will be notified of a class cancellation at least five (5) business days in advance of the scheduled class.

Eliquo Training and Development Inc. reserves the right to postpone or cancel a class at any time, in which case the refund and rescheduling policy would apply. Eliquo Training and Development Inc. is not liable for any travel expenses incurred by the student, even in the event of a cancellation.


Map & Reviews

Eliquo Ottawa
185 Somerset St West.
Suite 312
Ottawa, Ontario
Canada K2P 0J2



Registration is fast, and will take approximately 3 minutes. There is no membership fee.
» You are also welcome to Make an Offer

Not enough budget for this course? Maybe you just love to make deals!
In either case, our Make an Offer feature gives you the opportunity to name
your own price. Try it out, you might get lucky, just keep in mind it can
take up to 1 full business day to get a response!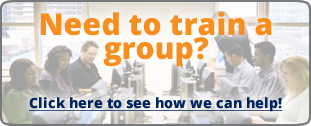 This course is also scheduled on the following dates:
Not interested in this Course?
Tell us why:
This page has been viewed 41 times.