» back to Search Results
This course provides participants with a comprehensive overview of XML giving them real hands-on experience in creating XML specifications and documents. This is not an exhaustive course for database engineers or SGML veterans.
Course Outline

This course provides participants with a comprehensive overview of XML giving them real hands-on experience in creating XML specifications and documents. This is not an exhaustive course for database engineers or SGML veterans.

Course Outline
GETTING STARTED AND NAVIGATION

WRITE XML


Elements
Attributes
and Values
Rules for Writing XML

DTDS


Create a DTD
Declare an Internal DTD
Write an External DTD
Name an External DTD
Declare a Personal External DTD

WRITE XML


Declare the XML Version
Create the Root Element
Write Non-Empty Elements
Nest Elements
Add Attributes
Use Empty Elements
Write Comments
Write Five Special Symbols
Display Elements as Text

DTDS


Declare a Public External DTD

DEFINE ELEMENTS AND ATTRIBUTES IN A DTD


Define an Element to Contain Only Text
Define an Element to Contain One Child
Define an Element to Contain a Sequence
Define Choices
Define How Many Units
About Attributes
Define Simple Attributes
Define Attributes with Unique Values
Reference Attributes with Unique Values
Restrict Attributes to Valid XML Names

ENTITIES AND NOTATIONS IN DTDS


Create Shortcuts for Text
Use Shortcuts for Text
Shortcuts for Text in External Files
Create and Use Shortcuts for DTDs
Create Entities for Unparsed Content
Embed Unparsed Content

XML SCHEMA


Simple and Complex Types
Local and Global Declarations
Begin a Simple Schema
Indicate a Simple Schemas Location
Annotate Schemas

DEFINE SIMPLE TYPES


Declare an Element with a Simple Type
Use Date and Time Types
Use Number Types
Derive Custom Simple Types
Use Anonymous Custom Types
Specify a Set of Acceptable Values
Specify a Pattern for a Simple Type
Specify a Range of Acceptable Values
Limit the Length of a Simple Type
Limit a Numbers Digits
Create List Types
Predefine an Elements Content

DEFINE COMPLEX TYPES


Define Elements to Contain Only Elements
Require Elements to Appear in Sequence
Create a Set of Choices
Allow Elements to Appear in Any Order
Define Named Groups
Reference a Named Group
Reference Already Defined Elements
Define Elements to Contain Only Text
Define Empty Elements
Define Elements with Mixed Content
Base Complex Types on Complex Types
Declare an Element of Complex Type
Elements with Anonymous Complex Types
Declare Attribute
Require an Attibute
Predefine an Attributes Content
Define Attribute Groups
Reference Attribute Groups

USE NAMESPACES IN XML


Design a Namespace Name
Declare Default Namespaces
Namespaces for Individual Elements
How Namespaces Affect Attributes
Namespaces
DTDs
and Valid Documents

NAMESPACES


SCHEMAS
AND VALIDATION
Schemas and Namespaces
Populate a Namespace
Add All Locally Declared Elements
Add Particular Locally Declared Elements
Reference Components with Namespaces
The Schema of Schemas as the Default
Namespaces and Validate XML
Indicate Where a Schema Is
Schemas in Multiple Files
Import Components

XSLT AND XPATH


Transform XML with XSLT
Begin an XSLT Style Sheet
Create the Root Template
Output HTML Code
Output a Nodes Content
Create and Apply Template Rules
Batch-Processing Nodes
Process Nodes Conditionally
Add Conditional Choices
Sort Nodes Before Processing
Generate Attributes

XPATH PATTERNS AND EXPRESSIONS


Determine the Current Node
Refer to the Current Node
Select a Nodes Children
Select a Nodes Parent or Siblings
Select All of the Descendents
Disregard the Current Node
Select a Nodes Attributes
Select Subsets

TEST EXPRESSIONS AND FUNCTIONS


Compare Two Values
Test the Position
Subtotal Values
Count Nodes
Multiply
Divide
Add
Subtract
Format Numbers
Round Numbers
Extract Substrings
Capitalize Strings

SET UP CSS


Define Elements as Block-Level or Inline
Hide Elements Completely
Offset Elements in the Natural Flow
Position Elements Absolutely
Set the Height or Width for an Element
Set the Border
Add Padding Around an Element
Set the Margins around an Element
Wrap Text Around Elements
Stop Text Wrap
Change the Foreground Colour
Change the Background
Position Elements in 3D
Align Elements Vertically
Determine Where Overflow Should Go
Clip an Element
Set List Properties
Set List Properties Specify Page Breaks

FORMAT TEXT WITH CSS


Choose a Font Family
Embed Fonts on a Page
Create Italics
Apply Bold Formatting
Set the Font Size
Set the Line Height
Set All Font Values at Once
Set the Text Colour
Change the Texts Background
Control Spacing
Align Text
Underline Text
Change the Text Case

LINKS AND IMAGES XLINK AND XPOINTER


Create a Simple Link
Create a Linkset
Define Reference Points
Define Connections
Use a Linkset
Link to Part of a File
Create the Simplest Xpointer
Create Walking Xpointers
Create an XPointer Range




Prerequisites & Certificates

Pre-Requisites

For experienced Web designers who have some knowledge of style sheets.

Certificates offered

Certificate of Completion




Cancellation Policy

ctc TrainCanada - We Never Cancel*:
We are unique in the corporate training field in that we do not cancel desktop applications courses due to low enrollment. When there are less than 3 students, ctc TrainCanada will personalize the class (students then receive more time with the instructor to address their individual needs allowing the student to complete the full course in less time) or connect the student remotely to a class at one of our other branches via TrainLive remote classroom instruction. *Microsoft Certified Courses and other technical courses require a minimum enrollment of three students. Business Skills courses require multiple students in order to run due to the interactive nature of the training. Selected Desktop Applications courses may require a minimum enrollment of two students to run. ctc TrainCanada® reserves the right to deliver Microsoft Certified and other technical courses via TrainLive remote classroom instruction in order to guarantee the course to run.

ctc TrainCanada Cancellation policy:
You may cancel or reschedule this registration in writing with no penalty with a minimum of 10 business days' notice prior to the first day of the course. Full payment is required if you cancel or reschedule this registration within 10 business days prior to the first day of the course. However, substitutions are welcome. If you do need to cancel or reschedule a publicly scheduled course within the 10 day non-cancellation period (not a client dedicated course), payment is to be made and a training voucher for a public course will be issued to you. This allows you to attend a future date for the same course at no charge (subject to availability).
No-shows will not be issued a training voucher.

Complimentary Service: We offer all our students coffee, tea, juice or pop, muffins or pastries in the morning and cookies baked in our own oven each afternoon.


Map & Reviews




Reviews

This course has not yet been rated by one of our members.

If you have taken a course through this vendor please log into your account and leave feedback for this vendor. You will be helping ensure our members get directed to the best training facilities.

Here are some reviews of the training vendor.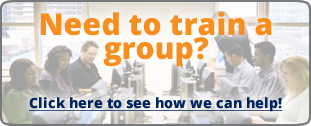 This course currently does not have any dates scheduled. Please call
1-877-313-8881

to enquire about future dates or scheduling a private, in house course for your team.
This page has been viewed 288 times.