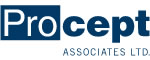 Procept Associates ITIL Training, IIBA Training, PMP Training in Toronto
Procept Associates Ltd. is a premier provider of professional training programs specializing in Project Management, Business Analysis, and IT Service Management. We deliver our programs in partnership with five leading Canadian universities (University of Toronto, University of Calgary, University of Waterloo, Simon Fraser University, and Dalhousie University), as direct public offerings, or in-house at customers facilities. We have been a Canadian leader in custom training solutions for over 14 years. Our consulting division offers strategic consulting solutions in our three specialty areas. Out international subsidiary based in Nigeria is one of the leading training providers in Africa.

Procept is an Accredited Training Organization with ISEB; a Registered Education Provider with the PMI; and an Endorsed Education Provider with IIBA. Being an ISO 9001 company, we define ourselves by the quality, depth and expertise of our instructors and consultants. Our trainers and consultants are experts in their industries, including engineering, information technology, oil and gas, management and engineering consulting, telecommunications, government, construction, real estate development, standards development, and food. All our courses follow the prescribed outline of internationally recognized professional associations and many of our clients confidently pursue these designations.

As an industry leader, Procept was the first organization in Canada to publicly offer a PMP Prep course. Again, we were the first organization to offer public workshops in PRINCE2 certification. We believe that our flagship 6 day "Comprehensive Project Management Seminar" and our 3 day crash "PMP Prep course" have helped prepared more people for PMP than any other course in Canada. Our 3 day fundamental course "Project Management Essentials" remains the most popular course in Canada with over 10,000 successful deliveries. Our "Business Analysis Certificate Program" is one of the best university level Business Analysis program available in Canada. Our ITIL courses have consistently attained one of the best passing rates with an overall passing rate of 92%.

What sets us apart from others in the field is our continuing support of our clients. Procept encourages feedback through questionnaires and updates through newsletters and our website. For participants of our Project Management courses, we offer the PMP Helpline newsletter. For participants of our Business Analysis courses we offer the CBAP Exam newsletter. With these, clients have easy access to our consultants for answering questions and it allows us to keep in touch post-exam.

We offer our Project Management, Business Analysis and IT Service Management programs in-house for groups of 8 or more. Our off-the-shelf programs can be customized to reflect your specific learning requirements, business processes, culture or industry. Alternatively, we can custom design a program specifically for your organization in consultation with one of our subject matter experts. Create your own program length, course content and instructional schedule. Mix and match from different disciplines - create the right fit for your organization!
Our in-house and customized training solutions can include:
- Learning assessments and needs analysis to identify gaps and learning objectives
- Pre-course (before the course) and post-course (two weeks after the course) assessments to ensure application of knowledge in the work place
- Development of corporate career paths in Project Management, Business Analysis and IT Service Management
- Coaching of Project Managers, Business Analysts or IT Service Management practitioners
- Certificate Programs in Project Management, Business Analysis and ITIL, either off-the-shelf or custom designed to reflect your organizational culture, goals and processes
- Refresher sessions that can be structured as classroom training, facilitated discussion sessions, or short talks such as "lunch and learn"
There are currently no Upcoming courses for this vendor. Check back soon...
There are currently no Vendor Reviews
Address
Procept Associates
Suite 125, 1234 Kingston Rd
Toronto,ON
Canada M1N 1P3