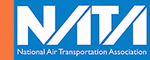 National Air Transportation Association Aviation Safety Training
The National Air Transportation Association (NATA), The Voice of Aviation Business, is the public policy group representing the interests of aviation businesses before Congress, federal agencies and state governments. NATA's 2,000 member companies own, operate and service aircraft. These companies provide for the needs of the traveling public by offering services and products to aircraft operators and others such as fuel sales, aircraft maintenance, parts sales, storage, rental, airline servicing, flight training, Part 135 on-demand air taxi, fractional aircraft program management and scheduled commuter operations in smaller aircraft. NATA members are a vital link in the aviation industry that provides services to the general public, airlines, general aviation, and the military.

There are currently no Upcoming courses for this vendor. Check back soon...
There are currently no Vendor Reviews
Address
National Air Transportation Association
4226 King Street
Alexandria,Virginia
USA 22302