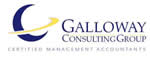 Galloway Consulting Quickbooks Training in Toronto
We provide affordable Quickbooks training in Toronto at our offices. If you are a small business owner, or a book keeper and want to know how to get the most out of your Quickbooks system, our training is ideal for you. Galloway Consulting Group Inc. is a Toronto based accounting firm that helps small and medium size companies grow and reach greater profitability. We are specialists in improving systems and processes to gain better decision-making tools for business owners. We deliver strategic solutions for today's business.
There are currently no Upcoming courses for this vendor. Check back soon...
Address
Galloway Consulting
1200 Eglinton Ave E, Suite 703
Toronto,Ontario
Canada M3C 1H9