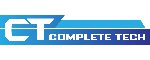 Complete Tech Cisco Training Toronto
Complete Tech is an IT training industry leader. Our goal is to get people employed in the competitive field of information technology - through one simple certification process. We offer a full range of comprehensive Cisco training to get our students certified and prepared for the field as fast as possible. Our team of experienced trainers are not only certified instructors, they are also IT professionals who have been actively employed in the field for many years. We provide practical, hands-on training for students that want to get into the IT field without the frills of a traditional classroom environment. We offer small class sizes - a maximum of 8 students per class - so that our students can get the one-on-one attention that they need in order to have a firm grasp on the course material. The instructors at Complete Tech will go that extra mile to make sure that our students are prepared and up to industry standards. Courses are taught in an organized, clear and precise manner so that our students get the best instruction possible. Not only do we offer certification, once the course is completed we do our best to assist our students in gaining employment in the field through job placements and recruiter referrals. We want to get you working fast! If you are not completely satisfied with your training at Complete Tech, we offer the opportunity to re-take classes until you do feel confident enough with your skills. At Complete Tech, not only will you get the training that you need to become a working IT professional, we work hard to make sure that you are learning in a positive and friendly environment. It is our job to get your career on the right track.
There are currently no Upcoming courses for this vendor. Check back soon...
Address
Complete Tech
100 West Beaver Creek Road Unit #3
Richmond Hill,ON
Canada L4B 1H4