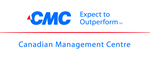 Canadian Management Centre Management and Leadership Training Seminars
Training for the Real World
Canadian Management Centre is one of Canada€(TM)s leading providers of management training and performance improvement solutions for individuals and organizations in both the public and private sectors. Boasting the Nations largest roster of soft skill training solutions they have solidified themselves as the €~go to€(TM) training provider for Canada€(TM)s elite organizations. For over 40 years they have been earning the reputation as a trusted partner in professional development and management training. Through their public enrollment seminars and customized corporate on-site programs, they have helped improve the immediate, on-the job performance of thousands of individuals and the on-going operating performance of hundreds of organizations. They are proud to have had over 200,000 business professionals turn to them for the practical, relevant business training needed to elevate their knowledge and skills so as to positively impact their personal contributions and their organization€(TM)s performance. Based on a 2006 opinion poll of Canadian Management Centre's recent participants:
98% of Canadian Management Centre attendees would attend another one of our courses
99% of Canadian Management Centre attendees would recommend the course they took to a colleague
99.4% of Canadian Management Centre attendees found their course to be good value for their time
A Global Reach
As an integral part of the American Management Association International (AMA) global network, Canadian Management Centre partners with international organizations to provide business education and global best practices for human capital and organizational development solutions. A truly international presence, AMA adds value to organizations by involving clients in a global community of peers and practitioners via one of the world€(TM)s most sophisticated knowledge-exchange networks. Clients of Canadian Management Centre benefit from over 100 seminars including those in the following topic areas:
Leadership Training
Change Management Training
Human Resources Training
Communications Training
Finance Training
Marketing Sales Training
Project Management Training
Strategic Planning Training
Customer Service Training
Purchasing Training
There are currently no Upcoming courses for this vendor. Check back soon...
Address
Canadian Management Centre
150 York Street, 5th Floor
Toronto,Ontario
Canada M5H 3S5