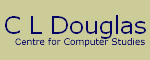 C L Douglas Quickbooks, Word, PowerPoint, Project, Excel Training Halifax
CL Douglas is committed to providing top notch computer training in a relaxed environment. Our personal approach has earned us a reputation that is second to none. We are in our 17th year of operation. Our Halifax classroom(s) offer up to 12 Pentium Dells.
There are currently no Upcoming courses for this vendor. Check back soon...
Address
C L Douglas
1142 Bedford Highway
Halifax Regional Municipality, Bedford,Nova Scotia
Canada B4A 1B8