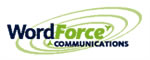 Word Force Communications Marketing & Communication Training in Toronto

At WordForce Communications our targeted and strategic written/web based marketing materials are highly effective, speaking directly to your prospects. Our content will generate real leads, increase your client base and drive up sales. We take the time to get to know your unique capabilities and express them in the most response generating way. Whether you need a website, brochure, advertisement, press release, trade article or even an entire campaign; we will show you how to get the biggest bang for your marketing buck with our indepth consulting and freelance writing services. Watch for our upcoming Seminars on Better Business Communication.
There are currently no Upcoming courses for this vendor. Check back soon...
There are currently no Vendor Reviews
Address
Word Force Communications
600 Pharmacy Avenue
Toronto,Ontario
Canada M1L 3H2