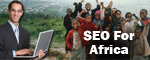 SEO For Africa Search Engine Optimization Training Classes in Toronto
SEO for Africa is an initiative designed to help Toronto business owners improve the search engine rankings of their websites and gain SEO training while supporting African entrepreneurs in need of micro-financing loans. Every month we will explore a different SEO topic to help your website rank higher in Google. The proceeds from the workshops will be given to African entrepreneurs who are trying to build better lives for themselves by starting and growing their own businesses. SEO for Africa is a project of JCI Toronto and Evan Carmichael Communications and is proudly supported by Last Minute Training.
There are currently no Upcoming courses for this vendor. Check back soon...
Address
SEO For Africa
66 George Street Second Floor
Toronto,Ontario
Canada M5A 4K8