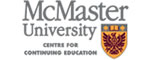 McMaster University CCE Computer Training in Hamilton
McMaster University's Centre for Continuing Education provides high-quality, professional education for individuals and corporate clients, offering over 300 courses and professional development workshops, and a rich menu of options for customized corporate training. Computer Training McMaster's hands-on computer training workshops in Microsoft Office, Adobe Creative Suite and other applications provide you with take-away skills that can be implemented immediately, enhancing workplace performance and personal development. Enrollment is limited to 18 participants in these hands-on interactive, instructor-led workshops. Courses Taught: Microsoft Excel Training in Hamilton Microsoft Access Training Hamilton Adobe Dreamweaver Training Hamilton Adobe Indesign Training Hamilton Microsoft Project Training Hamilton HTML Training Hamilton Accelerated Business Courses In the workplace today, professionals are expected to deliver results, but with less time and resources than before. Professionals need broader skill sets and enhanced business acumen. McMaster provides the essentials that you need to get rolling, deliver quality results and impress the boss. These short, solution-focused courses can be applied quickly to your work. Managing with Vision and Proficiency (MVP) Professional Development Workshops Workshops focus on knowledge and skill-building that can be transferred back to the workplace immediately to improve communications, productivity and effectiveness. Workshop topics include a variety of leadership and management areas such as communications, team building, and project management and are appropriate for all employees up to mid-level management. Certificate and Diploma Programs Our academic certificate and diploma programs provide university-level professional education in a variety of formats to accommodate working students. Small classes and flexible learning options accommodate the unique needs of adult learners. Programs are offered in instructor-led, on-line and hybrid formats. Applied Sciences & Technology - Metallurgy of Iron & Steel Addition Studies - Web Design & Development Business - Accounting - Human Resources Management - Management Studies (General) - Management Studies (Finance Concentration) - Management Studies (Human Resources Concentration) - Management Studies (Marketing Concentration) - Management Studies (Business Analysis Concentration) - Management Studies (IT Project Management Concentration) - Management Studies (Project Management Concentration) - Marketing - Public Relations Health & Social Services: - Addiction Education - Case Management - Clinical Research Associate - Police Studies Corporate Training Solutions McMaster is Canada's largest university continuing education provider of corporate training services. McMaster University's Corporate & Custom Training team understands that your organization's goals and challenges are unique. We're committed to working with you to find the best solution to achieve what you need to accomplish. That solution may come through a workshop or course that the Centre for Continuing Education currently offers, a tailored version to suit your culture or needs, or a custom program created specifically for your organization. McMaster's commitment to adult learning principles ensures that your participants are able to effectively transfer their new knowledge directly to their roles. This provides you with maximum value for your training budget.
There are currently no Upcoming courses for this vendor. Check back soon...
Address
McMaster University CCE
1280 Main Street West, DTC 2nd Floor
Hamilton,Ontario
Canada L8S 4L8