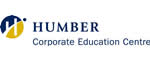 Humber Corporate Education Centre Performance and Effectiveness Workshops

Accelerate Your Performance Humber Corporate Education Centre helps people and organizations improve performance and business results. Specializing in the design, development, delivery and management of workplace learning solutions, over the past 25 years we have helped more than 800 organizations grow people's skills, knowledge and results. Our Corporate Learning Series workshops help enhance personal, leadership, project, business and workplace effectiveness. These workshops feature world-class instruction from industry specialists, practical tools that can be applied right away, limited class sizes, pre and post session engagement, and a focus on today's most current issues. Workshops available in our current series include: • Business Analyst's Crash Course • Gathering and Documenting User Requirements with Use Cases (UML 2) • Attracting and Selecting Exceptional Performers • Coaching for Enhanced Performance • Leadership Essentials • Effective Negotiations • Communicating With Influence • Critical Thinking • Deliver Your Message with Confidence • Power Your Hours • Smart Meetings • How to Start, Plan, Execute and Close A Project • How to Plan and Run Effective Project Meetings • Creating Positive Outcomes From Conflict • Dealing Assertively with Difficult Behaviour • Helping Different Generations Connect We work with organizations in a variety of industries to plan and deliver in-company learning and development. Our approach always begins with obtaining a deep understanding of the organization's business needs. This is achieved in a number of ways including meetings with key stakeholders, focus groups, needs assessments and continuous open dialogue to ensure we remain on track with the organization's strategic directions and with relevant business unit goals. Because of our long history in learning & development, we have had extensive experience in helping many organizations through numerous challenges. We have designed and delivered a wide range of learning solutions supporting business goals and learning needs while building skills in: • Business Analysis • Change Management • Coaching • Communication • Customer Service • Desktop Applications • Financial Acumen • Human Resources • Influence • Insights® • Leadership • Management • Meeting Effectiveness • Manufacturing Leadership Certificate Program • Pharmaceutical Marketing • Project Management • Supervisory • Teambuilding • Technical Skills • Thinking Skills • Train-the-Trainer • Workplace ESL • Writing Skills We work closely with organizations to incorporate relevant examples and case studies into every workshop we deliver. In addition to workshop based learning, we offer coaching, assessments, e-learning, and a range of follow-up supports to help ensure that learning is effectively transferred to the work setting.
There are currently no Upcoming courses for this vendor. Check back soon...
There are currently no Vendor Reviews
Address
Humber Corporate Education Centre
401 The West Mall, Suite 630
Toronto,Ontario
Canada M9C 5J5