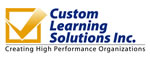 Custom Learning Solutions leadership training in Calgary

Leadership training in Calgary. Custom Learning Solutions Inc. provides learning and development solutions to organizations large and small. All of our workshops are customized to meet your needs. The workshop topics include critical business skills topics including; leadership development, high performance teamwork, organizational development, interpersonal skills, and Human Resources topics. Here is a list of workshops we offer; • The Leadership Challenge® Workshop • The Five Dysfunctions of a Team® Workshop • Supervisory Skills • Negotiation Skills • Conflict Resolution • Change Management • Diversity • Sales Training • Train-the-trainer • Customer Service • Effective Meetings • Performance Management • Communication Skills • Time Management • Hiring Smart • High Performance Teams • High Performance Organizations Our workshops use the latest techniques in adult learning including simulations, case studies, behavior modeling, application exercises, group discussion, and skill building. The emphasis is on application rather than theory. It enables participants to learn new competencies and gives them the tools to apply them back on the job. Custom Learning Solutions Inc. has over 10 years experience developing and delivering human performance solutions to our clients. We have a team of experienced senior facilitators across the country we can work with your teams anywhere in Canada. Other services we provide include: • Customized content development • Senior facilitators • HR and training resources (materials and assessments) • Leadership development programs (The Leadership Challenge®) • Learning consulting services • e-Learning expertise, visit: Learning Technologies We are a Pfeiffer strategic partner and reseller of many of the best-of-breed training and HR products and solutions.
There are currently no Upcoming courses for this vendor. Check back soon...
There are currently no Vendor Reviews
Address
Custom Learning Solutions
2nd floor, 1842 � 14th Street SW
Calgary,Alberta
Canada T2T 3C9