Browse our 9745 courses by category
Click + to view courses for each category below.
If you cannot find the course you are looking for or it has (0) next to it - don't worry - there may be courses available. Please contact us or set an alert to be notified when the course becomes available.
Business and Leadership Skills (284)

Computer and Tech Training (957)

Personal Development (119)

Programming and Web Development (379)

Project Management Training (312)

Technology Vendors (7494)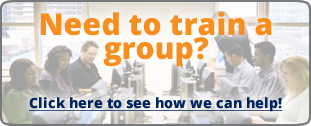 Top Ten Categories
Can't find what you're looking for?
Don't worry, it still might be available. There are many course options available that might not yet be listed on our website. Let us help you find what you need by calling, emailing or chatting live with one of our agents:
Do you offer training seminars, workshops or webinars?
Let Last Minute Training help you improve profits by filling empty seats in your classrooms and bringing you opportunities to quote on corporate training gigs in your area.
Learn more