SharePoint 2010 Business Intelligence (M50429)
» back to Search Results
This course will take you down a path of building a BI environment from scratch to full interactive dashboards using the Microsoft BI Stack.
Course Start Date:

Feb. 19

Location: Virtual

(Map)

Time:

9:30 am - 5:30 pm

(Note on end times)

Please Note: End Times are approximate and depend
on the number or students and pace of the class.
It is important to allow for the class to run a little bit longer,
or finish a little sooner, than expected.

Duration: 5 days
09:30 AM - 05:30 PM
Delivery Method(s):

Virtual Instructor Led

Mentored training is a revolutionary training method
that provides you with the quality training that
you have come to expect, and combines it with
flexible learning and a self paced environment.
For more information click here.

Discount Seats Available:

2

Category:

Microsoft Sharepoint Training
Course Outline

Explore using SharePoint as your platform for Business Intelligence (BI) in this five-day, instructor-led course. You will gain an understanding of SharePoint Business Intelligence Center, Excel Services, Reporting Services, Analysis Service, Performance Point, and PowerPivot, and you will learn how to implement BI strategies that can enable your decision makers to see data in new and dynamic ways. This course will take you down a path of building a BI environment from scratch to full interactive dashboards using the Microsoft BI Stack.

This course incorporates materials from the Official Microsoft Learning Product 50429: SharePoint 2010 Business Intelligence.

What You'll Learn


Navigate the Business Intelligence Center Site Definition
What a SharePoint Dashboard is
Differences between data warehouse and data marts
Build new BCS applications
Write simple MDX queries
Use data mining models
Work with Filter Web Parts
Set up and configure Excel Services
Utilize common PowerPivot functions and tools
Create report and report part libraries
Build geospatial maps using BI data

Who Needs to Attend


Senior Business Intelligence Architects and Consultants
Senior Business Analysts
Anyone responsible for implementing BI with SharePoint

Course Outline

1. Introduction to SharePoint 2010 Business Intelligence

2. Business Intelligence (BI)
3. Business Intelligence Center

4. Data Mart and Data Warehouses


Understanding Data and Data Formats
Building Data Marts and Data Warehouses

5. Business Connectivity Services (BCS)

6. Analysis Services


Explore SQL Server Analysis Services

7. Filter Web Parts


Filter Web Parts Role in BI Portals

8. Excel Services

9. PowerPivot


PowerPivot for SharePoint
PowerPivot for Excel

10. Reporting Services


Reporting Services Integration with SharePoint 2010

11. Performance Point


Features of Performance Point
Create Performance Point Scorecards and KPIs

12. Visio and Access Services


Integrate Visio Services and Access Services

13. GeoSpatial Data with Charts and Maps


Integrate GeoSpatial Data
Use .NET Charts and Maps

Labs

Lab 1: Business Intelligence Worksheet


Answer Business Intelligence Questions

Lab 2: Business Intelligence Center


Explore Dashboard Designer

Lab 3A: Data and Data Formats
Lab 3B: Build a Data Warehouse

Lab 3C: Extract and Load

Lab 3D: Transform and Load


Explore Transform and Load Stages
Importance of Primary/Unique Keys

Lab 3E: Granularity


Create Data Warehouse Granularity Levels

Lab 3F: Build a Data Mart

Lab 3G: SQL Server to SharePoint Lists


Populate a SharePoint List with SQL Server Data

Lab 4A: BCS Basics


Explore External Content Types
Create a New External Content Type
Create an External List

Lab 4B: BCS with Data Warehouse


Create a Large External List using ECTs
Use Filters and External Lists
Create and Configure Entity Profile Pages

Lab 4C: Office and BCS for BI


Explore Office and BCS Integration

Lab 5A: Analysis Services


Create Dimension and Fact Tables with SSIS

Lab 5B: Building an Analysis Services Database


Create an Analysis Services Database
Create a Cube
Create Dimensions
Create Fact Tables
Create a KPI

Lab 6A: Filter Web Parts

Lab 6B: User Profiles and Filters

Lab 7A: Create an Excel Report

Lab 7B: Excel Services


Learn to use Excel Services
Create/Publish to Excel Services
Shared Data Connections

Lab 7C: MDX


Create a Slicer
Create an MDX Set

Lab 7D: Sparklines


Use Excel 2010 Sparklines

Lab 7E: Filters and Excel Services


Explore Filter Web Parts and Excel Services

Lab 7F: REST and Web Services

Lab 8A: Install PowerPivot


Install PowerPivot for Excel and SharePoint 2010
Configure PowerPivot for SharePoint

Lab 8B: Use PowerPivot


Explore PowerPivot Functions
Create PowerPivot Linked Tables
Publish to SharePoint
Analyzing Usage Data

Lab 9A: Install Reporting Services


Create a Reporting Services Report
Configure Reporting Services Web Part

Lab 9B: Building Reports with Reporting Services


Create Advanced Reporting Services Report
Filter Web Parts and Reports

Lab 9C: Automating Reports with Reporting Services


Create Report Part Gallery
Create a Report Library
Create a Report using Report Parts

Lab 9D: Reporting Services and PowerPivot


Set Up Reporting Services RSS Feed
Utilize Reporting Services Data in PowerPivot

Lab 10: Performance Point


Explore Performance Service Application
Explore the Dashboard Designer
Create a Scorecard
Create a Dashboard

Lab 11A: Visio Services


Publish a Visio to SharePoint
Tie Report Process to Visio

Lab 11B: Access Services


Publish Access Database to SharePoint

Lab 12A: GeoSpatial Data with SQL Server


Populate a SQL Server Database using Shape2SQL
Utilize the new Spatial Data Types in SQL Server
Create a Reporting Services Report using Geospatial Data
Publish Geospatial Data to SharePoint 2010

Lab 12B: Bing Maps


Create a Simple Map with Content Editor Web Part
Create an Advanced Map with Data Views
Integrate Geospatial Customer Data into SharePoint Sites

Lab 12C: NET Charts



Prerequisites & Certificates

Pre-Requisites

- Understanding of SharePoint 2010 user interface and database reporting concepts - Familiarity with data marts and data warehouses

Certificates offered

- Eligible for SATV Purchase - 5 Day SATV Voucher




Cancellation Policy

We require 16 calendar days notice to reschedule or cancel any registration. Failure to provide the required notification will result in 100% charge of the course. If a student does not attend a scheduled course without prior notification it will result in full forfeiture of the funds and no reschedule will be allowed. Within the required notification period, only student substitutions will be permitted.

Reschedules are permitted at anytime with 16 or more calendar days notice. Enrollments must be rescheduled within six months of the cancel date or funds on account will be forfeited.


Map & Reviews

Online Classroom
your office
your city, your province
your country .




Reviews

We have not received any reviews specific to this course as yet, however here are some reviews of the training vendor.
Registration is fast, and will take approximately 3 minutes. There is no membership fee.
» You are also welcome to Make an Offer

Not enough budget for this course? Maybe you just love to make deals!
In either case, our Make an Offer feature gives you the opportunity to name
your own price. Try it out, you might get lucky, just keep in mind it can
take up to 1 full business day to get a response!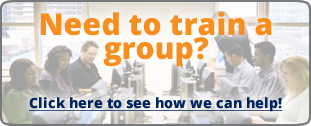 This course is also scheduled on the following dates:
Not interested in this Course?
Tell us why:
This page has been viewed 21 times.