MS Access 2003 Level 1 - 1 Day
» back to Search Results
In this course, you will be introduced to the concept of the relational database by using the Microsoft® Office Access 2003 relational database application and its information management tools.
Course Outline

Most organizations maintain and manage large amounts of information. One of the most efficient and powerful information management computer applications is the relational database. Information can be stored, linked, and managed using a single relational database application and its associated tools. In this course, you will be introduced to the concept of the relational database by using the Microsoft® Office Access 2003 relational database application and its information management tools.


**GUARANTEED TO RUN**
Course Objective You will be introduced to the features of the Access 2003 application. Target Student: This course is designed for students who wish to learn the basic operations of the Access 2003 database program to perform their day-to-day responsibilities, and to understand the advantages that using a relational database program can bring to their business processes. The Level 1 course is for the individual whose job responsibilities include working with tables to create and maintain records, locate records, and produce reports based on the information in the database. It also provides the fundamental knowledge and techniques needed to advance to more technical Access responsibilities, such as creating and maintaining new databases and using programming techniques that enhance Access applications.
Course Content

Lesson 1: An Overview of Access 2003
Topic 1A: Understand Relational Databases
Topic 1B: Examine the Access Environment
Topic 1C: Open the Database Environment
Topic 1D: Examine an Access Table

Lesson 2: Managing Data
Topic 2A: Examine an Access Form
Topic 2B: Add and Delete Records
Topic 2C: Sort Records
Topic 2D: Display Recordsets
Topic 2E: Update Records
Topic 2F: Run a Report

Lesson 3: Establishing Table Relationships
Topic 3A: Identify Table Relationships
Topic 3B: Identify Primary and Foreign Keys in the Relationships Window
Topic 3C: Work with Subdatasheets

Lesson 4: Querying the Database
Topic 4A: Create a Select Query
Topic 4B: Add Criteria to a Query
Topic 4C: Add a Calculated Field to a Query
Topic 4D: Perform a Calculation on a Record Grouping

Lesson 5: Designing Forms
Topic 5A: Examine Form Design Guidelines
Topic 5B: Create a Form Using AutoForm
Topic 5C: Create a Form Using the Form Wizard
Topic 5D: Modify the Design of a Form

Lesson 6: Producing Reports
Topic 6A: Create an AutoReport
Topic 6B: Create a Report by Using the Wizard
Topic 6C: Examine a Report in Design View
Topic 6D: Add a Calculated Field to a Report
Topic 6E: Modify the Format Properties of a Control
Topic 6F: AutoFormat a Report
Topic 6G: Adjust the Width of a Report

Appendix A: Microsoft Office Specialist Program




About our GUARANTEED TO RUN courses

With (R)Evolution, TekSource is transforming the way IT professionals receive training. Our courses are led by Certified Instructors and supported by online course mentors. Course content is delivered through expert video modules and interactive features, in tandem with virtual lab exercises and progress quizzes. When you take training with TekSource, you get a comprehensive training solution that incorporates the following value add components into one "revolutionary" offering:>

Pre-class Facilitation

We start the learning process well before you arrive at our door with lots of communication and information. Our instructors, coordinators and facilitators will ensure that when course participants arrive, they will have all the tools they need to be successful and students will have already started to learn

In our Facility with Certified instructors

With (R)Evolution, each course is supported by a certified instructor who facilitates, coaches and mentors the students through the learning process - their only job is to ensure our students' success. Students attend class in one day increments (which can be non-consecutive days for multi-day courses).

Since the course content is provided by the expert video modules, the in-class instructor can devote 100% of their time to individual instruction and guidance.
Our exclusive consultative learning approach ensures that the needs of each student are assessed and support during and subsequent to the course is tailored to them.

Expert Video Modules

(R)Evolution guarantees consistent, high quality instruction, and uniform delivery of the course material mapped to official vendor course curriculum with no missed topics.

Content is delivered by World Class Experts and Certified Trainers and it has been edited and produced so that students are presented the best possible delivery of the course material.
Self Scheduled progress matches the learning speed of each student – it allows for instant review, and results in improved retention.


Interactive Content

Throughout the Learning experience, instruction is reinforced with practical exercises, lab exercises completed in live lab environments and progress checks that give immediate feedback to the student regarding their progress.

Keeps students engaged, on track and in line with their objectives
Provides instant feedback, real time results and acts as a measure for the instructor to provide further mentorship




Prerequisites & Certificates

Pre-Requisites

To ensure the successful completion of Microsoft® Office Access 2003: Level 1, we recommend completion of one of the following Element K courses, or equivalent knowledge from another source: • Windows 2000: Introduction • Windows XP: Introduction • Windows XP Professional: Level 1 • Windows XP Professional: Level 2

Certificates offered

Participants will receive a course manual and certificate of participation.




Cancellation Policy

Cancellations or postponements received more than ten business days prior to the first day of the course, will be subject to a 15% administration fee, and course ware fees where applicable. The cost of the course is payable, in full, for any cancellations or postponements received within ten business days, or less, prior to the first day of the course.



Map & Reviews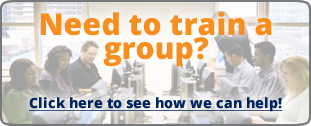 This course currently does not have any dates scheduled. Please call
1-877-313-8881

to enquire about future dates or scheduling a private, in house course for your team.
This page has been viewed 8674 times.