Hacking Uncovered: VMware 5 Day Hands On Bootcamp
» back to Search Results
Course Outline

Chapter 1 - Primer and reaffirming our knowledge


Overview
ESX Networking Components
Virtual Ethernet Adapters and How They Work.
Virtual Switches and How They Work
Virtual Switches vis-a-vis Physical Switch
Why The Spanning Tree Protocol is Superfluous
What are Virtual Ports and Why Should we be Concerned?
VMWare so-called "Uplink Ports" and their interaction with the Physical equivalent
Concept of Port Groups - They are out of this (physical) world!
Uplinks
Virtual Switch Correctness
VLANs in VMware Infrastructure
NIC Teaming
Load Balancing
Failover Configurations
Layer 2 Security Features
Managing the Virtual Network with "VirtualCenter"
File System Structure
Kernel
Processes
When do the processes start?
Starting and Stopping Processes
Interacting with Processes
Account and Groups
Password and Shadow File Formats
Linux and Unix Permissions
Set UID Programs
Trust Relationships
Logs and Auditing

Chapter 2 - Penetration Testing 101

Overview
What is a Penetration Test?
Benefits of a Penetration test
What is the Cost of a Hack?
Example
Current Issues
Malware/Virus
Active Zombies
Hash Collisions
SQL Injection
Identity Theft
Social Engineering, EXploits and Chained Exploits
Chained Exploit Example
The Evolving Threat
Pen Testing Methodology
Types of Tests
Website Review
Common Management Errors
It's not Just about the Tools!

Chapter 3 - Routing and the Security Design of VMware

Overview
Security of Routing Data
How traffic is routed Between Virtual Machines on ESX host
Different vSwitches, same port group and VLAN
Same vSwitch, different port group and VLAN
Same vSwitch, same port group and VLAN
Security Design of the VMware Infrastructure 3 Architecture
VMware Infrastructure Architecture and Security Features
Virtualization Layer
CPU Virtualization
Buffer overflow
Memory Virtualization
Virtual Machines
Service Console
Virtual Networking Layer
Virtual Switches
Virtual Switch LANs
Virtual Ports
Virtual Network Adapters
Virtual Switch Isolation
Virtual Switch Correctness
Virtualized Storage
SAN Security
VMware Virtual Center

Chapter 4 – Information Gathering, Scanning and Enumeration

Overview
What information does the hacker gather?
Methods of Obtaining Information
Footprinting Defined
Maltego
Firefox Add
Google Hacking
Introduction to Port Scanning
Port Scanning Tools
NMAP
TCP Connect Port Scan
Half-Open Scan
Firewalled Ports
Service Version Detection
Additional NMAP Scans
UDP Scans
Enumeration Overview
Web Server Banner Grabbing
Telnet
SuperScan4
SMTP Server Banner
DNS Enumeration
Zone Transfers
Backtrack Tools
Active Directory Enumeration
LDAP miner
Null Sessions
Enumeration with Cain and Abel
NAT Dictionary Attack Tool
THC-Hydra
Cool Stuff with Cain

Chapter 5 – DMZ Virtualization

Overview
Virtualized DMZ Networks
Typical Virtualized DMZ
Three Typical Virtualized DMZ Configurations
Partially Collapsed DMZ with Separate Physical Trust
Zones
Partially Collapsed DMZ with Virtual Separation of Trust
Zones
Fully Collapsed DMZ
Best Practices for Achieving a Secure Virtualized DMZ Deployment
Harden and Isolate the Service Console
Clearly Label Networks for each Zone within the DMZ
Set Layer 2 Security Options on Virtual Switches
Enforce Separation of Duties
Use ESX Resource Management Capabilities
Regularly Audit Virtualized DMZ Configuration

Chapter 6 – Remote DataStore Security

Overview
Mask and Zone SAN Resources
LUN Masking
SAN Zoning
Port Zoning
Hard and Soft Zoning
WWN Zoning
Classes of Attacks against SANs
Fiber Channel
Fiber Channel – Security Protocol
ESP over Fiber Channel
DH-CHAP
Switch Link
Attacking Fiber Channel
Securing iSCSI, iFCP and FCIP over IP networks

Chapter 7 – Penetration Testing and the Tools of the Trade

Overview
Vulnerabilities in Network Services
Vulnerability Assessment Scanners
Nessus
Saint
Windows Password Cracking
Syskey Encryption
Cracking Techniques
Cryptanalysis
Disabling Auditing
Clearing the Event Log
Alternate Data Streams
Stream Explorer
Encrypted Tunnels
Port Monitoring Software
Rootkits
Metasploit
Fuzzers
SaintExploit
Core Impact
Penetration Testing Tool Comparison
Wireshark
ARP Cache Poisoning
Cain and Abel
Ettercap
Breaking SSL Traffic
Hash Algorithm
MD5 Hash Collisions

Chapter 8 – Hardening your ESX Server

Overview
Hardening Your ESX Server
ESX Best Practices

Virtual Machines
Secure Virtual Machines as You Would Secure Physical Machines
Disable Unnecessary or Superfluous Functions
Take Advantage of Templates
Prevent Virtual Machines from Taking Over Resources
Isolate Virtual Machine Networks
Arp Cache Poisoning
VM Segmentation
Minimize Use of the VI Console
Virtual Machine Files and Settings
Disable Copy and Paste Operations Between the Guest Operating System and Remote Console
Limit Data Flow from the Virtual Machine to the Datastore
SetInfo Hazard
Do Not Use Nonpersistent Disks
Ensure Unauthorized Devices are Not Connected
Prevent Unauthorized Removal or Connection of Devices
Avoid Denial of Service Caused by Virtual Disk Modification Operations
Specify the Guest Operating System Correctly
Verify Proper File Permissions for Virtual Machine Files
Configuring the Service Console in ESX 3.5
Configure the Firewall for Maximum Security
Limit the Software and Services Running in the Service Console
Use VI Client and VirtualCenter to Administer the Hosts Instead of Service Console
Use a Directory Service for Authentication
Strictly Control Root Privileges
Control Access to Privileged Capabilities
Establish a Password Policy for Local User Accounts
Do Not Manage the Service Console as if it were a Linux Host
Maintain Proper Logging
Establish and Maintain File System Integrity
Secure the SNMP Configuration
Protect against the Root File System Filling Up
Disable Automatic Mounting of USB Devices

Best Practices ESXi

Configuring Host-level Management in ESXi 3.5
Strictly Control Root Privileges
Control Access to Privileged Capabilities
Maintain Proper Logging
Establish and Maintain Configuration File Integrity
Secure the SNMP Configuration
Ensure Secure Access to CIM
Audit or Disable Technical Support Mode

Configuring the ESX/ESXi Host

Isolate the Infrastructure-related Networks
Configure Encryption for Communication between Clients and ESX/ESXi
Label Virtual Networks Clearly
Do Not Create a Default Port Group
Do Not Use Promiscuous Mode on Network Interfaces
Protect against MAC Address Spoofing
Secure the ESX/ESXi Host Console
Mask and Zone SAN Resources Appropriately
Secure iSCSI Devices through Authentication

VirtualCenter

Set Up the Windows Host for VirtualCenter with Proper Security
Limit Administrative Access
Limit Network Connectivity to VirtualCenter
Use Proper Security Measures when Configuring the Database for VirtualCenter
Enable Full and Secure Use of Certificate-based Encryption
VirtualCenter Server Certificates Replacement
Pre-Installation
During Installation
Post-Installation
Use VirtualCenter Custom Roles
Document and Monitor Changes to the Configuration
VirtualCenter Add-on Components
VMware Update Manager
VMware Converter Enterprise
VMware Guided Consolidation
General Considerations

Client Components

Restrict the use of Linux-based Clients
Verify the Integrity of VI Client
Monitor the Usage of VI Client Instances
Avoid the Use of Plain-Text Passwords

Appendix:

The Basics of SAN Security, Part I
Increasing Security Concerns
Security Domains

Administrator-to-Security Management Domain
Host-to-Switch Domain
Security Management-to-Fabric Domain

Switch-to-Switch Domain
Data Integrity and Security

So What Is Zoning?
Zoning Types
Configuring Zoning Components
LUN Masking
Persistent Binding
Security Technologies
Host-to-Fabric
Summary and Conclusions

Security Management Part 2

Fibre Channel Security Management
Authentication and Authorization
Configuration Management
SAN Access
SAN Security Benefits
Host-Based and Switch Based Mapping
Controller-based Mapping
WWN Privileged Access
Redundancy
Management
Summary and Conclusions
Appendix 1 – Malware
Distributing Malware
Malware Capabilities
Netcat

Executable Wrappers
Avoiding Detection
BPMTK
Appendix 2 – SQL Injection
What is SQL Injection?
Why SQL Injection?
Attacking Database Servers




Prerequisites & Certificates

Pre-Requisites

Virtual Infrastructure 3.5 Ultimate Bootcamp® or equivalent. In lieu of hands-on classroom training, an in-depth knowledge of VMware's ESX virtualization environment is required.

Certificates offered

Certificate of Completion




Cancellation Policy

Cancellations or postponements received more than ten business days prior to the first day of the course, will be subject to a 15% administration fee, and course ware fees where applicable. The cost of the course is payable, in full, for any cancellations or postponements received within ten business days, or less, prior to the first day of the course.



Map & Reviews




Reviews

This course has not yet been rated by one of our members.

If you have taken a course through this vendor please log into your account and leave feedback for this vendor. You will be helping ensure our members get directed to the best training facilities.

Here are some reviews of the training vendor.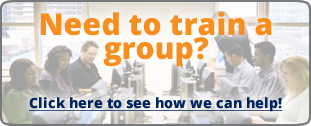 This course currently does not have any dates scheduled. Please call
1-877-313-8881

to enquire about future dates or scheduling a private, in house course for your team.
This page has been viewed 262 times.