» back to Search Results
Premiere Introduction is a hands-on instruction book that will introduce you to most of the features of the Adobe Premiere program. You will use both basic and advanced editing tools to edit audio and video clips, to create a complete digital movie.
Course Start Date:

Nov. 27

Location: Edmonton

(Map)

Time:

9:00 am - 4:00 pm

(Note on end times)

Please Note: End Times are approximate and depend
on the number or students and pace of the class.
It is important to allow for the class to run a little bit longer,
or finish a little sooner, than expected.

Duration:

2 Days
Delivery Method(s):

Instructor Led

Mentored training is a revolutionary training method
that provides you with the quality training that
you have come to expect, and combines it with
flexible learning and a self paced environment.
For more information click here.

Discount Seats Available:

2

Category:

Adobe Premiere Pro Training
Course Outline

Premiere Introduction is a hands-on instruction book that will introduce you to most of the features of the Adobe Premiere program. In this course, you will use both basic and advanced editing tools to edit audio and video clips, to create a complete digital movie.

Course Content
Premiere Pro CS5 Basics


Looking at the interface
Arranging the workspace
Customizing the workspace
Optimizing your workflow

Starting a Project


Starting a project
Specifying project settings
Choosing a project preset
Saving and opening projects
Locating missing and offline files

Capturing & importing footage


Understanding capture
Capturing DV or HDV vs. digitizing analog
Understanding capture options
Using the capture panel
Choosing capture settings
Choosing a capture location
Using device control
Using playback controls in the capture panel
Capturing audio and video
Importing files
Importing layered Photoshop files
Importing still-image sequences
Importing projects
Importing with adobe bridge CS5
Creating a Photoshop file
Generating synthetic media

Managing Clips


Working with the project panel
Working with project panel views
Working with icon and link view
Selecting items in the project panel
Using the preview area of the project panel
Organizing clips in bins
Creating copies of source clips
Finding clips
Interpreting footage
Unlinking and relinking media
Using the project manager

Viewing Clips in the Monitor Panels


Using the monitor panels
Using the source monitor
Opening audio clips
Using playback controls
Cuing clips numerically
Using a monitor€(TM)s time ruler controls
Viewing video safe zones
Choosing a quality setting
Changing the magnification
Choosing a display mode
Setting waveform and vectorscope
Display options
Using a reference monitor
Ganging the source and program monitors

Creating a Sequence


Comparing editing methods
Setting in and out points
Setting precise audio in and out points
Creating subclips
Setting clip markers
Cuing to and clearing clip markers
Specifying source and target tracks
Comparing overlay and insert edits
Adding clips by dragging
Editing with monitor panel controls
Three-point editing
Four point-editing
Performing an edit using
Monitor controls
Life and extract
Storyboard editing
Using multiple sequences
Nesting sequences
Editing multiple-camera footage

Editing in the Timeline


Customizing the time ruler
Customizing track views
Adding, deleting, and renaming tracks
Monitoring tracks
Locking and unlocking tracks
Getting around the timeline
Playing the sequence in the timeline
Cuing the edits
Using sequence markers
Selecting clips in the timeline
Grouping clips
Deleting clips and gaps from the timeline
Enabling and disabling clips
Splitting clips
Cutting, copying, and pasting clips
Playing clips at a different speed or
in reverse
Creating a freeze frame

Refining the Sequence


Using the snapping feature
Editing by dragging
Choosing a trimming method
Trimming clips in the timeline
Making slip and slide edits
Using the trim panel
Working with links
Breaking and creating links
Keeping sync
Finding source clips and matching frames

Adding Transitions


The effects panel
Understanding transition duration
And alignment
Setting the default transition
Applying a transition
Using the effect controls panel
With transitions
Adjusting a transitions duration
And alignment
Customizing transition settings

Previewing a Sequence


Using real-time rendering
Rendering the work area
Storing preview files

Mixing Audio


Planning an audio mix
Specifying audio hardware options
Converting mono and stereo clips
Adjusting a clip€(TM)s gain
Creating cross-fades with
Audio transitions
Viewing audio data in the timeline
Using the audio mixer
Monitoring tracks in the audio mixer
Recording with the audio mixer
Mixing 5.1 audio
Selecting an automation mode
Routing track output
Working with sends
Adding track effects
Specifying audio keyframe optimization
Mixing with the audio mixer

Creating Titles


The titler
Using title templates
Viewing the video safe zones

Using Effects


Comparing effect types
Viewing properties in the effect
Controls panel
Animating opacity and volume
Editing keyframes in the effect
Controls panel

Creating Output


Exporting a movie file
Using the adobe media encoder


 


Prerequisites & Certificates

Pre-Requisites

Basic computer concepts/skills and knowledge of Windows

Certificates offered

Certificate of completion




Cancellation Policy

10 business days cancellation or full course fee will be charged


Map & Reviews

TTC, B-11 Cameron Library
11320-89 Avenue,
University of Alberta
Edmonton, Alberta
Canada T6G 2J8



Registration is fast, and will take approximately 3 minutes. There is no membership fee.
» You are also welcome to Make an Offer

Not enough budget for this course? Maybe you just love to make deals!
In either case, our Make an Offer feature gives you the opportunity to name
your own price. Try it out, you might get lucky, just keep in mind it can
take up to 1 full business day to get a response!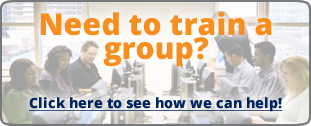 This course is also scheduled on the following dates:
Not interested in this Course?
Tell us why:
This page has been viewed 96 times.