Websense Web Security 2 Days
» back to Search Results
During this two day training course, you will learn how to install, configure, administer and support Websense Web Security Suite software.
Course Outline

During this two day training course, you will learn how to install, configure, administer and support Websense Web Security Suite software. Through instruction, iLabs (instructor led demos and lab exercises) and hands-on lab practice exercises, you will gain familiarity with the requirements and recommendations of Websense product deployment, installation and configuration, Websense product and component functionality (remote filtering, delegated and remote administration) and troubleshooting via internal and 3rd party diagnostic processes.

Audience
Network Administrators, security administrators

Outline
Lesson 1: Course Introduction: Websense Overview and Software Architecture


About Websense, Inc.
Websense Security Labs
Protection Services
Websense Product Overview
Websense Software
Key Features
Websense Reporting Tools
Additional Features and Product Add-ons

Lesson 2: Installation and Deployment Part 1


Installation Part 1
Preinstall Questions
Hands-On Lab 2-1: Installing Websense Web Security Suite
Deployment Part 1
Websense Core Components
Websense Secondary Components
Additional Deployment Notes
Instructor-Led Lab (iLab) 2-2: Websense Help and Documentation
Installing Websense Reporting Tools and Components
Log Sever
Reporter
Enterprise Explorer
Database Administration
Hands-On Lab 2-3: Installing Reporting Components

Lesson 3: Websense Server Configuration


Websense Manager
Menu Bar & Navigation Tree
Instructor Led Lab (iLab) 3-1: Websense Manager Menu Bar and Navigation Tree
Websense Manager Content Pane
Policy Window
Category Set
Protocol Set
Hands-On Lab 3-2: Websense Server Configuration
Network Agent
Websense Server Settings
Instructor-Led Lab (iLab) 3-3: Customize Block Pages
Starting and Stopping Websense Components

Lesson 4: User Identification: Authentication and User Names


Introduction to User Identification
Filter by Workstation and Global Policy
Benefits of filtering by Users, Groups, and Domains
Software required for User Identification
Directory Service and Websense User Service
Hands-On Lab Lab 4-1: Setting Up Active Directory Authentication
Difference between Manual Authentication and Transparent Identification
Three Methods for Identifying Users
Websense Integration Products
Integrated Directory Service
Websense Transparent Identification (XID) Agents
DC Agent (Windows Domains, both NTLM and LDAP protocols)
Domain Controller Polling
Workstation Polling
Logon Agent (Local Machines)
Group Policy Enabled
Login/Logout Scripts
eDirectory Agent (Identifies Novell eDirectory Logons)
RADIUS Agent (Remote Authentication)
Manual Authentication

Lesson 5: Working with Policies


About Websense Filtering
Filtering Defaults
Initial Filtering
Global Policy
Editing the Global Policy
Filtering Structures
Category Sets
Protocol Sets
Filtering Options
Basic Filters: Permit, Block, Quota Time, Continue
Hands-On Labs: 5-1: General Filtering & 5-2: Quota Times & 5-3: Password Override and Continue
Advanced Filters: Keywords, File Types, Bandwidth Usage
Hands-On Lab: 5-4: Keywords and File Type Blocking
Other Filters: Time of Day, Day of Week, Custom URLs, Yes Lists
Hands-on Labs: 5-5 Custom URLs & 5-6 Yes Lists
Protocol Filtering
Controlling Spyware, Malware, etc.
Hands-on Lab: 5-7: Configuring Protocol Sets and Creating Custom Sets
Working with Policies
Creating Policies
Modifying Policies
Hands On Lab: 5-8: Creating Custom Sets and Policies
Applying Policies
Users and Groups
Directory Structures and Organizational Units
IP Addresses and Network Ranges
Entire Network (Global)

Lesson 6: Troubleshooting Part 1


Troubleshooting Overview
Websense Troubleshooting Tools and Processes
Websense Diagnostic Tools
TestLogServer
Hands-On Lab: 6-1 Troubleshooting Using TestLogServer
WebsensePing
Hands-on Lab: 6-2 WebsensePing with Workstation IPs
Block Page 'More Information' Link
Hands-on Labs: 6-3 More Information from Block Pages
ConsoleClient & 6-4 Connecting ConsoleClient to the Filtering Service & 6-5 Connecting ConsoleClient to DC Agent
Websense Component Service Debugging
Network Agent
User Service
Hands-On Lab: 6-6 Debugging the User Service with dstrace
Log Server
Websense Explorer
Websense Real-Time Analyzer
Miscellaneous Troubleshooting
Database Download Problems
Password Reset
Hands-On Labs: 6-7 Lab Pre-Work & 6-8 Password Reset
Using Error Logs
Websense Log File
Windows Event Viewer

Lesson 7: Websense Reporting Tools


Websense Reporting Tools Overview
Reporting Tools Deployment & Architecture
Websense Reporting Components
Websense Log Server
Websense Log Database
Websense Reporting Tools Portal
Websense Real-Time Analyzer
Websense Explorer
Client Policy Manager Explorer
Client Policy Manager Reporter
Database Administration Tool
Hands-On Lab 7-1: Websense Reporting Tools

Lesson 8: Remote Filtering


About Remote Filtering
Remote Filtering Server
iLab 8-1: Install Remote Filtering Server Service
Remote Filtering Client
Hands-on Lab 8-2: Installing the Remote Filtering Client & 8-3: Remote Filtering In Action

Lesson 9: Deployment Part 2


General Deployment Recommendations by Network Size
Hardware and Software
Component Limits and Suggestions
Network Agent Suggestions
Filtering Services per Policy Server
Deploying Transparent Identification Agents
Deploying Network Agent
Maximizing System Performance
Network Agent
Real-Time Analyzer
HTTP Reporting
Database Engine
Log Database Disk Space Recommendations
Remote Filtering
Deploying in Networks Up to 10,000 Users
Small Networks (1-500 users)
Medium Networks (500 – 2,500 users)
Large Networks (2,500 – 10,000 users)
Deploying in Networks with Over 10,000 Users
Enterprise Networks (10,000 – 25,000 users)
Very Large Enterprise Networks (25,000+)

Lesson 10: Installation Part 2


Upgrading from Previous Versions
Supported Upgrade Versions
Upgrade Path Recommendations
Backups
Component Upgrades
Distributed Components
Remote Filtering Components & Reporting Tools

Lesson 11: Advanced Administration


Delegated and Remote Administration
Managing Roles
Administrative Roles
Creating and Configuring Roles
Hands-On Labs: 11-1: Delegated Administration & 11-2: Creating a Super Administrator
Central Configuration Distribution
Delegated Reporting
Administrative Auditing and Logging
Auditing
SNMP Alerting
Anonymous Logging
Hands-On Labs: Lab 11-3: Remote Administration and Reporting & 11-4: Delegated Reporting

Lesson 12: Troubleshooting Part 2


3rd Party Troubleshooting: Tools and Concepts
Ethereal/Wireshark
TCP View
FileMon
LDAP Browsers
OS Commands
Troubleshooting Remote Filtering Problems


[Optional Modules]

Topic 1a: Terminology, Network Essentials and Websense Software Basics


Why Filter Internet Access?
What can Websense Software Do?
Network Essentials
Part 1 Concepts & Terminology
Part 2 Network Components
Part 3 Network Services
Websense Software in Action
Basic Permit and Block Scenarios

Lesson 13a: Integrations and Websense Technology Partners


Websense Web Security Ecosystem
New in Websense v6.3
Citrix
Web Blazer
Solution Variations
Websense Integration Service (WIS)
Migrating an Integration

Lesson 13b: Websense Security Labs


Websense Security Labs Overview
Web Protection Services
BrandWatcher
SiteWatcher
ThreatWatcher

Lesson 13c: About Client Policy Manager (CPM) – Desktop Security


CPM Fundamentals
About CPM
CPM Components & Shared Components
v6.3 CPM Enhancements




Prerequisites & Certificates

Pre-Requisites

None

Certificates offered

Certificate of Completion




Cancellation Policy

Our cancellation/reschedule policy requires notification at least 10 business days before the class start date for a full refund. Please note that you are responsible for notifying NTG of your inability to attend class or you will be invoiced for the full payment.

Should you need to cancel in less than 10 business days before the start of the class, you will be given a 100% credit towards a future class that must be taken within 6 months of the start of the original class. If you are not able to reschedule to a future class, you will be charged 50% of the upfront registration fee.

Classes are subject to cancellation by NTG up to two weeks prior to the class date. It is important to keep this in mind before you purchase a non-refundable airline ticket.




Map & Reviews




Reviews

This course has not yet been rated by one of our members.

If you have taken a course through this vendor please log into your account and leave feedback for this vendor. You will be helping ensure our members get directed to the best training facilities.

Here are some reviews of the training vendor.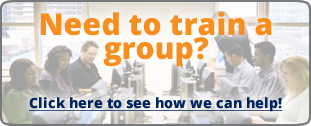 This course currently does not have any dates scheduled. Please call
1-877-313-8881

to enquire about future dates or scheduling a private, in house course for your team.
This page has been viewed 1021 times.