Introduction to Microsoft Silverlight 4
» back to Search Results
The Silverlight 4 class focuses on the basics of Silverlight & supporting technologies. While this course targets Silverlight developers, designers looking to utilize Silverlight & Microsoft Expression Suite will also benefit from the knowledge gained.
Course Outline

In this Silverlight 4 training class students will build an application through a series of hands-on labs. The Silverlight 4 class focuses on the basics of Silverlight and supporting technologies. While this course targets Silverlight developers, designers looking to utilize Silverlight and Microsoft Expression Suite will also benefit from the knowledge gained.

You will learn:

How to build Silverlight applications.
How to incorporate Silverlight into Web applications.
Become familiar with XAML.
Debug and troubleshoot Silverlight applications.


Course Outline: Module 1: Introduction to Silverlight Silverlight Overview


Rich Internet Applications

¯ AJAX
¯ Flash
¯ Silverlight
¯ V1.0
¯ V2.0
¯ V3.0
¯ V4.0


The Silverlight Plug-In
Silverlight implementations


Silverlight Clients and Servers


Silverlight Client Platforms
Silverlight Browsers
Silverlight Accessibility
Silverlight Server Platforms

The .Net Framework and Silverlight


What is the .NET Framework
NET Framework Features
Silverlight vs. WPF
Silverlight and WCF

Silverlight Development Tools


Visual Studio 2010
Expression Suite


Module 2: Silverlight Project and Application Architecture Silverlight Application with Website Template


Creating a Silverlight Solution

¯ Selecting the Project Template
¯ Choosing the Website Template
¯ Web Site
¯ Web Project
¯ MVC


Understanding the Solution Structure

¯ Silverlight Project
¯ Website Project


Silverlight Project Contents

¯ App.xaml
¯ App.xaml.cs
¯ Events
¯ Startup
¯ Exit
¯ UnhandledException
¯ UserControl
¯ Namespaces
¯ LayoutRoot
¯ MainPage.xaml.cs
¯ Constructor
¯ Initialize Components
¯ Loaded Event handler
¯ "Test" web pages
¯ HTML Object Tag
¯ Silverlight.js
¯ Plug-in installation and startup
¯ Positioning the Silverlight plug-in

Additional Project Templates


Silverlight Navigation Application Template
Silverlight Business Application Template
Demo: Silverlight Navigation Application Template

Using Source Control


Benefits of Source Control
Visual Studio and Blend Source Control Compatibility

Lab: Silverlight Project and Application Architecture


Exercise: Create a Silverlight Project with Website
Exercise: Change the Applications RootVisual
Exercise: Add a Silverlight Project to an Existing Website
Exercise: Create a Silverlight Navigation Application without a Website


Module 3: Introduction to XAML XAML Syntax

XAML Namespaces

Using the Visual Studio 2010 XAML Designer

Assigning Property Values


Attribute syntax
Child element syntax
Attached Properties


Markup Extensions

Accessing XAML Elements in Code


Naming Elements
Referencing


Events and Event handlers


Routed Events
Mouse Events
Keyboard Events


Lab: Introduction to XAML


Exercise: Create a basic Grid layout
Exercise: Position Controls in the Grid
Exercise: Create and Use a Resource
Exercise: Assign and Implement an Event Handler


Module 4: Silverlight Layout Controls

Grid
Canvas
StackPanel
Border
WrapPanel
DockPanel
ScrollViewer
ViewBox
Combining Layout Controls
Clipping Regions


Module 5: Silverlight User Interface Controls

Built-In Controls
TextBlock
TextBox
RichTextArea
PasswordBox
Button
Checkbox
RadioButton
Slider
SDK Controls
Toolkit Controls

Module 6: Working with Silverlight in Expression Blend Expression Blend


Creating new projects in Blend
Opening an existing project with Expression Blend


Blend User Interface

Objects and Timeline Panel

Toolbox


Selection Tools
Color Tools and Gradients
Paths and Shapes
Layout Controls
UI Controls
Asset Panel


Properties Panel
¯ Solid Colors
¯ Gradients
¯ Setting Gradient Stops
¯ Using the Gradient Transform Tool
¯ Translation
¯ Rotation
¯ Scale
¯ Skew
¯ Origin Translation
Simple Animations
Creating a StoryBoard
Creating Keyframe Animations
Effects


PixelShader Effects
Using Blur and Drop Shadow

Behaviors


Adding behaviors
Setting behavior properties


Module 7: Silverlight Resources, Styles, Templates and Themes
Resources


Control
UserControl
App.xaml

Resource Dictionary


Styles
Implicit Styles
Referenced Styles
BasedOn Styles

Visual State Manager


State Groups and States
Transitions
Simple state animations
Complex state animations
Changing States

Templates

Parts Model

Themes

Module 8: Silverlight User Controls and Custom Controls Creating and Reusing your own UserControls


Creating a User Control
Adding a user control to another user control
Dynamically loading controls


Creating custom control libraries


Project type
Dependency Properties
Routed Events
Default template
Referencing custom control libraries
Using custom controls


Module 9: Debugging and Error Handling in Silverlight Building your Silverlight Projects and Solutions


Using the Output Window
Using the Errors Window

Debugging Silverlight in Visual Studio
Dealing syntax errors in XAML


AG_ERROR_UNKNOWN XAML Parser errors

Handling Exceptions in Silverlight

Module 10: Silverlight Browser Integration HTML Bridge


Accessing the web page from Silverlight

¯ DOM element access
¯ Attaching to DOM events
¯ Causing pop-up windows


Accessing Silverlight from the web page

¯ Accessing managed objects
¯ Attaching to managed events
Local Connections
Full Screen Support

Out of Browser Support


Controlling the Window
Support for DRM
HTML Hosting with WebBrowser Control
Popup alerts with NotificationWindow ("Toast")
Elevated Trust




Prerequisites & Certificates

Pre-Requisites

Before attending this course, students must have experience in: * Proficiency in C# 3.0 or later * Familiarity with Visual Studio (2008 or 2010) Experience in the following areas would be beneficial: * ASP.NET

Certificates offered

Certificate of completion




Cancellation Policy

Our cancellation/reschedule policy requires notification at least 10 business days before the class start date for a full refund. Please note that you are responsible for notifying NTG of your inability to attend class or you will be invoiced for the full payment.

Should you need to cancel in less than 10 business days before the start of the class, you will be given a 100% credit towards a future class that must be taken within 6 months of the start of the original class. If you are not able to reschedule to a future class, you will be charged 50% of the upfront registration fee.

Classes are subject to cancellation by NTG up to two weeks prior to the class date. It is important to keep this in mind before you purchase a non-refundable airline ticket.




Map & Reviews




Reviews

This course has not yet been rated by one of our members.

If you have taken a course through this vendor please log into your account and leave feedback for this vendor. You will be helping ensure our members get directed to the best training facilities.

Here are some reviews of the training vendor.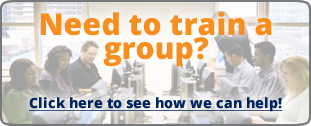 This course currently does not have any dates scheduled. Please call
1-877-313-8881

to enquire about future dates or scheduling a private, in house course for your team.
This page has been viewed 477 times.