Introduction to iPhone & iPad Application Development
» back to Search Results
Learn to use the iPhone SDK's Xcode, Interface Builder & UIKit framework to develop sophisticated, full-featured iOS 4 iPhone & iPad applications. You'll learn the essentials of iPhone & iPad development: the tools, frameworks, concepts, & best practices
Course Outline

iPhone/iPad development from the ground up
Learn to use the iPhone SDK's Xcode, Interface Builder, and UIKit framework to develop sophisticated, full-featured iOS 4 iPhone and iPad applications. This development training course will enable you to use many of the powerful features of Objective-C, Cocoa Touch, and the various iPhone SDK libraries and frameworks.

Craft native iPhone applications
You'll learn the essentials of iPhone and iPad development: the tools, frameworks, concepts, and best practices—with plenty of hands-on exercises to strengthen your understanding.

Objectives We take a somewhat different approach to teaching iPhone and iPad development. First, we spend considerably more time on Objective-C 2.0 and the Foundation framework. We think that's essential to becoming a competent iPhone/iPad developer.

Second, we don't jump right into Interface Builder (IB) when we start getting into iPhone and iPad development. Instead, we'll show you how to do everything programatically at first. Once you have a solid grasp of how the user interface works at the API level, we'll show you how to integrate IB into your development process. That will help clear up a lot of the confusion that usually results when developers first start trying to use IB. (Interface Builder is unusual in that it's not a code generator—instead, it works with serialized objects, so it can seem awfully magical at first.)

This approach is in keeping our overall training philosophy, which favors a bottom-up methodology that allows you to learn from scratch, step-by-step. Not only does this make learning easier; it'll help you lay down a more solid foundation for iPhone and iPad development.
We combine this approach with a smaller class size that ensures plenty of individualized attention from the instructor. That way, we can be sure you'll have a chance to get all your questions answered, and get all your lab exercises completed successfully.
• Gain hands-on proficiency with Objective-C 2.0 and the Foundation framework for iPhone and iPad development
• Get up to speed fast on Xcode and Interface Builder
• Learn to write custom iPhone/iPad drawing and animation code
• Access iPhone and iPad user input from touches, as well as from the accelerometer and Core Location
• Set up and manage iPhone and iPad controls such as text fields, buttons, and pickers.
• Work with the iPhone's table views, navigation controllers, and other UI components Persist iPhone and iPad application state and user data

Audience: Take this course if you are:
1) a professional developer who has a strong background in a C-like language (C, C++, C#, Java, etc.)
2) interested in learning the iPhone SDK to create great iPhone and iPad applications.

Course Outline • Xcode:
Use Xcode to edit, build, and debug your iPhone applications and to manage project resources.
• Objective-C:
Get hands-on familiarity with the iPhone's Objective-C programming language and Foundation framework.
• Interface Builder:
Use this world-class GUI tool to design your iPhone app's UI and connect it to your code—and learn the real meaning behind File's Owner, First Responder, and other mysteries.
• Cocoa Touch Design Patterns:
Discover how Apple leverages Model-View-Controller and other design patterns in the iPhone's UIKit framework.
• Table Views:
Work with the iPhone SDK's UITableView and UITableViewController; implement data source and delegate methods to present data and interact with the user.
• Navigation:
Learn to use the iPhone's navigation controller, tab bar controller, and other UIKit components, as well as iPad-specific controls such as popovers.
• Handle Touch Events:
Manage standard iPhone and iPad UI controls and custom components correctly in response to user input.
• Custom Drawing:
Learn to use Core Graphics and Core Animation to customize iPhone and iPad UI components, display and manipulate images, and provide rich animation for graphical elements.
• Persist iPhone/iPad Application Data and UI State:
Learn a variety of efficient techniques for saving info to various types of data stores.
• Memory Management:
Learn to use retain counts and autorelease pools to manage your iPhone app's memory, while avoiding common pitfalls.
• System Events:
Work with the iPhone's built-in accelerometers, GPS, and other system resources.
• Integrate with Core Services:
Integrate your iPhone or iPad app with Address Book, Maps, Safari, Mail, and other standard applications.
• Design for Modularity:
Leverage the iPhone/iPad's dynamic loading capability to reduce complexity, improve performance, and dramatically simplify maintenance.
• iPhone Performance Monitoring and Debugging:
Use Apple's Instruments utility and the GNU debugger (gdb) to find and fix problems and eliminate hot spots and memory leaks.


Prerequisites & Certificates

Pre-Requisites

Training or strong background in a C-like language (C, C++, C#, Java, etc.)

Certificates offered

Certificate of completion




Cancellation Policy

Our cancellation/reschedule policy requires notification at least 10 business days before the class start date for a full refund. Please note that you are responsible for notifying NTG of your inability to attend class or you will be invoiced for the full payment.

Should you need to cancel in less than 10 business days before the start of the class, you will be given a 100% credit towards a future class that must be taken within 6 months of the start of the original class. If you are not able to reschedule to a future class, you will be charged 50% of the upfront registration fee.

Classes are subject to cancellation by NTG up to two weeks prior to the class date. It is important to keep this in mind before you purchase a non-refundable airline ticket.




Map & Reviews




Reviews

This course has not yet been rated by one of our members.

If you have taken a course through this vendor please log into your account and leave feedback for this vendor. You will be helping ensure our members get directed to the best training facilities.

Here are some reviews of the training vendor.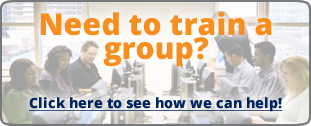 This course currently does not have any dates scheduled. Please call
1-877-313-8881

to enquire about future dates or scheduling a private, in house course for your team.
This page has been viewed 320 times.