Flex 3: Using ActionScript 3
» back to Search Results
Flex 3: Using ActionScript 3 provides developers with hands-on, practical experience using Basic ActionScript 3.0 Syntax. It will help in understanding ActionScript 3.0 Control Structures and Object Oriented Programming in ActionScript 3.0.
Course Outline

Flex 3: Using ActionScript 3 provides developers with hands-on, practical experience using Basic ActionScript 3.0 Syntax. It will help in understanding ActionScript 3.0 Control Structures and Object Oriented Programming in ActionScript 3.0. The course is presented through a combination of lectures, demonstrations, walkthroughs, and labs.

Outline Lesson 1: Introducing the Course


Introducing Mastery Learning
Understanding the course format
Reviewing the course prerequisites
Reviewing the course outline

Lesson 2: Introducing ActionScript 3.0 Syntax


Understanding basic syntax
Case sensitivity
Dot operator
Semi-colons
Comments
Parentheses, braces, and brackets
Language keywords
Literals
Declaring variables and their type
Declaring a variable
Declaring the data type of a variable
Data type conversion
Walkthrough 1: Declaring and casting variables in the test console
Using language operators
Mathematical operators
Understanding operator precedence
Concatenation operator
Assignment operator
Walkthrough 2: Using increment, compound math, and compound concatenation operators
Working with aggregate data
Instantiating objects
Creating and populating instances of the Array class
Working with multi-dimensional arrays
Manipulating arrays
Working with generic objects ("associative arrays")
Representing two-dimensional data with object arrays
Walkthrough 3: Creating and manipulating aggregate variables
Using the ArrayCollection class
Populating Flex components with arrays
Walkthrough 4: Manipulating Flex display components using an ArrayCollection
Lab: Manipulating data within a data grid component


Lesson 3: Learning ActionScript 3.0 Control Structures


Manipulating String data
Using String properties and methods
Using the Alert class
Importing a class
Displaying a simple Alert
Using Conditional Statements
Writing comparative expressions
Testing comparative expressions
Understanding logical operators
Nesting conditional statements
Walkthrough 1: Using conditions to validate user input
Using switch/case statements
Using the Date class
Creating Date objects
Using Date class methods
Walkthrough 2: Evaluating date information with a switch statement
Working with iteration (looping) statements
Using for statements
Using while statements
Using do .. while statements
Using for .. in statements
Using for each .. in statements
Using break statements inside loops
Avoiding variable declarations inside loops
Walkthrough 3: Using loops to display and manipulate data
Writing and using user defined functions
Learning function statement syntax
Noting function literal syntax
Understanding function local variable scope
Working with function arguments (parameters)
Setting the access modifier of a function or variable
Returning data from a function
Referring to arguments dynamically
Separating and including ActionScript and MXML files
Walkthrough 4: Writing functions to manipulate data and components
Lab: Using functions to control and customize text input validation

Lesson 4: Object Oriented Programming in ActionScript 3.0


Introducing Object Oriented Programming Terminology
Writing a class definition
Choosing and using the class name
Packaging your class files
Declaring class properties
Controlling access to properties
Assigning default property values
Walkthrough 1: Defining a class and creating objects of its type
Declaring class methods
Controlling access to methods
Encapsulating object data
Understanding the Value Object design pattern
Walkthrough 2: Writing and Using a Value Object class
Re-using code through inheritance
Extending a base class
Guaranteeing behavior with interfaces
Writing and using an interface
Verifying available methods through polymorphism
Walkthrough 3: Extending a class and implementing an interface
Using static classes and methods to persist local data
Understanding static methods
Storing data using the static SharedObject class
Lab:Writing a service class to manage instance data




Prerequisites & Certificates

Pre-Requisites

To gain the most from this course, you should have a basic understanding of Adobe Flex, equivalent to attending the: Flex 3: Rich Client Applications course Using basic MXML components Running applications within Flex Builder Writing simple event handlers

Certificates offered

Certificate of completion




Cancellation Policy

Our cancellation/reschedule policy requires notification at least 10 business days before the class start date for a full refund. Please note that you are responsible for notifying NTG of your inability to attend class or you will be invoiced for the full payment.

Should you need to cancel in less than 10 business days before the start of the class, you will be given a 100% credit towards a future class that must be taken within 6 months of the start of the original class. If you are not able to reschedule to a future class, you will be charged 50% of the upfront registration fee.

Classes are subject to cancellation by NTG up to two weeks prior to the class date. It is important to keep this in mind before you purchase a non-refundable airline ticket.




Map & Reviews




Reviews

This course has not yet been rated by one of our members.

If you have taken a course through this vendor please log into your account and leave feedback for this vendor. You will be helping ensure our members get directed to the best training facilities.

Here are some reviews of the training vendor.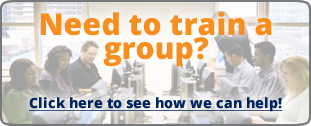 This course currently does not have any dates scheduled. Please call
1-877-313-8881

to enquire about future dates or scheduling a private, in house course for your team.
This page has been viewed 255 times.