Flash Media Server 3.5: Large Scale Deployment (Teleseminar)
» back to Search Results
Flash Media Server 3.5: Large Scale Deployment has been designed to teach you, an experienced network engineer or server administrator how to plan, deploy, administer test and monitor a large scale FMS network.
Course Outline

Flash Media Server 3.5: Large Scale Deployment has been designed to teach you, an experienced network engineer or server administrator how to plan, deploy, administer test and monitor a large scale FMS network.

This guidance and best practice recommendations in this course in intended to supplement the documentation and other available resources to help new CDNs and other customers who are planning large scale FMS deployments to decrease their time to market and be successful faster.

Outline Unit 1: Introducing the Course

Reviewing the Course Prerequisites
Reviewing the Course Objectives
Reviewing the Course Format
Outlining the Course Content


Unit 2: Understanding How FMS Fits into the Network

Understanding How FMS Fits into a Network
Considering a Typical Deployment
Surveying the challenges that come with growth
Understanding Deployment Options
Deploying Hybrid Edge-Origin
Deploying Origin Only Servers
Setting Up Regional Data Centers
Understanding Factors Affecting Server Throughput
Comparing FMS 2 and FMS3
Implementing Load Balancing
Load Balancing Objectives
Load Balancing Options
Factors affecting the load balancing strategy
Understanding content distribution options Load balancing in Edge Origin deployments
Tracking RTMPT sessions in a load balanced deployment
Integrating with Other Essential Systems
Interfacing with Billing Systems
Interfacing with Content Management Systems
FMS Architecture Review
Configuration Segments
FMS Processes
Exploring New Features in FMS3
Prebuilt Applications
Scalability Enhancements Security Enhancements
Configurable Connection Management
Native Bandwidth Detection
Simplified Cache Configuration
Plug-ins
Command line tools
IPv6 compliance
302 Redirection
Presenting Two Main Use Cases
Video on Demand
Live
Walkthrough 1: Installing Flash Media Server


Unit 3: Configuring FMS

Server Configuration and Custom Code
Configuration
Custom Server Code
Validating Media Files
Capacity Planning
Capacity Planning
Asking the right questions
Interpreting the answers
Calculating FMS Capacity Requirements
Configuring Quality of Service Parameters Configuring FMS resource limits
Configuring Connection Throttling
Configuring Enhanced Seeking
Understanding Failover and Redundancy
Extending FMS Using C++ Adaptors / Plug-ins
Using the Access Adaptor
Using the File Adaptor
Using the Authorization Adaptor
Configuring Process Scopes
Overriding the default process scope
Safely distributing stateful applications
Configuring Rolling Scopes
Setting up an Effective Development Environment
Using a hosts file to simulate DNS
Linking multiple domains to a single host
Configuring virtual hosts on FMS
Walkthrough 1: Configuring FMS Virtual Hosts


Unit 4: Managing Content Storage and Distribution

Understanding Content Storage Options
Factors affecting storage
Outlining simple storage options
Walkthrough 1: Extending Default Content Storage
Large Scale Content Storage Challenges
Outlining the limitations of simple storage
Setting up Storage within a Data Center
Understanding File Access Protocols
Inspecting the link to the content repository
Using HTTP Range Requests
Distributing content effectively
Understanding how FMS caches content
Factors that affect caching capabilities
Understanding common FMS server architectures
Origin Servers Only
Edge Origin Deployment
Multi Tier Edge Origin
Configuring Implicit Edge Servers
Configuring Explicit Edge Servers
Walkthrough 2: Configuring Edge Servers
Implementing Intelligent Load Balancing
Preventing cache smearing
Walkthrough 3: Examining Anti-Cache Smearing Techniques
Implementing Multipoint Live Publishing
Chaining Servers for Multipoint Publishing
Stream Pull
Stream Push
Walkthrough 4: Implementing a Multipoint Publishing System


Unit 5: Implementing Security

Outlining Security Challenges
Streaming Servers Offer Inherent Protection
Authenticating Users
Using Standard Authentication
Using Token Based Authentication
Walkthrough 1: Authenticating Users
Encrypting Streams
Secure Sockets Layer
The RTMPE Protocol
Protected Media Files
Using the SWF Verification Feature
How it works by default
Limitations in large scale deployments
SWF Verification recommendations
Walkthrough 2: Using SWF Verification
Controlling Access to Server Assets
Dynamic Access Control Lists
Using Virtual Directories with Virtual Keys
Walkthrough 3: Implementing Access Control


Unit 6: Monitoring the Server

Exploring Server Monitoring Basics
Presenting Server Monitoring Tools
FMS Specific Monitoring Tools
Understanding the Administration Console
Using the Administration API
Using the FMSCheck Tool
Walkthrough 1: Exploring the Administration Console
Walkthrough 2: Using FMSCheck
Building Custom Monitoring Tools
Building a custom monitoring dashboard


Unit 7: Testing Before Deployment

Cataloging the Testable Units
Client side test checklist
Server side test checklist
Using the FLVCheck tool
Walkthrough 1: Using FLVCheck
Testing a single FMS Host
Load Testing Objectives
Load Testing Methodologies
Testing an FMS Cluster
Load Testing Objectives
Load Testing Methodologies
Longevity Testing


Unit 8: Troubleshooting FMS Applications

Understanding Classifications of Issues
Server Crash
Connection Issues
Publishing and Streaming Problems
Performance and Configuration Tuning
Application Development
Using the Log Files
Four types of log files
Interpreting the logs
Walkthrough 1: Inspecting your log files
Preparing to Escalate
Minimum Information
Additional Information
Obtaining Windows Crash and Hang Dumps


Appendix A: Student Setup Guide

Reviewing System Requirements
Hardware Requirements
Software Requirements
Installing the Student Files
Installing ColdFusion
Installing Course Files




Prerequisites & Certificates

Pre-Requisites

A basic understanding of network technologies and protocols Familiarity with Actionscript or similar language

Certificates offered

Certificate of completion




Cancellation Policy

Our cancellation/reschedule policy requires notification at least 10 business days before the class start date for a full refund. Please note that you are responsible for notifying NTG of your inability to attend class or you will be invoiced for the full payment.

Should you need to cancel in less than 10 business days before the start of the class, you will be given a 100% credit towards a future class that must be taken within 6 months of the start of the original class. If you are not able to reschedule to a future class, you will be charged 50% of the upfront registration fee.

Classes are subject to cancellation by NTG up to two weeks prior to the class date. It is important to keep this in mind before you purchase a non-refundable airline ticket.




Map & Reviews




Reviews

This course has not yet been rated by one of our members.

If you have taken a course through this vendor please log into your account and leave feedback for this vendor. You will be helping ensure our members get directed to the best training facilities.

Here are some reviews of the training vendor.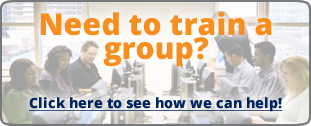 This course currently does not have any dates scheduled. Please call
1-877-313-8881

to enquire about future dates or scheduling a private, in house course for your team.
This page has been viewed 253 times.