Essentials of Adobe Captivate 5/5.5
» back to Search Results
During this live, interactive two-day and instructor-led class, you will get an introduction to Adobe Captivate 5 and learn the core essential skills that will help you create killer eLearning lessons.
Course Outline

Using Adobe Captivate, you can capture screen shots on your computer and quickly turn them into eLearning lessons (movies). The lessons you create can be highly interactive--you can add images, captions, rollovers, clickable areas, typing areas and sound effects. During this live, interactive two-day and instructor-led class, you will get an introduction to Adobe Captivate 5 and learn the core essential skills that will help you create killer eLearning lessons.

Audience The audience for this course is beginner and intermediate Adobe Captivate 4 users who want to create software demonstrations and interactive simulations. Adobe Captivate 4 appeals to a wide variety of audiences, typically grouped in training and education, sales and marketing, or technical support and documentation.

Course Outline: Lesson 1: eLearning and Captivate
eLearning Concepts
Planning eLearning Projects
Explore the Captivate Interface
Create and Manage Workspaces
Preview a Project
Use the Zoom Features

Lesson 2: Recording Demos and Sims
Rehearse a Script
Edit Recording Settings
Set Recording Keys
Record a Demonstration
Record an Assessment
Record a Training Simulation
Record a Custom Simulation

Lesson 3: Captions, Styles and Timing
Duplicate a Slide and Hide the Mouse
Insert, Resize and Move Text Captions\
Modify Text Caption Properties
Edit the Default Caption Style
Reset an Object Style
Change an Object's Position & Size
View the Timeline
Change a Slide's Display Time
Use the Timeline to Set Object Display Times
Show/Hide Timeline Objects
Use the Properties Panel to Control Timing
Set Mouse Properties
Check Spelling
Align Slide Objects

Lesson 4: Images and Drawing Objects
Change Slide Background Quality
Insert and Delete Slides
Insert an Image
Set Image Size & Slide Position
Use the Library
Manage Unused Project Assets
Crop An Image
Create an Image Watermark
Control Image Timing and Transition
Work With Image Stacks
Add a Visual Click and Sound
Draw a Line

Lesson 5: Pointers, Buttons and Highlight Boxes
Modify the Mouse Pointer
Edit Slide and Object Display Times
Insert a Text Button
Set a Button's Timing and Options
Work with Image Buttons
Insert and Format a Highlight Box

Lesson 6: Rollovers and Zoom Areas
Insert a Rollover Caption
Insert a Rollover Image
Insert a Zoom Area
Insert and Format a Rollover Slidelet
Format the Rollover Area
Add a Caption and Image to a Rollover Area

Lesson 7: Audio
Add Audio to a Slide Object
Add Background Audio
Add a Slide Note
Calibrate a Microphone
Record a Narration
Import Voice Narrations
Edit an Audio File
Insert Silence
Convert Text-to-Speech

Lesson 8: Flash Video, Animation & Effects
Insert Flash Video
Set Flash Video Properties
Add Animation to a Slide
Insert Text Animation
Apply a Fly-In Effect to a Text Caption
Apply a ZigZag Motion Path

Lesson 9: Click and Text Entry Boxes
Hide the Mouse
Replace Phrases
Insert a Click Box
Insert a Text Entry Box

Lesson 10: Introduction to Question Slides
Edit Quizzing Object Styles
Set the Quiz Preferences
Insert Question Slides
Format a Question Slide
Add an Image to a Question Slide
Paste as Background

Lesson 11: Publishing
Link to a Web Site
Apply a Skin
Edit and Save a Skin
Delete a Skin
Create a TOC
Add a Loading Screen
Publish a Flash (SWF)
Publish Word Handouts
Export Captions
Perform a "Round Trip"


Prerequisites & Certificates

Pre-Requisites

To gain the most from this class, you should already: * Be familiar with the Microsoft Windows operating system * Be familiar with using Microsoft Internet Explorer * Be familiar with basic computer terminology

Certificates offered

Certificate of completion




Cancellation Policy

Our cancellation/reschedule policy requires notification at least 10 business days before the class start date for a full refund. Please note that you are responsible for notifying NTG of your inability to attend class or you will be invoiced for the full payment.

Should you need to cancel in less than 10 business days before the start of the class, you will be given a 100% credit towards a future class that must be taken within 6 months of the start of the original class. If you are not able to reschedule to a future class, you will be charged 50% of the upfront registration fee.

Classes are subject to cancellation by NTG up to two weeks prior to the class date. It is important to keep this in mind before you purchase a non-refundable airline ticket.




Map & Reviews




Reviews

We have not received any reviews specific to this course as yet, however here are some reviews of the training vendor.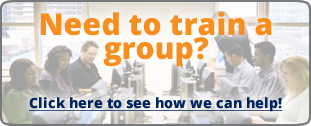 This course currently does not have any dates scheduled. Please call
1-877-313-8881

to enquire about future dates or scheduling a private, in house course for your team.
This page has been viewed 1046 times.