Adobe Acrobat 9.0 Fundamentals - 3 Days
» back to Search Results
This course provides training on Acrobat 9 fundamentals as well as selected intermediate & advanced topics required for solid base level proficiency with Acrobat software.Includes extensive instruction on the creation of forms with LiveCycle Designer 8.0
Course Outline

Adobe® Acrobat® Professional software enables business, creative, and engineering professionals who work with graphically complex documents to improve the reliability and efficiency of business-critical document exchange. Acrobat 9 offers you faster file conversion and better control of your workflow – sharing documents has never been easier, more secure, or more flexible.

This course provides training on core Acrobat 8 fundamentals as well as selected intermediate and advanced topics required for solid base level proficiency with Acrobat software. This course also provides extensive instruction on the creation of forms with Adobe LiveCycle Designer 8.0.

Audience
Regardless of your industry, everyone can benefit from this informative and exciting class. Individuals who will be preparing forms for intranet or internet use will find lots of useful tips to get the most out of Acrobat. New features will be discussed in great detail and hands-on exercises will give students the ability to see the many features of Acrobat in action.

Course Outline

Lesson 1 - Introducing Adobe Acrobat


About Adobe PDF
About Adobe Acrobat
Adobe PDF on the web
Getting started with Adobe Acrobat window
A first look at the work area
Viewing PDF presentations in Full Screen mode
Designing documents for online viewing
Using Organizer
Getting help

Lesson 2 – Looking at the Work Area


Opening a PDF file in the work area
Working with Acrobat task buttons
Working with the navigation pane

Lesson 3 – Creating Adobe PDF Files


About creating Adobe PDF files
Using the Create PDF command
Converting and combining different types of files
Using Print command to create Adobe PDF files
About the Adobe PDF Settings (presets)
Comparing the default Adobe PDF files
About compression and resampling
Exploring on your own: Dragging and dropping files
Exploring on your own: Creating Adobe PDF from the context menu (Windows)
Exploring on your own: Creating Adobe PDF from clipboard images

Lesson 4w – Creating Adobe PDF from Microsoft Office Files (Windows)


About PDFMaker
About Acrobat Connect
Converting Microsoft Word files to Adobe PDF
Converting and emailing a PowerPoint presentations
Converting Excel documents and starting a review
Converting and attaching files in Microsoft Outlook
Converting web pages from Internet Explorer
Exploring on your own: Exporting tables from PDF files
Exploring on your own: Converting and combining multiple Office files

Lesson 4m – Creating Adobe PDF from Microsoft Office Files (MAC OS)


About PDFmaker
Converting Microsoft Word files to Adobe PDF
Converting and emailing PowerPoint presentations
Tips on converting Excel files

Lesson 5 – Combining Files in PDF Packagers


About PDF packages
Getting started
Collecting PDF files in a package
Navigating your PDF package
Making changes to PDF packages
Sorting PDF files in PDF packages
Searching PDF packages
Printing PDF packages

Lesson 6 - Creating Adobe PDF from Web pages


Converting Web pages to Adobe PDF
Connecting to the Web
Setting options for converting web pages
Creating Adobe PDF files from web pages
Updating converted web pages
Converting Web pages in Internet Explorer (Windows)

Lesson 7 – Converting Email Files to Adobe PDF (Windows)


Getting started
Converting email messages to Adobe PDF
Sorting converted emails
Adding email messages to PDF packages
Printing emails
Migrating PDF archives to PDF packages (Outlook)
Setting up automatic archiving in Outlook

Lesson 8 – Working with PDF Files


Changing the opening view
About the onscreen display
Reading PDF documents
Following links
Searching PDF documents
Printing PDF documents
Filling out PDF forms
Comparing documents
Using the Acrobat accessibility features

Lesson 9 – Editing PDF documents


Opening and examining the work file
Moving pages with page thumbnails
Editing Adobe PDF pages
Editing links
Inserting one PDF file into another PDF file
Looking at bookmarks
Deleting a page
Renumbering pages
Setting an opening view

Lesson 10 – More about Editing


About this lesson
Viewing the work file
Looking at articles
Editing text
Copying text and images from a PDF file
Editing images using the TouchUp Object tool
Converting PDF pages to image format files
Reducing the file size
Exploring on your own: Optimizing for page-at-a-time downloading

Lesson 11 – Using Acrobat in a Review Cycle


About the review process
Opening the work file
Working with comments
Exporting and importing comments
Marking up documents
Summarizing comments
Comparing two Adobe PDF documents
Spell checking comments
Printing documents with comments
Inviting users of Adobe Reader to participate in reviews
Exploring on your own: Setting up email-based reviews
Exploring on your own: Custom stamps

Lesson 12 – Adding Signatures and Security


Getting started
About digital signatures
Creating digital signatures
Adding images to your digital signatures
Selecting a signing method
Opening the work file
Crating digital IDs
Signing the advertisement
Modifying signed documents
About security
Looking at security settings
Adding security to PDF files
Adding passwords
Opening password-protected files
Certifying PDF files
Signing certified documents
Exploring on your own: Using security envelopes

Lesson 13 – Creating Multimedia Presentations


Getting started
Adding interactive animations
Adding Show/Hid fields
Controlling movie clips with buttons
Adding navigational buttons
Adding sound files and adding multiple actions to one button
Creating page actions to control multimedia clips
Opening movie clips in floating windows
Creating full screen presentations with transitions

Lesson 14 – Using the Engineering and Technical Features


Getting started
Merging documents
Using the Pan & Zoom tool
Working with layers
Using measuring tools
Using the Loupe tool
Exporting measurements to spreadsheets
Using the Cloud Annotation tool
Preparing engineering documents for distribution
Permanently removing text from PDF documents

Lesson 15 – Using the Legal Features


About Bates numbering and redaction
Applying Bates numbering
Defining Bates numbering
Finding Bates numbered PDF documents
Editing Bates numbering
Applying redaction
Setting the Redaction tool properties
Searching text for redaction
Creating PDF packages
Applying security

Lesson 16 – Working with Forms in Acrobat


Getting started
Converting paper forms to interactive PDF forms
Adding text fields
Adding check boxes and buttons
Distributing forms
Tracking and managing forms
Exploring on your own: Calculating and validating numeric fields

Lesson 17 – Creating Forms with Adobe LiveCycle Designer (Windows)


About Adobe LiveCycle Designer
Getting started
Looking at the work area
Building new forms
Adding text to a form
Adding graphics to forms
Adding text banners
Grouping objects
Adding content form fields
Adding radio buttons
Duplicating objects
Adding check boxes
Using Custom Library items
Adding shapes
Adding drop-down lists
Adding the current date
Previewing and exporting forms
Distributing forms
Exploring on your own: Exploring Adobe LiveCycle Designer

Lesson 18 – Using Acrobat in Professional Publishing


Getting started
Creating PDF files for print and prepress
Preflighting files
Creating custom preflight profiles
Printing and layers
Previewing your print job
Working with transparency
Advanced printing controls
Setting up color management
Exploring on your own: The Acrobat prepress features

Lesson 19 – Making Documents Accessible and Flexible


About this lesson
About flexibility
About accessibility
About structure
Looking at accessible documents
Making files flexible and accessible




Prerequisites & Certificates

Pre-Requisites

Because of the amount of material we cover in class, we do require students to be comfortable using a mouse, opening and saving files, and the general operations of computers. While we will make every reasonable effort to help, students with insufficient skills may be required to observe the class lessons or do their best to keep up without slowing down the rest of the class. We highly recommend working with the application tutorial before coming to the course.

Certificates offered

Participant receive a certificate of completion. Breakfast and Lunch are included.




Cancellation Policy

Our cancellation/reschedule policy requires notification at least 10 business days before the class start date for a full refund. Please note that you are responsible for notifying NTG of your inability to attend class or you will be invoiced for the full payment.

Should you need to cancel in less than 10 business days before the start of the class, you will be given a 100% credit towards a future class that must be taken within 6 months of the start of the original class. If you are not able to reschedule to a future class, you will be charged 50% of the upfront registration fee.

Classes are subject to cancellation by NTG up to two weeks prior to the class date. It is important to keep this in mind before you purchase a non-refundable airline ticket.




Map & Reviews




Reviews

This course has not yet been rated by one of our members.

If you have taken a course through this vendor please log into your account and leave feedback for this vendor. You will be helping ensure our members get directed to the best training facilities.

Here are some reviews of the training vendor.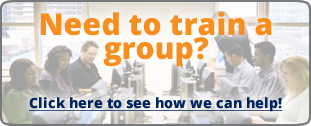 This course currently does not have any dates scheduled. Please call
1-877-313-8881

to enquire about future dates or scheduling a private, in house course for your team.
This page has been viewed 448 times.