Microsoft Word 2007 - Level 3
» back to Search Results
In this course, you will create complex documents in Microsoft Word 2007 by adding components such as, customized lists, tables, charts, and graphics. You will also create personalized Microsoft Word 2007 efficiency tools.
Course Outline

You know to use Microsoft® Office Word 2007 to create and format typical business documents. Now, you may need to work on more complex documents. In this course, you will use Word to create, manage, revise, and distribute long documents and forms.

Course Objective: You will create, manage, revise, and distribute long documents.

Target Student: This course is designed for persons who want to gain skills necessary to manage long documents, collaborate with others, and secure documents. In addition, it will be helpful for persons preparing for the Microsoft Certified Application Specialist exams for Microsoft® Office Word 2007.
Performance-Based Objectives Upon successful completion of this course, students will be able to:


use Microsoft Office Word 2007 with other programs.
collaborate on documents.
manage document versions.
add reference marks and notes.
make long documents easier to use.
secure a document.

Course Content Lesson 1: Using Microsoft® Office Word 2007 with Other Programs
Topic 1A: Link to a Microsoft® Office Excel® 2007 Worksheet
Topic 1B: Link a Chart to Excel Data
Topic 1C: Send a Document Outline to Microsoft® Office PowerPoint®
Topic 1D: Extract Text from a Fax
Topic 1E: Send a Document as an Email Message

Lesson 2: Collaborating on Documents
Topic 2A: Modify User Information
Topic 2B: Send a Document for Review
Topic 2C: Review a Document
Topic 2D: Compare Document Changes
Topic 2E: Merge Document Changes
Topic 2F: Review Track Changes and Comments

Lesson 3: Managing Document Versions
Topic 3A: Create a New Version of a Document
Topic 3B: Compare Document Versions
Topic 3C: Merge Document Versions

Lesson 4: Adding Reference Marks and Notes
Topic 4A: Insert Bookmarks
Topic 4B: Insert Footnotes and Endnotes
Topic 4C: Add Captions
Topic 4D: Add Hyperlinks
Topic 4E: Add Cross-References
Topic 4F: Add Citations and a Bibliography

Lesson 5: Making Long Documents Easier to Use
Topic 5A: Insert Blank and Cover Pages
Topic 5B: Insert an Index
Topic 5C: Insert Table of Figures
Topic 5D: Insert Table of Authorities
Topic 5E: Insert Table of Contents
Topic 5F: Create a Master Document
Topic 5G: Automatically Summarize a Document

Lesson 6: Securing a Document
Topic 6A: Update a Document's Properties
Topic 6B: Hide Text
Topic 6C: Remove Personal Information from a Document
Topic 6D: Set Formatting and Editing Restrictions
Topic 6E: Add a Digital Signature to a Document
Topic 6F: Set a Password for a Document
Topic 6G: Restrict Document Access

Appendix A: Creating Forms
Supplemental Lesson Creating Forms
Topic 1A: Add Form Fields to a Document
Topic 1B: Protect a Form
Topic 1C: Save Form Data as Plain Text
Topic 1D: Automate a Form

Appendix B: Using XML in Word
Supplemental Lesson Using XML in Word
Topic 1A: Tag an Existing Document
Topic 1B: Transform an XML Document


Prerequisites & Certificates

Pre-Requisites

should be able to use Microsoft® Office Word 2007 to create, edit, format, save, and print business documents that contain text, tables, and graphics. Students should also be able to use a web browser and an email program. A basic understanding of XML would also be helpful. In order to understand how Word interacts with other applications in the Microsoft Office System, students should have a basic understanding of how worksheets and presentations work.

Certificates offered

Certificate of completion




Cancellation Policy

Students are required to give notice if they are unable to attend their class:

2 weeks (10 full business days) or longer prior to training date = full refund
1 to 2 weeks (5 - 9 full business days) prior to training date = 50% of course fee refund
Less than 1 week (4 full business days or fewer) prior to training date = 0% refund

NOTE: You may substitute classes or students at any time.



Map & Reviews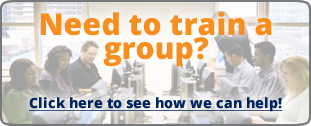 This course currently does not have any dates scheduled. Please call
1-877-313-8881

to enquire about future dates or scheduling a private, in house course for your team.
This page has been viewed 1177 times.