Microsoft Excel 2010 Level 1
» back to Search Results
This course is designed to teach the fundamentals of using an Excel spreadsheet, including the basics of entering data into a sheet, to building formulas to formatting.
Course Start Date:

Apr. 13

Location: Calgary

(Map)

Time:

9:00 am - 4:30 pm

(Note on end times)

Please Note: End Times are approximate and depend
on the number or students and pace of the class.
It is important to allow for the class to run a little bit longer,
or finish a little sooner, than expected.

Duration:

1 Day
Delivery Method(s):

Instructor Led

Mentored training is a revolutionary training method
that provides you with the quality training that
you have come to expect, and combines it with
flexible learning and a self paced environment.
For more information click here.

Discount Seats Available:

2

Category:

Microsoft Excel Training
Course Outline

This course is designed to teach the fundamentals of using an Excel spreadsheet, including the basics of entering data into a sheet, to building formulas to formatting.

Course Outline
Lesson 1: Creating a Basic Excel Worksheet


Topic 1A: Identify the Elements of the User Interface
Topic 1B: Customize the Excel Interface
Topic 1C: Work with Cells
Topic 1D: Enter Data in an Excel Workbook
Topic 1E: Obtain Help in Excel


Lesson 2: Performing Calculations in an Excel Worksheet


Topic 2A: Create Basic Formulas
Topic 2B: Calculate the Cell Values by Using Functions
Topic 2C: Copy Formulas and Functions


Lesson 3: Modifying an Excel Worksheet


Topic 3A: Manipulate Data
Topic 3B: Modify the Worksheet Elements
Topic 3C: Search for Data in a Worksheet
Topic 3D: Modify Rows and Columns


Lesson 4: Formatting an Excel Worksheet


Topic 4A: Modify Fonts
Topic 4B: Check a Worksheet for Spelling Errors
Topic 4C: Apply Number Formatting
Topic 4D: Add Borders and Colors to Cells
Topic 4E: Align the Content in a Cell
Topic 4F: Apply Cell Styles


Lesson 5: Printing Excel Workbooks


Topic 5A: Set the Page Layout Options
Topic 5B: Set Page Breaks
Topic 5C: Print a Workbook


Lesson 6: Managing an Excel Workbook


Topic 6A: Format Worksheet Tabs
Topic 6B: Manage Worksheets
Topic 6C: View Worksheets and Workbooks




Prerequisites & Certificates

Pre-Requisites

Previous knowledge of this application is not required. Participants should have basic Windows operating skills (Computers 101 class or equivalent). This includes understanding the basic operation of a mouse and keyboard, being able to navigate the Windows hierarchy, as well as being able to open and close files in an application.

Certificates offered

Certificate of Completion




Cancellation Policy

Students are required to give notice if they are unable to attend their class:

2 weeks (10 full business days) or longer prior to training date = full refund
1 to 2 weeks (5 - 9 full business days) prior to training date = 50% of course fee refund
Less than 1 week (4 full business days or fewer) prior to training date = 0% refund

NOTE: You may substitute classes or students at any time.



Map & Reviews

New Era Technology Centre
718 8th Avenue SW
Suite 300
Calgary, Alberta
Canada T2P 1H2



Registration is fast, and will take approximately 3 minutes. There is no membership fee.
» You are also welcome to Make an Offer

Not enough budget for this course? Maybe you just love to make deals!
In either case, our Make an Offer feature gives you the opportunity to name
your own price. Try it out, you might get lucky, just keep in mind it can
take up to 1 full business day to get a response!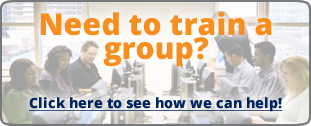 This course currently does not have any dates other than this one scheduled. Please call 1-877-313-8881 to enquire about future dates.
Not interested in this Course?
Tell us why:
This page has been viewed 32 times.