Apache Tomcat Administration Training
» back to Search Results
Apache Tomcat Administration covers the details of installing and configuring Tomcat Web Server. Students will learn the details of the server.xml configuration file, an overview of Servlet and JavaServer Pages, and much more.
Course Outline

Tomcat Training Summary

Students will learn the details of the server.xml configuration file, an overview of Servlet and JavaServer Pages, a comparison of Tomcat to J2EE application servers, the Tomcat installation directories, deploying Java Web applications, the web.xml file, valves, logging, security realms, connecting Tomcat to Apache Web Server, hosting multiple Web sites, performance and scalability issues, load testing, clustering, monitoring, the Tomcat Manager and the Tomcat Administration tool.

Tomcat Training Objectives

Upon completion of this course, you will be able to:

Explain how Tomcat relates to Java EE (J2EE) and compares to other application servers (e.g. JBoss)
Install and setup Tomcat on both Windows and UNIX-type environments
Deploy, support, and troubleshoot applications on Tomcat
Navigate Tomcat's directory structure
Understand Tomcat architecture and configuration files: server.xml, context.xml, .properties, etc.
Understand web application structure and configuration: web.xml
Secure Tomcat and applications running on it
Set up Tomcat for SSL
Tune Tomcat's performance
Explore different load-balancing and high-availability strategies with Tomcat

Audience for Tomcat Training

This course is for web/application server administrators who need to be able to install, configure, run, and tune the Apache Tomcat Application Server.

Additional Notes for Tomcat Training

This course can be taught on both Windows and UNIX/Linux-type environments. The instructor covers both options during the training.

Tomcat Training Outline
Apache Tomcat Overview

Brief history of Apache
The Apache Software Foundation
The Jakarta Project
Tomcat Licensing
The J2EE Technologies
Java Web Development
Servlet/JSP Containers

Java Web Applications

Overview of Servlets
Advantages of Servlets
Lifecycle of a Servlet
Overview of JavaServer Pages
A Simple JavaServer Page
JSP and JavaBeans
JSP Tag Libraries
The MVC frameworks (e.g. Struts)

Installing Tomcat

Downloading and Installing Apache Tomcat
Overview of Installing Tomcat
Download and install a JVM
Download Tomcat
Using the Windows installer
Understanding Java memory managemenet and tweaking the JVM for performance
Download and install Ant

Tomcat Directories

Examining the Tomcat Installation Directories
Tomcat Directory Structure
The bin Directory
common and shared Directories
The conf Directory
The logs Directory
The server directory
The work Directory
The temp Directory
The webapps Directory
Web Application Directory Structure
Deploying HTML and JSP Pages
Deploying a Web Context
Viewing the JSP Page
Viewing the Generated Code
Lab 1: Deploying a Web App

Configuring Tomcat

Tomcat Configuration Techniques
Tomcat's Component Architecture
The <Server> Element
The <Service> Element
The <Connector> Element
The <Engine> Element
The <Host> Element
The <Context> Element
The <Realm> Element
The <Valve> Element
The <Listener> Element
The <Loader> Element
The <Manager> Element
The server.xml File
Lab 2: Modifying server.xml

Deploying Web Applications

Web Application Administration
Deploying Web Applications
The Directory Structure of a Web App
web.xml configuration file
Deployment Descriptors
The <web-app></web-app> Element
Mapping a Servlet to a URL
The <resource-ref></resource-ref> Element
The <env-entry></env-entry> Element
The <ejb-ref></ejb-ref> Element
A Sample web.xml file
Lab 3: Deploying a Web Application
Tomcat's default conf/web.xml file
Tuning default JSP and Static-content servlets

The Tomcat Manager

Deploying and Managing Web Application using the Tomcat Manager
Starting the Tomcat Manager
Tomcat Manager
The Manager Section
Applications
Deploy
Server Information
Creating a WAR File
Lab 4: Deploying a WAR File
Java Management Extensions (JMX) on Tomcat
Tomcat integration with Ant

Advanced Features

Using Some of the Advanced Features of Tomcat
Valves
Access Log Valve
Single Sign-on Valve
Remote Address Filter
Remote Host Filter
Request Dumper Valve
Configuring JNDI Resources
JNDI: Java Naming and Directory Interface
Defining a JNDI Resource
The <environment></environment>Element
The <resource></resource>Element
Configuring a JavaMail Session
Global Resources
Lab 5: Using Valves

JDBC Connectivity

Configuring Tomcat to Connect to a Database
Overview of JDBC
JDBC Drivers
Connecting to a Database
Connection Pools
Download and Install MySQL
Configure MySQL for Tomcat
Create a Database in MySQL
Download and Deploy a JDBC Driver
Defining a DataSource in Tomcat
Defining a Data Source Manually
Modifying the Deployment Descriptor
Detecting and closing leaked database connections
Lab 6: JDBC Connections

Tomcat Security

Configuring Security on Tomcat
Security Considerations
File System Security
Filesystem Recommendations
The Java Security Manager
Granting Permissions to Java Apps
Java Permissions
Adding Your Own Policies
Enabling the Java Security Manager
Security Manager Tips
Security Realms
Different Types of Realms
Configuring a Realm
Users and Roles (authentication and authorization)
Creating a Data Source Realm
Protecting passwords
FORM-based authentication
Configuring Tomcat for SSL
Requiring SSL in applications
Lab 7: Create a Data Source Realm

Connectors

Connecting Tomcat to Apache
Overview of Connectors
HTTP Connectors
Advantages of Using a Web Server
Connector Protocols
Step 1: Configure an AJP Connector
Step 2: Download mod_jk
Step 3: Create the mod_jk.conf file
Step 4: Start Tomcat
Step 5: Create a Worker
Step 6: Configure httpd.conf
Test the Setup
Load balancing applications across multiple Tomcat instances
Issues with load balancing
Server affinity via sticky sessions
Shared session storage
Replicated sessions via Tomcat clustering
Lab: Clustering

Shared Hosting

Overview of Shared Hosting
Tomcat Virtual Hosting
Configure Tomcat to enable virtual hosting as a stand-alone server
Configure Tomcat to enable virtual hosting using jk2 or webapp.
Configure Tomcat as Stand-alone
Configure Tomcat with AJP
Separate JVM for Each Host
Lab: virtual hosting

Load Testing

Using the JMeter Application
Load Testing with JMeter
Install JMeter
Running JMeter
Creating a Test Plan
Configure the Thread Group
Add a Task to the Thread Group
Configure the HTTP Request
Add a Report Listener
Run the Test Plan
Viewing the Results




Prerequisites & Certificates

Pre-Requisites

To get the most benefit from this course, you should be familiar with the basic principles of web/application server administration. Additionally, prior exposure to any of these concepts can be helpful:

Basic rules of XML (i.e., being able to edit XML files)
HTTP protocol (i.e., the stateless nature of HTTP, the need for sessions, HTTP methods, SSL, etc.)
Java environments (e.g., memory settings, automatic garbage collection, JDBC)
Other Java EE (J2EE) application servers and basic concepts behind Java Web Applications

Please note that all these concepts are covered in the class.

Certificates offered

For this training, Marakana provides:

A take-home copy of the courseware and/or textbook(s) and example/lab files.
All equipment required to perform the hands-on parts of this class. This usually means a personal computer.
Refreshments. This usually includes coffee, tea, juices, soft drinks, and water to keep you hydrated. Often, continental breakfast is also included. Food. A selection of food to choose from will be provided at lunch time. This usually includes burgers, sandwiches, warps, salads, pizzas, etc.




Cancellation Policy

Cancellation and Reschedule Policy is:

* Full refund if you notify us two weeks ahead
* Half-refund if you notify us a week ahead
* No refund if you don't notify us at all or let us know too late (within a week of the class)



Map & Reviews




Reviews

This course has not yet been rated by one of our members.

If you have taken a course through this vendor please log into your account and leave feedback for this vendor. You will be helping ensure our members get directed to the best training facilities.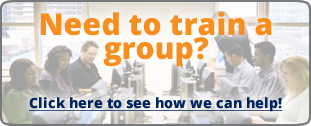 This course currently does not have any dates scheduled. Please call
1-877-313-8881

to enquire about future dates or scheduling a private, in house course for your team.
This page has been viewed 387 times.