» back to Search Results
Learn how to design, secure, and support wireless networks through detailed course discussion and a broad range of hands-on configuration and testing exercises. Learn in-depth security principles and troubleshooting techniques.
Course Outline

Learn how to design, secure, and support wireless networks through detailed course discussion and a broad range of hands-on configuration and testing exercises. Learn in-depth security principles and troubleshooting techniques.
Gain a full understanding of how radio frequency affects networking so you can perform site surveys, design a high-performance network, and protect both users and sensitive data from potential intruders.
After covering fundamental concepts of deploying a secure WLAN, you will explore advanced topics such as VoWLAN deployments, seamless mobile connectivity, and detailed wireless frame analysis. Enterprise class hardware and software tools are used during live lab exercises in order to simulate a state-of-the-art production environment.
This course is excellent as part of an overall study strategy for the CWNP certification CWNA. Full CWNA discussion concepts are covered with lab emphasis on real-world solutions, as well as many CWSP and CWNE concepts.
This class is also part of our Wireless Specialist Certificate track.
Preparing for the CWNA certification? This course includes a CWNA study guide, certification practice exam, and test voucher.

What You'll Learn €¢ Radio frequency properties, behaviors, and regulations, and how they affect networking
€¢ Wireless standards, including 802.11 extensions a, b, g,, and n
€¢ General troubleshooting tips to common real-world 802.11a/b/g issues
€¢ General parameters for performing a successful site survey, along with software tools that reduce time and expense
€¢ Device-level Wi-Fi communications processes
€¢ Why 802.11a/b/g networks operate the way they do and how to apply that knowledge when faced with problems that stump most network administrators
€¢ Using wireless network analyzers to capture live data and pinpoint potential network issues
€¢ How using radio frequency makes wireless networks vulnerable
€¢ The most common wireless threats and how to detect and defend against them
€¢ Wireless security standards for keeping unauthorized users out and maintaining wireless data privacy
€¢ The application of 802.11i/WPA2 standards, including 802.1X/EAP, and the devices used to apply them
€¢ Wireless intrusion detection and why it's essential for maintaining a secure network

Course Outline 1. Wireless Data Communications
€¢ The Need for Wireless Applications
? Common Wireless Applications
€¢ The Wireless Link
€¢ Wireless Networking Technologies
? Peer to Peer
? WLANs
? Wireless Broadband
€¢ Wireless Access Methods
? Fixed Access
? Nomadic Access
? Mobile Access
€¢ Wi-Fi Versatility

2. WLAN Infrastructure
€¢ The Basic Service Set
€¢ Access Points
? Basic AP Operation
€¢ WLAN Controllers
€¢ Wi-Fi Stations
? Wi-Fi Client Software
€¢ Service Set Identifier
€¢ The Extended Service Set

3. WLAN Standards
€¢ WLAN Organizations
? The IEEE
? The Wi-Fi Alliance
€¢ The IEEE 802.11 Standard
? The 802.11 Physical Layer
? The 802.11 MAC Layer
€¢ 802.11 Amendments
? 802.11a
? 802.11b
? 802.11g
? 802.11n
€¢ 802.11 and Wi-Fi
? 802.11 Amendments and Wi-Fi Certifications

4. RF Fundamentals
€¢ Signal Strength
? Reading Signal Strength
? Transmitter Power
? Measuring Antenna Gain
? Cables, Connectors, and Accessories
? Signal Propagation
€¢ Multipath
? Identifying Multipath
? Solving Multipath Problems

5. Antennas
€¢ Antenna Operation
? Baseband RF to Radio Waves
€¢ Antenna Types
? Omnidirectional Antennas
? Semidirectional Antennas
? Highly Directional Antennas
€¢ Antenna Coverage Patterns
? Antenna Beamwidth
? Antenna Mounting

6. WPA/WPA2 Authentication
€¢ 802.11 Security Amendments
€¢ 802.11i Robust Security Networks
? RSN Authentication Options
€¢ Preshared Key
? Small Network
? PSK Vulnerability
? Preshared Key Design
€¢ 802.1X
? Extensible Authentication Protocol
? 802.1X/EAP Design
€¢ 802.1X/EAP Authentication
? Mutual Authentication and Key Negotiation
? Enterprise Authentication
? EAP-TLS
? EAP-PEAP
? Choosing an EAP Type

7. WPA/WPA2 Encryption
€¢ WLAN Encryption
? Wired Equivalent Privacy
€¢ WPA/WPA2 Encryption Options
€¢ RC4 Encryption
? Secure Stream Cipher
€¢ TKIP Improvements
? TKIP Operation
€¢ AES-CCMP
? AES-CCMP Similarities to TKIP
? AES-CCMP Operation
€¢ 802.11i Encryption Summary
? Automatic Encryption Selection
? Encrypting in the Real World

8. WLAN Operation
€¢ 2.4 GHz Channels
? 2.4 GHz Networks
? Channel Design
€¢ 5 GHz Channels
? 5 GHz Networks
€¢ 802.11 Channel Access
€¢ CSMA/CA
? A Clear Channel
€¢ Interframe Spacing
€¢ Random Backoff Time
? The Contention Window
? Winning Arbitration
€¢ Acknowledgements
? After the Acknowledgement
€¢ An Arbitration Example
? Timelines
? IFS Timeless
? Backoff Timelines
? Frame Timelines
? ACK Timelines
€¢ Effects of Arbitration

9. Mixed Mode Operation
€¢ Mixed Mode Networks
€¢ 802.11b/g Mixed Mode
? Protection Mechanism
? Enabling Protection
€¢ 802.11g/n Mixed Mode
? 802.11n Greenfield
? 802.11 g/n Mixed Mode AP
? Nearby 802.11g AP
€¢ 802.11n 2.4 GHz Problems
€¢ 802.11n 5 GHz
€¢ Mixed Mode Best Practices

10. Security Design
€¢ RSN Concerns
? General Security Approach
€¢ Wireless Data Security
? Eavesdropping
? Encryption Options
€¢ Network Security
€¢ RF Denial
? Client Testing Software
? DoS: Connection Loss
? DoS Response
? Network Rogue APs
? Rogue AP Response
€¢ MAC Address Spoofing
€¢ Endpoint Security
? Evil Twin Rogue APs
? ESS
? NAC
€¢ Enterprise WIDS
? Enterprise WIDS Types
? Enterprise WIDS Monitoring
? WIDS Rogue Prevention
? Enterprise WIDS Summary
€¢ Security Design Best Practices

11. Troubleshooting Station Connections
€¢ Common Station Problems
€¢ Radio On/Off Switches
€¢ Wi-Fi Client Utilities
? Automatic SSID Configuration
? Manual SSID Configuration
? Security Configuration
€¢ Power Management Protocols
? 802.11 Power Management
? Automatic Power Save Delivery
? Power Management Settings

12. WLAN Analysis
€¢ Packet Capture
? Passive Monitoring
? Monitor Mode
€¢ Protocol Analysis Software
€¢ The Wi-Fi Connection
? Beyond Basic Troubleshooting
? Connection Fundamentals
€¢ Discovery Analysis
€¢ Authentication and Association
€¢ Roaming
€¢ Secure Connections
? WEP Connections
? PSK Connections
? 802.1X/EAP Connections
€¢ Connection Loss

13. WLAN Channel Analysis
€¢ Analyzing the Channel
€¢ Using the Protocol Analyzers
? Filtering
€¢ Basic 802.11 Overhead
? Wi-Fi Collisions
€¢ Channel Efficiency
? 802.11 Retrys
€¢ Performance Degradation
? Interference Types
€¢ Spectrum Analyzers
? Distributed Spectrum Analyzers
? Spectrum Analyzer Troubleshooting

14. Access Point Organization
€¢ Basic AP Configuration
€¢ Enterprise WLAN Needs
? Optional AP Settings
€¢ Wireless Network Management Systems
? WNMS Deployment
€¢ Wireless VLANs
? Wireless VLAN Security
€¢ Picocells
? Power Output Settings
? Channel Reuse
? Redundancy
€¢ Client Isolation
€¢ RTS/CTS
? RTS/CTS Protocol
? RTS/CTS Thresholds
? RTS/CTS Uses
€¢ AP Optimization Best Practices

15. Station Optimization
€¢ Station Configuration
€¢ Additional Station Settings
? Roaming Tendency
? Disable Upon Wired Connect
? Single Sign-on
€¢ Station Optimization Best Practices

16. QoS Configuration
€¢ Legacy WLANs
? QoS Needs
€¢ QBSS Load
€¢ Enhanced Distributed Channel Access
? AIFSN Lengths
? The Contention Window (QoS)
? Transmit Opportunity
? TXOP and Contention-Free Burst
€¢ Priority Settings
€¢ QoS Configuration Best Practices

17. Channel Optimization
€¢ RF Difficulties
? Handling RF Problems
€¢ Roaming
? Roaming Behavior
? Roaming Problems
? Cell Overlap
€¢ Common WLAN Types
? Basic-Coverage WLANs
? High-Density WLANs
? Application-Based WLANs
€¢ Virtual Cells
€¢ Channel Optimization Best Practices

18. Site Surveys
€¢ Radio Frequency Problems
€¢ Site Surveys
? Pre-Installation Surveying
€¢ Kit Preparation
€¢ WLAN Simulation Software
? Predictive Coverage
? High Cost, High Benefit
€¢ Post-Installation Surveying
? Performing Spot Checks
€¢ Live Survey Software
? Coverage Mapping
? Survey Reporting
€¢ Site Survey Best Practices

19. Next-Generation WLANs
€¢ Next-Generation Improvements
€¢ 802.11n
? Multiple Input/Multiple Output WLANs
? MIMO Operation
€¢ Secure Roaming
? Fast Transition Basics
? Fast Transition Options
? Fast Transition Guidelines
€¢ Mesh Networks
? Mesh Networking Technology
? Outdoor Access
? Consumer Wi-Fi Technologies
€¢ Home Media Streaming
? Direct Link Setup
? Software-Based APs
? Software-Based AP Uses
€¢ Wi-Fi Cellular Calling

Labs 1. WLAN Client Management
Configure a Microsoft Windows XP Wireless Zero Configuration (WZC) client utility. Enable security features that prevent attacks against workstations when users leave the enterprise environment.

2. WLAN Analyzers
Set up the AirMagnet Laptop Analyzer for basic WLAN monitoring. Name stations and APs in order to streamline future troubleshooting exercises. Set up Wildpackets Omnipeek for advanced WLAN monitoring. Configure the Omnipeek interface for future protocol analysis exercises.

3. Wireless IDS Setup
Set up the AirMagnet Enterprise wireless IDS (WIDS). Examine WIDS alarm settings in order to prevent false-positives. Configure AP trust levels in order to differentiate authorized APs from rogue APs.

4. WLAN Configuration: Basic Setup and Security
Configure basic connectivity and security settings on a Cisco Wireless LAN Controller (WLC). Configure client laptops using the WZC utility to connect to the access point using WPA2 Enterprise with EAP-TTLS (MS-CHAPv2) authentication and AES-CCMP encyption. Verify those connections with AirMagnet Laptop and Omnipeek.

5. Performance Testing: Multichannel Throughput
Test 802.11g throughput with varying channel configurations. Identify performance degradation when channel configurations are configured improperly. Perform individual throughput tests on each station as well as overall channel throughput tests using AirMagnet Laptop. Examine channel
error rates using Omnipeek.

6. VoWLAN Setup
Set up Ascom i75 VoFi handsets for Wi-Fi calling. Test voice quality with multiple active calls on a single WLAN channel. View Jitter patterns in AirMagnet Laptop. Examine channel error rates using Omnipeek.

7. Performance Testing: Roaming
Test VoFi client roaming patterns between multiple APs. Add varying amounts of data traffic to the network and compare VoFi call quality and roaming capabilities.

8. Virtual Cell Setup
Configure Meru Controller and APs to create a virtual cell environment. Connect laptop computers and VoFi handsets to the virtual cell. Identify virtual cell differences in AirMagnet Laptop.

9. Virtual Cell Testing
Test virtual cell throughput and error rates. Examine differences in virtual cell data transfer patterns in Omnipeek. Test throughput of a virtual cell on the same channel as a traditional WLAN. Setup VoFi calls on the virtual cell and test call quality when roaming.

10. Site Survey: Simulation
Upload a map of the training center environment to AirMagnet Planner and detail obstruction specifications (walls, doors, etc.). Configure access point locations and perform a site survey simulation to estimate the coverage area.

11. Site Survey: Live Coverage Mapping
Use AirMagnet Survey to determine the Wi-Fi coverage area on the previously uploaded map of the training center. Compare the results of the live site survey with the previous results of the site survey simulation.

Who Needs to Attend

Administrators: network, systems, infrastructure, security, and LAN/WLANs
Support professionals: technical assistance and field support
Designers: network, systems, and infrastructure
Developers: wireless software and hardware products
Consultants and integrators: IT and security
Decision makers: infrastructure managers, IT managers, security directors, chief security officers, and chief technology officers

 





Prerequisites & Certificates

Pre-Requisites

Certificates offered




Cancellation Policy

We require 16 calendar days notice to reschedule or cancel any registration. Failure to provide the required notification will result in 100% charge of the course. If a student does not attend a scheduled course without prior notification it will result in full forfeiture of the funds and no reschedule will be allowed. Within the required notification period, only student substitutions will be permitted.

Reschedules are permitted at anytime with 16 or more calendar days notice. Enrollments must be rescheduled within six months of the cancel date or funds on account will be forfeited.


Map & Reviews




Reviews

This course has not yet been rated by one of our members.

If you have taken a course through this vendor please log into your account and leave feedback for this vendor. You will be helping ensure our members get directed to the best training facilities.

Here are some reviews of the training vendor.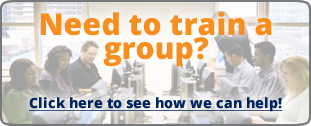 This course currently does not have any dates scheduled. Please call
1-877-313-8881

to enquire about future dates or scheduling a private, in house course for your team.
This page has been viewed 1824 times.