The Great SharePoint Adventure
» back to Search Results
This 5-day course with extended hours explores the development opportunities with Microsoftís most recent release of SharePoint 2007.
Course Outline

Who should attend Professional developers and system architects
Performance Objectives This 5-day course with extended hours explores the development opportunities with Microsoft's most recent release of SharePoint 2007. The first half of the course focuses on Windows SharePoint Services 3.0 (WSS) where you will learn how develop fundamental WSS building blocks such as Features, application pages, site pages, Web Parts, custom list types, site columns, content types, custom workflows and site definitions. The second half of the course focuses on Microsoft Office SharePoint Server 2007 (MOSS). You will learn how to assemble and configure business solutions by using and extending the portal and web content management features of MOSS as well as other server-side services such as the Business Data Catalog, Forms Services, Excel Services and Report Center.

Course Outline Day 1 Roadmap to SharePoint 2007 Development


WSS as a site provisioning engine
Understanding Web Applications, Site Collections, Sites and Site Elements
Customization using the WSS collaboration templates
Site customization and personalization using Web parts
Overview of SharePoint Server 2007 components and services

Developing Features


The difference between customization and development
Introduction to the WSS object model
Features as the primary building block in WSS development
Introduction to Collaborative Application Markup Language (CAML)
Creating and testing your first Feature with Visual Studio 2005
Adding event handlers to a custom feature

SharePoint Architecture


How WSS integrates with ASP.NET 2.0
Configuring the web.config file for a Web Application
Understanding site pages versus application pages
Creating and debugging a business solution with custom application pages
Creating and testing a WSS solution package for staging and deployment

Day 2 Pages and Design


Understanding page parsing and Safe Mode restrictions
Page templates versus pages instances (ghosting and unghosting)
Creating a Feature with custom page templates
Designing page templates using ASP.NET controls and Web Part Zones
Adding Web Parts to pages using declarative CAML and using code

Master Pages and Site Branding


Understanding the standard default.master page template
Navigation providers, navigation menus and delegate controls
Creating and integrating a custom Master Page template
Creating a custom Feature to apply branding at the site collection level
Understanding and extending the CSS classes in core.css

Web Part Development


Creating, deploying and debugging ASP.NET Web Parts in WSS
Adding Web Part verbs, persistent properties and developing custom editor parts
Creating Web Part assemblies with embedded resources
Creating connectable Web Parts
Asynchronous Web Part processing
Creating a Feature and a solution package for best-practice Web Part deployment

AJAX Web Parts


Introduction to ASP.NET AJAX
Creating an AJAX-enabled ASP.NET Application
Creating the "Hello World" AJAX-enabled Web Part
Creating AJAX callbacks to custom .asmx Web Services
Creating AJAX callbacks that access the WSS object model

Day 3 Lists and Content Types


Programming and querying lists through the WSS object model
Using Features to define site columns and custom field types
Using Features to define custom content types
Using Features to define custom list schemas and custom list types
Using custom event receiver classes to write and wire up event handlers
Defining a content type with built-in event handlers

Document Libraries


Programming with the SPDocumentLibrary class
Provisioning document libraries with custom document templates
Forms Libraries and Microsoft InfoPath integration
Programming with the Office Open File Formats
Server-side generation of Word 2007 documents (i.e. docx files)
Binding content controls to custom XML files embedded within word documents

Creating and Testing Site Definitions


Understanding the role of WSS site definitions
The Global Site Definition
Creating and testing a custom site definition
Aggregating Features in a site definition
Defining Feature activation dependencies and leverage Feature stapling

Forms Services with InfoPath 2007


Creating input forms with InfoPath
InfoPath integration with WSS forms libraries
Forms Services Architecture
Designing server-side forms with InfoPath 2007
User deployment of server-side forms versus administrator deployment

Day 4 Developing SharePoint Workflows w/Visual Studio


Windows Workflow Foundation (WF) Primer
Creating WF programs in Visual Studio with the workflow designer
SharePoint Workflow fundamentals: templates vs. associations vs. instances
Creating, deploying and debugging workflow templates in Visual Studio
Using WSS method activities to create history list entries and tasks
Creating custom association forms, initiation forms and task edit forms

Extending Portal and Search in SharePoint Server


Shared Service Provider (SSP) Architecture
Creating and extending Collaboration Portal sites
User Profiles and Audience Targeting
MOSS infrastructure for creating MySites
Configuring and extending MOSS Search

Web Content Management


Customizing sites creating from the MOSS Publishing Site template
Creating content types and custom page layouts for Web content
Understanding the MOSS content approval process
Converting Office documents into Web-ready formats
Optimizing performance with MOSS caching features

The Business Data Catalog (BDC)


Working with BDC Application Definition Files
Application, Entities, Methods and Associations
Surfacing backend data using BDC Web Parts
BDC integration with MOSS search
Creating custom Web Parts that execute BDC queries

Day 5 Excel Services and Report Center


Introduction to Excel Services
Publishing Excel spreadsheets that render in the browser
Trusted locations, connections and user-defined functions (UDFs)
Creating Dashboard pages with Report Center
Creating Key Performance Indicators (KPIs) and filters
MOSS integration with SQL Reporting Services and SQL Analysis Services

SharePoint Application Security


Trust Levels, Web Parts and Code Access Security (CAS)
Windows Authentication versus Forms Authentication
WSS Identities and Security Contexts
Escalation of Privilege
Delegating User Credentials
Using the MOSS Single Sign On (SSO) Service
Creating Office Business Applications (OBA)

Creating Office Business Applications (OBA)


Using Visual Studio Extensions for Office 2nd Edition
Creating client-side solutions for Office applications
Developing add-ins for Word, Excel PowerPoint and Outlook
Creating custom ribbon extensions and custom Task Panes
Communicating with and accessing content from SharePoint site




Prerequisites & Certificates

Pre-Requisites

Attendees should have professional development experience with Visual Studio 2005, the .NET framework and ASP.NET as well as familiarity with Microsoft Office products such as Word and Excel. It is also recommended (but not required) that attendees have a background with the previous version of Windows SharePoint Services V2 and have experience working directly with XML files in Visual Studio 2005.

Certificates offered

Certificate of completion




Cancellation Policy

We require 16 calendar days notice to reschedule or cancel any registration. Failure to provide the required notification will result in 100% charge of the course. If a student does not attend a scheduled course without prior notification it will result in full forfeiture of the funds and no reschedule will be allowed. Within the required notification period, only student substitutions will be permitted.

Reschedules are permitted at anytime with 16 or more calendar days notice. Enrollments must be rescheduled within six months of the cancel date or funds on account will be forfeited.


Map & Reviews




Reviews

This course has not yet been rated by one of our members.

If you have taken a course through this vendor please log into your account and leave feedback for this vendor. You will be helping ensure our members get directed to the best training facilities.

Here are some reviews of the training vendor.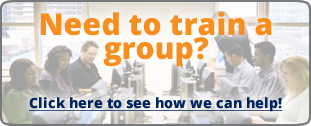 This course currently does not have any dates scheduled. Please call
1-877-313-8881

to enquire about future dates or scheduling a private, in house course for your team.
This page has been viewed 539 times.