SharePoint 2007 Operations (MS50149)
» back to Search Results
This 5-day deep-dive will guide you through the process of architecting and setting up SharePoint 2007 applications and customizations from an Operations viewpoint.
Course Outline

This 5-day deep-dive will guide you through the process of architecting and setting up SharePoint 2007 applications and customizations from an Operations viewpoint.


This course incorporates materials from the Official Microsoft Learning Products (OMLPs): M50149A SharePoint 2007 Operations.

What You'll Learn


Every aspect of managing a SharePoint 2007 Server farm
Integration with applications such as IRM, ForeFront, and Performance Point
The many ways to back up and restore SharePoint environments

Who Needs to Attend


Those who access information on a Windows SharePoint team site
SharePoint site owners who are responsible for creating and managing a team website, including managers, developers, designers, and every-day knowledge workers
Those who use SharePoint sites and lists on an everyday basis

Course Outline

1. Overview


What Is SharePoint?
Why SharePoint 2007?
SharePoint 2007 Benefits

2. Installing


Installing SharePoint
SharePoint Farms

3. SharePoint Architecture

4. StsAdm


Overview
Commands
Extending

5. SharePoint Services


Document Conversions Launcher
Document Conversions Load Balancer
Excel Calculation Services
Officer SharePoint Server Search
Windows SharePoint Services Search
Windows SharePoint Services Web Application

6. PowerShell


Commandlets
PowerShell variables
Using With SharePoint

7. General Operations Tasks


Email Settings
Migrating File Shares
Master Site Directory
Alternate Access Mappings
External Service Connections
Language Packs
Features & Solutions

8. Information Rights Management


Information Rights Management
SharePoint IRM

9. AntiVirus


Microsoft ForeFront
ForeFront for SharePoint
Installing
Configuring SharePoint
Configuring ForeFront

10. Information Management Policy

11. Single Sign On


Setup
Configuring
Using
Applications Scenarios

12. Logging Settings

13. Usage Analysis Processing


Configuring
Architecture
Reports
Troubleshooting
Custom Log Processing

14. Content Deployment

15. Back Up and Restore


Backup Techniques
Disaster Recover Techniques
Restore Techniques

16. Timer Jobs


Timer Service
Timer Job
SPJobDefinition Class
WSS Timer Jobs
MOSS Timer Jobs

17. Shared Services Provider


Shared Services Overview
Shared Services Components
Shared Services Features
Life with and without SSP
Installing

18. Application Security


SharePoint Security
Custom Authentication
Code Access Security
Securing Communications

19. InfoPath Services


InfoPath 2007
InfoPath and Windows Workflow
InfoPath Forms Services
Best Practices

20. Business Data Catalog


Business Data Catalog Overview

21. Search


Search Overview
Performing Searches
Tuning Search
Extending Search

22. Excel Services


Excel Services Trusted Locations
Shared Data Connections
User Defined Functions
Excel Services Web Parts
Excel Services Object Model/Web Service

23. User Profiles My Sites


User Profile Overview
User Profile Settings
My Sites

24. Performance Optimization


Capacity Planning
Performance Optimization Techniques

Labs

Lab 1. Installing


Installing WSS
Installing MOSS
Detaching / Attaching to SharePoint Farm

Lab 2. Site Definitions


Creating One of Each WSS/MOSS Site Definition

Lab 3. SharePoint Architecture 1


Exploring a SharePoint config file

Lab 4. SharePoint Architecture 2


Learning Content Database structure
Using SQL Profiler to reverse engineer the web front end and stsadm

Lab 5. SharePoint Architecture 3


Creating a Customized Page
Analyzing a Customized Page

Lab 6. 12 Hive
Lab 7. Stsadm


Using StsAdm command line tool

Lab 8. Extend Stsadm


Reviewing the stsadmcommands xml file
Extending StsAdm

Lab 9. SharePoint Services


Exploring the SharePoint Services

Lab 10. Install PowerShell


PowerShell Basics - Command Lets
Creating An Object
Static Properties

Lab 11. PowerShell with SharePoint


Loading SharePoint Dll into PowerShell
Setting PowerShell Execution Policy
Enumerating Webs
Creating a site with PowerShell
Creating / Updating an item with PowerShell
Backing up SharePoint with PowerShell

Lab 12. Email Settings


Configuring the Outgoing Email Settings
Loading balance Email Load
Configuring the Incoming Email Settings

Lab 13. Distribution Groups


Creating Active Directory Distribution Groups

Lab 14. Migration File Shares


Migrating a File Share
Blocked File Types
NTFS Permissions

Lab 15. Master Site Directory


Setting up the Master Site Directory

Lab 16. Alternate Access Mappings


Configuring Alternate Access Mappings
Testing Alternate Access Mappings

Lab 17. External Service Connections


Records Center
Document Conversion

Lab 18. Features and Solution
Lab 19. Information Rights Management


Installing Information Rights Management (IRM)
Configuring IRM
Use IRM

Lab 20. Forefront


Installing Microsoft Forefront
Configuring Microsoft ForeFront

Lab 21. Information Management Policy


Creating a basic policy (Manual)
Using a policy

Lab 22. Single Sign On


Learning how to Configure Single Sign On
Program web parts to use Single Sign On

Lab 23. Logging Settings


Learning to Debug SharePoint via Log Files

Lab 24. Usage Analysis Processing


Enabling Usage Analysis Processing (UAP)
Using UAP

Lab 25. Content Deployment


Setting up Content Deployment Path and Jobs
Quick Deployment
Debugging Content Deployment

Lab 26. Backup Central Administration


Using Central Administration to Back up and Restore (Farm)

Lab 27. Back up SQL Server


Using SQL Server to Back up SharePoint

Lab 28. Backup Stsadm


Using Stsadm to back up and restore a Farm
Using Stsadm to export a site collection
Using Stsadm to export a single site

Lab 29. Back up SiteList Template


Creating a List Template
Creating a Site Template
Creating a Site from the new Site Template
Creating a List from the new List Template

Lab 30. Back up SharePoint Designer


SharePoint Designer Backup (Web Package)
SharePoint Designer Backup (Content Migration)
SharePoint Designer Backup (Site Template)

Lab 31. TimerJobs


Exploring SharePoint Timer Jobs
Disabling a job
Disabling the Timer Service

Lab 32. Shared Services Provider


Creating a Shared Service Provider
Configuring multiple SSPs
Configuring global "My Sites"

Lab 33. Application Security


Application Pools
Web Application Security
Site\List\Item level Security
SSL Security

Lab 34. Custom Authentication


Changing the default Authentication Method of SharePoint to use a custom Membership Provider (ASP.NET 2.0)

Lab 35. InfoPath Services


Reviewing MOSS Forms
Publishing / Uploading a Form to Forms Library
Verifying / Uploading / Activating a Form with IFS

Lab 36. Business Data Catalog


Importing an application definition file
Utilizing BDC web parts
Utilizing Filter web parts

Lab 37. BDC Application Definition Files


Reviewing BDC Schema
Creating a BDC File (manually)
Creating a BDC File (Code Gen)

Lab 38. BDC Permissions


DataSource Permission Errors
Application Permission Errors
Entity Permission Errors

Lab 39. BDC Authentication


Modifying BCD to Use Database Credentials
Modifying BDC to Use Single Sign On
Custom Single Sign On Solution

Lab 40. BDC Profiles


Search and BDC Integration
BDC Entity Profile

Lab 41. Search


Creating Content Source
Creating Crawl Schedules
Crawling All Scopes
Creating Crawl Rule
Creating Search Scopes
Adding a File Type
Setting Default Access Account
Querying Crawl Logs

Lab 42. Tuning Search


Relevance
Keyword and Best Bets
Thesaurus
Noise Words

Lab 43. Customizing Search


Customizing Search Results

Lab 44. Excel Services


Learning to use Excel Services
Creating / Publishing to Excel Services
Configuring Excel Services
Shared Data Connections
Single Sign On Data Connections

Lab 45. User Profiles


Configuring User Profiles (Active Directory)
Configuring Import Connections
Configuring Profile Properties

Lab 46. My Sites


Creating your My Site
Your Profile
Colleagues
Colleagues - Tracking Changes
Exploring Memberships
Exploring In Common With
Documents
Configuring My Calendar Web Part
RSS Viewer
Personal vs. Shared Views
My Links

Lab 47. Performance Optimization


Database Tuning (Recovery Mode)
Database Tuning (TempDB)
Database Tuning (Indexes)
Warm-up Scripts and Application Pool Timeout


 
 


Prerequisites & Certificates

Pre-Requisites

- Experience managing windows server environments - Understanding of database and web application architecture fundamentals

Certificates offered

- Eligible for SATV Purchase - 5 Day SATV Voucher




Cancellation Policy

We require 16 calendar days notice to reschedule or cancel any registration. Failure to provide the required notification will result in 100% charge of the course. If a student does not attend a scheduled course without prior notification it will result in full forfeiture of the funds and no reschedule will be allowed. Within the required notification period, only student substitutions will be permitted.

Reschedules are permitted at anytime with 16 or more calendar days notice. Enrollments must be rescheduled within six months of the cancel date or funds on account will be forfeited.


Map & Reviews




Reviews

This course has not yet been rated by one of our members.

If you have taken a course through this vendor please log into your account and leave feedback for this vendor. You will be helping ensure our members get directed to the best training facilities.

Here are some reviews of the training vendor.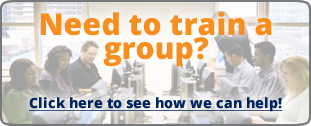 This course currently does not have any dates scheduled. Please call
1-877-313-8881

to enquire about future dates or scheduling a private, in house course for your team.
This page has been viewed 446 times.