MARS - Cisco Security Monitoring, Analysis, and Response System v3.0
» back to Search Results
Cisco Monitoring, Analysis, and Response System (MARS) training helps you accurately identify, manage, and eliminate network attacks so you can maintain network compliance.
Course Outline

Cisco Monitoring, Analysis, and Response System (MARS) training helps you accurately identify, manage, and eliminate network attacks so you can maintain network compliance.

Our enhanced and exclusive labs surpass the standard Cisco MARS training course. You'll use real equipment, not virtualized or demo-only devices, running the latest version of MARS software (currently version 6.1.1) to train on newer features, including enhanced MARS to CSM interaction. This gives you real-world experience with:


Integrating MARS with Cisco equipment and other common software applications
Configuring Cisco Security Manager (CSM v4.0) with a Cisco IPS
Performing an attack scenario to cross launch the incident from MARS to CSM
Device management and forum-based custom parsers
Handling incidents and generating reports
The latest configurations available using ASA code 8.3
Integrating a Symantec AntiVirus Server
Using current software and hardware, including Windows, an ASA 5520 Firewall, a Catalyst 3560 L2/L3 switch, 2811 IOS routers, and ACS version 4.2 and native syslog configuration

Since our equipment is live, it's no problem if you want to try something outside the scope of the standard labs. You can reset to any individual lab on the fly, allowing you to revisit labs or skip ahead without fear of missing crucial configurations in between.

A Global Knowledge Exclusive: Bonus Lab Credits
You'll receive five extra security e-Lab credits (good for 30 days) to review a topic after class, refine your skills, or get in extra practice-whatever lab activities complete your training.

Why Global Knowledge?
Our enhanced and exclusive labs go well beyond what you'll find in the standard Cisco MARS training course other providers offer. We incorporated more real-world labs, network devices, and software applications.


Better software: Our enhanced labs provide access to the latest MARS software (currently 6.1.1), while the standard course is based on the older 4.3.1 code.
Better instructors: You'll benefit from the expertise of our skilled instructors, who have experience deploying this appliance in the field going back to the days when this was a Perfigo appliance.
Better equipment: The standard Cisco MARS course material used by other providers uses preconfigured, virtual demo devices. We went above and beyond to incorporate real equipment to better prepare you for real-world production environments. Our investment in enhanced and exclusive labs means you get the experience you need using current software and hardware.

Three Microsoft Windows desktop PCs
Six Windows 2003/2000/2008 servers
An ASA 5520 firewall
A Catalyst 3560 L2/L3 switch
Two 2811 IOS routers
MARS 50 appliance running version 6.1.1 of code
CSM version 4.0
ASA code 8.3
ACS version 4.2 and native syslog configuration
Symantec AntiVirus Server

What You'll Learn


MARS design solutions, features, and functions as they relate to security incidents and security information in an enterprise network
Basic physical installation process
Adding Cisco and non-Cisco security and network devices into the MARS appliance
Configure network devices including ASAs, routers, switches, and an IPS
to generate attack scenarios and use MARS for incident investigation €¢ Attack mitigation and false positive confirmation
Configure appliance to perform incident investigation and mitigation
Create, view, and save a long-duration query and reports
Configure the MARS appliance to send alerts
Configure rules that detect interesting patterns of network activity
Use Case Management features to assign incidents to specific users for follow up
Configure hardware maintenance chores such as viewing audit trails, data archiving, and upgrading software
Overview of MARS Global Controller
Overview and configuration of Log Parser Templates
Overview of Distributed Threat Mitigation using the Cisco IOS IPS
Configure antivirus software to report a live virus
MARS interaction with Cisco Security Manager v4.0
Basic configuration of a Cisco IPS in Cisco Security Manager
Configure various Windows Servers (2008, 2000) to use SNARE and RPC to report log events
Configure SNMP version 3 on IOS and ASA devices and configure MARS to work accordingly
Use ASA version 8.3 code to investigate the latest configuration and log data sent to MARS
Configure an SFTP configuration for data archiving
Configure the Cisco ACS to send native syslogs to MARS
Integrate a Symantec AntiVirus Server
Device configuration (routers, IPS, windows server logs, CSM etc.)

Who Needs to Attend

Network security engineers and managers using the MARS appliance Cisco Channel Partners

Course Outline

1. MARS Overview and STM Task Flow


MARS solution and its role in Threat Defense System management
Deploy Cisco Security MARS as an STM system in your network

2. Configuration


Configure network reporting devices
Configure user-defined log parser templates

3. Incident Investigation


Use the Summary page menu to get an overview of your network
Examine case management features that can capture, combine, and preserve user-selected data within a specialized report
Explore the process of incident investigation and attack mitigation in a MARS appliance
Configure MARS to send a notification

4. Rules and Management


Configure rule(s) to detect interesting patterns of network activity and other anomalous network behavior
Use management features to add, edit, and delete events, IP addressing, IP service, and IP user information
Perform system maintenance tasks
Features and functions of the Cisco Security MARS Global Controller

Labs

Lab 0: Remote Lab Familiarization


Access equipment
Explore available features
Examine connectivity

Lab 1: Bootstrapping the MARS Appliance


Perform basic configurations and command line options within the MARS
Explore several newer commands available in versions 6.x
Perform initial login to the MARS and enter the appropriate licensing information
Become comfortable with the GUI and the MARS interface
Verify the configuration

Lab 2: Importing Hardware Devices to MARS


Explore three methods for loading networking devices
Configure SNMP v3 settings to support various networking devices
Configure MARS to explore routers, switches, and an ASA
Perform a basic query against the MARS database
Perform a Manual device entry to see the configuration firsthand
Use a Seed File to import devices

Lab 3: Generating Summary Reports


Maneuver the GUI
Create generic summary reports and queries
Step through various graphs available on the MARS
Watch how Netflow is used for anomaly detection
Exclusive - Configure the Netflow on the IOS routers
Exclusive - Configure the Netflow on the ASA routers (v8.3 commands)

Lab 4: Exploring Rules


Explore what makes an incident fire
Create a basic rule to generate an incident when a VPN user logs into the network
Explore day-to-day tasks performed by a MARS administrator
Create a drop rule to investigate incidents and generate false positives

Lab 5: Generating Queries and Reports


Create and run a query with different search parameters
Investigate various included reports
Issue IOS/ASA commands to allow detailed logging and tune messages from being sent
Configure newer commands available in IOS to allow command logging
Create a rule in MARS to generate an incident when logging commands are entered

Lab 6: Case Management and Rule Actions


Configure an action for a case and have the case e-mailed to an admin
Watch your e-mails being generated and sent in our SMTP server environment
Explore the CASE Management feature to see notes and a trace log associated with one or many incidents
Delegate control of the case to a particular user
Modify the action on a rule to automatically generate an e-mail when the incident is created

Lab 7: Incident Handling and Mitigation


Create several incidents by generating attacks in your network
Launch an attack against your DMZ from the outside of the network
Investigate incidents and attack vector graphs
Review the suggested mitigation techniques MARS offers

Lab 8: Tuning the MARS


Discover false positives
Tune networking devices from generating incidents
Investigate an incident and create a false positive rule
Explore device-side tuning and appliance-side tuning

Lab 9: Creating a Custom Parser


Use tool to provide custom syslog messages so you do not have to fail/penetrate production equipment
Create a custom parser to parse a Barracuda WebFilter log
Exclusive - Walk through software changes in version 6.x code relative to custom device parsers

Lab 10: IPS and MARS Integration


Load a baseline configuration file into the IPS
Exclusive - Work with IPS version 7.0 code to perform command line troubleshooting on the IPS to verify subscriptions
Configure the IPS for SNMP support
Create a MARS account in the IPS
Add the IPS to MARS
Examine the IPS configuration reporting to MARS
Configure the IPS with SNMP settings
Configure dynamic signature updates
Use command line options in the IPS to verify that MARS is configured correctly

Lab 11: CSM Integration


Exclusive - Configure a CSM 4.0 server with a Cisco IPS
Add a CSM server to MARS
Generate an event and have the IPS report the event to MARS
Investigate the event by querying CSM directly from MARS
Review the IPS signature that caused the event directly from MARS

Lab 12: Adding a Software Reporting Device


Examine the various free SNARE programs available from InterSect Alliance
Exclusive - Install the latest SNARE software and configure it to send IIS events and standard Windows events to MARS
Add a Windows server as a reporting device using SNARE and RPC
Add an IIS server as a reporting device
Exclusive -Set up the Symantec AntiVirus server so that MARS can report on any virus activity
Send a virus to a workstation in the lab and see the virus generate an alert in MARS

Lab 13: Adding an AAA Reporting Device


Exclusive - Install and configure native syslog directly from an ACS 4.2 server to send log data to MARS
Install and configure the Cisco Secure ACS 4.2 latest software build as the AAA reporting device in MARS
Login to an IOS device and see the event in MARS

Lab 14: Exclusive - Maintaining the MARS Appliance


Extract raw messages from MARS to review contents as an auditor would
Archive data to a Windows server using SFTP
Stand up a free SFTP server so MARS can publish the data archives
Explore newer commands available only in newer versions of MARS 6.x code to manually back up your configuration and raw message information separately
Configure MARS to authenticate to a Cisco Secure ACS 4.2 server using RADIUS
Walk through the configuration as well as the lockout feature for security




Prerequisites & Certificates

Pre-Requisites

- Fundamental knowledge of implementing network security - CCSP or Security CQS - Working knowledge of routing and switching - CCNA Security certification

Certificates offered

32 Cisco Learning Credits




Cancellation Policy

We require 16 calendar days notice to reschedule or cancel any registration. Failure to provide the required notification will result in 100% charge of the course. If a student does not attend a scheduled course without prior notification it will result in full forfeiture of the funds and no reschedule will be allowed. Within the required notification period, only student substitutions will be permitted.

Reschedules are permitted at anytime with 16 or more calendar days notice. Enrollments must be rescheduled within six months of the cancel date or funds on account will be forfeited.


Map & Reviews




Reviews

This course has not yet been rated by one of our members.

If you have taken a course through this vendor please log into your account and leave feedback for this vendor. You will be helping ensure our members get directed to the best training facilities.

Here are some reviews of the training vendor.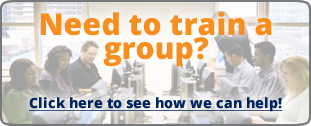 This course currently does not have any dates scheduled. Please call
1-877-313-8881

to enquire about future dates or scheduling a private, in house course for your team.
This page has been viewed 477 times.