Defending Windows Networks
» back to Search Results
In this advanced security course, you will learn how to protect a Windows Server Network from security threats. Get an introduction to the concepts and processes needed to protect against attacks on a Windows Network.
Course Outline

This lab-intensive, Windows network training course - a Global Knowledge Exclusive - goes beyond Official Microsoft Learning Product (OMLP) to illustrate defense techniques against real-world threats, instead of simply addressing software-security features.

In this advanced security course, you will learn how to protect a Windows Server Network from security threats. Get an introduction to the concepts and processes needed to protect against attacks on a Windows Network. Examine how attacks are performed, how they can compromise a Windows Server Network Infrastructure, and how you can lock down the network. This course
covers Windows Server 2003, Windows Server 2008, Windows XP, and Windows Vista.

What You'll Learn
Concepts and processes behind hacking
Prevalent security threats
Protect and defend against security threats
Leverage security policies proactively
Use the features of Windows Server 2008 and Vista to secure a Windows Network Infrastructure
Who Needs to Attend

Professionals responsible for system and network security administration, including security analysts and network designers

Course Outline

1. Security: Concept to Policy


Dispelling the Myths
Physical Security First
Defining Proprietary Data
The Secure Access Process
Developing and Enforcing Best Practices
Designing and Enforcing Security Policy
Best Practices

2. Encryption Technologies


Protecting Your Data
When Do We Need Encryption?
When Can You Lose Physical Control of Your Data?
Cryptography Basics
Symmetric Key Encryption
Public Key Infrastructures
Hybrid Cryptosystems
Certificate Services

3. Evaluating The Threat - Know Your Enemy


Know Your Enemy
Hacking Basics
Why Hack? Hacking Goals
What is Ethical Hacking?

4. Target Acquisition


Are You Asking to Be Hacked?
Target Acquisition: The Hit List
Choosing a Target
Creating a Target
Researching a Target
Footprinting: Who are You?
Why Windows Hacking Is Most Common
Best Practices

5. Sniffing Around


What's on Your Network?
What's on the Wire?
The Curse of Cleartext
What Does Your E-Mail Look Like on the Wire?
Monitors and Probes
Circumventing the Switch
Best Practice: Using IPSec

6. Compromising Windows Authentication


What is Your Weakest Link?
Are You Still Using Legacy Authentication?
Improved Windows Authentication
What Is a Good Password Policy?
Password Cracking
Security Policy in Windows
Alternative Login Methods
Best Practices

7. Account Discovery: Got Admin?


The End Game: Getting Admin Privileges
Security Principals
Understanding Windows Security ID
Anonymous Access and SIDs
Why it is Important to Hide the Identities of the Admin Accounts?
Best Practices

8. Trojan Horse = Workhorse


Beware of Geeks Bearing Gifts
The Trojan Horse Application
Trojans and Their Hosts
Simple Trojans
Evolving Trojans
Gaining Full Control
Best Practices vs. Trojans

9. Defeating and Defending the Firewall


Defeating the Firewall
Basic Firewall Functionality
Firewalls: Closing Ports at a Network Near You
How Hackers Get Invited In
Chatting with Your Trojan Horse
Phishing with USB Flash Drives
Hardware Firewalls
Windows Firewall
Best Practices

10. Defending Against Other Windows Exploits


Be Prepared
Penetration Testing and Vulnerability Scanning
The Buffer Overflow Attack
Metasploit Framework
Microsoft Baseline Security Analyzer
Windows Server Update Services
Windows Defender and Windows Live OneCare
Best Practices

11. Wireless Intrusion


Wireless Networking = No More Walls
Wireless Networking: Broadcasting Your Data over FM Radio
Sniffing Wireless
Spoofing Wireless Access Points
Cracking WEP and WPA
War Driving
Using WPA2 and RADIUS for Security
Best Practices

12. Using Windows Certificate Services


Using Certificate Services to Protect Your Data
DNS and Your Security
How to Steal a Web Site in Under a Minute
Taking the Guesswork out of Name Resolution
Deploying a Public Key Infrastructure
What Is a Certificate Authority?
Security Your E-mail
Smartcards and Other Alternative Logins
Best Practices

13. Laptops: Proprietary Data To Go?


Mobile Systems Means Mobile Data
Laptops Are Difficult to Secure
Encrypting File System
Using a Quarantine
Laptops and Driver Hacks
Best Practices

14. Balancing Security Policies


The Importance of Good Policy
Ease of Use vs. Security
How Far Can You Go with Group Policy
Application Needs and Configuration
Being the Smaller Target
Best Practices

Labs

Lab 1: Designing Security Policy


Designing a Security Policy
Creating or Improving Your Current Policy

Lab 2: Setting Up the Lab Environment


Setting Up Virtual PC
Installing Microsoft Virtual PC 2007
Adding the Lab Virtual Machines to the Virtual PC Environment

Lab 3: Hacking Tools


Installing Security Tools

Lab 4: Network Scanning and Footprinting


Network Scanning and Footprinting

Lab 5: Sniffers and Network Monitoring


Scanning Network Traffic with Cain and Abel
Using Wireshark to Capture E-Mail Content

Lab 6: Password Auditing


Password Auditing with LC5
Using LC5 to Audit Passwords on a Domain Controller
Using Cain and Abel and Rainbow Tables
Importing and Exporting Password Hash Text Files

Lab 7: Account Discovery


Using LANGuard for Account Discovery
Using Redbutton for Account Discovery
Using Group Policy to Secure Windows Systems from Anonymous Account Discovery
Using Active Directory to Reveal Members of the Admin Groups
Setting Security in AD to Prevent Admin Account Discovery

Lab 8: Gaining Control with a Trojan Horse


Using a Simple Trojan
Hiding a Trojan in a Host File

Lab 9: Reversing Connecting Trojans


Preparing the Lab System's VMs
Using the Reverse Connecting Trojan

Lab 10: Using Metasploit


Exploring the Metasploit Framework
Using Metasploit Framework against a Target
Other Target Systems

Lab 11: Cracking WEP and WPA


Cracking WEP with Aircracking for Windows
Cracking WPA with Aircracking for Windows

Lab 12: Securing E-Mail


Setting Up Certificate Services for Encrypted E-Mail
Setting Up Outlook Express to Use SSL
Capturing Encrypted E-Mail with Wireshark

Lab 13: EFS and BitLocker


Attacking Windows with a Bootable OS
Using EFS to Secure Data on Windows XP
Using BitLocker to Secure Data on Windows Vista

 




Prerequisites & Certificates

Pre-Requisites

Knowledge of Windows Server 2003 and Windows Networking; Highly recommended: - Configuring, Managing, and Maintaining Server 2008 R2 (M6419)

Certificates offered

Certificate of Completion




Cancellation Policy

We require 16 calendar days notice to reschedule or cancel any registration. Failure to provide the required notification will result in 100% charge of the course. If a student does not attend a scheduled course without prior notification it will result in full forfeiture of the funds and no reschedule will be allowed. Within the required notification period, only student substitutions will be permitted.

Reschedules are permitted at anytime with 16 or more calendar days notice. Enrollments must be rescheduled within six months of the cancel date or funds on account will be forfeited.


Map & Reviews




Reviews

This course has not yet been rated by one of our members.

If you have taken a course through this vendor please log into your account and leave feedback for this vendor. You will be helping ensure our members get directed to the best training facilities.

Here are some reviews of the training vendor.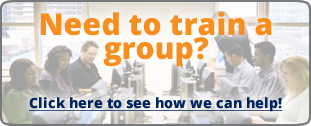 This course currently does not have any dates scheduled. Please call
1-877-313-8881

to enquire about future dates or scheduling a private, in house course for your team.
This page has been viewed 467 times.