Advanced Administration for Citrix XenApp 5.0 for Windows Server 2008 (CXA-300-1)
» back to Search Results
This course provides learners with the skills necessary to monitor, maintain & troubleshoot network environments running XenApp for Windows Server 2008 software.
Course Outline

Learn advanced Citrix XenApp 5.0 skills and tools.

This course provides the skills necessary to monitor, maintain and troubleshoot network environments running XenApp for Windows Server 2008 software. You will be introduced to the tools used to monitor  theXenApp farm, record farm activity, and generate reports. In addition, you will take away the skills needed to maintain data and server integrity, and to scale, optimize, and troubleshoot the XenApp farm. This instructor-led training course provides interactive presentations, discussion and practical application through hands-on labs and group activities.

What You'll Learn


Determine when and how to use monitoring tools to administer network environments running Citrix XenApp software
Configure metrics, alarms and Health Monitoring and Recovery tests
Plan and optimize the server farm
Monitor and troubleshoot connectivity to the data store
Monitor and troubleshoot the Citrix IMA Service and the ICA communication channel
Troubleshoot session initialization, client settings and Application Streaming sessions
Monitor and troubleshoot published and streamed applications
Determine how Citrix and Active Directory policies are applied and troubleshoot unexpected policy results
Monitor, optimize, and troubleshoot printing and printing policies
Monitor, optimize, and troubleshoot Web Interface and Secure Gateway

Who Needs to Attend

IT professionals, such server, network, system, and help desk administrators familiar with Microsoft Windows Server 2003 and Windows Server 2008 environments System engineers, analysts, consultants, architects and Citrix Solution Advisors

Course Outline

1. Supporting XenApp


XenApp Components
XenApp Communication
XenApp Services
Monitoring and Support Tools

2. Monitoring the Server Farm


Monitoring Tools
Data Store Monitoring
IMA Service Monitoring
Health Monitoring and Recovery
Configuring Health Monitoring and Recovery
Hot fix Management
Managing Hot fixes
Log Files
Session Monitoring
Real Time Data
Alerts
Command-Line Utilities
QUERY Commands
QFARM Command
QUERYDC Command
QUERYHR Command
QUERYDS Command

3. Optimizing the Environment


Hardware Optimization
Network Optimization
Software Optimization
Configuring a Reboot Schedule
Optimizing CPU Utilization
Configuring ICA Connection Limits
Server Farm Capacity Planning
Scaling the Data Collector
Adding, Deleting or Changing Servers and Farms
Configuring Data Collector Preferences
Configuring a Dedicated Data Collector
Configuring Zone Preference and Failover
Supporting Mixed Server Farms
Performance Troubleshooting

4. Optimizing and Troubleshooting the Data Store


Data Store Basics
Data Store Database Performance
Access Data Store Maintenance and Optimization
Compacting an Access Database
Backing Up and Restoring an Access Data Store
SQL Data Store Maintenance and Optimization
Migrating to a SQL Data Store
Data Store Security
Encrypting IMA Communications
Data Store Troubleshooting
Starting the IMA Service
Troubleshooting the IMA Service
Troubleshooting the ODBC Connection
Recreating the Local Host Cache
Tracing with SQL Profiler

5. Optimizing and Troubleshooting Applications


Application Loading
Application Compatibility
Streaming Applications
Troubleshooting Streaming Sessions
Application Optimizations
Removing Unnecessary Features
Siloing Applications
Disabling Smooth Scrolling
Virtual Memory Optimization
Implementing Virtual Memory Management
Troubleshooting DLL Rebasing
Application Testing
Performing Application Unit Testing
Performing Application Integration Testing
Application Troubleshooting

6. Managing Policies


Active Directory Policies
Managing Active Directory Policies
Processing of Active Directory Policies
Specifying the User Profile
Configuring Folder Redirection
Specifying Logon Scripts
Citrix Policies
Processing of Citrix Policies
Troubleshooting Policies
Generating a Citrix Resultant Policy
Generating an Active Directory Resultant Set of Policy Report
Confirming ICA Listener Settings
Client Policy Configuration
Configuring Windows Trusted Sites

7. Optimizing and Troubleshooting Printing


ICA Session Printing
Citrix Print Manager Service
Verifying Citrix Print Manager Service Settings
Print Settings
Driver Management
Print Optimization
Optimizing Printing for LAN Users
Optimizing Printing for WAN Users
Printing Troubleshooting
Troubleshooting Slow Printing Across a WAN
Overriding Default Administrator Rights
Identifying Potential Issues
Troubleshooting Failed Print Jobs

8. Optimizing and Troubleshooting Clients


ICA Sessions
Administering ICA Sessions
Initializing ICA Sessions
Troubleshooting ICA Session Initialization
ICA Connectivity
Troubleshooting ICA Connectivity
Disabling Pass-Through Authentication
Replacing Application Icons
RADE Sessions
Initializing RADE Sessions
Troubleshooting RADE Session Initialization
Logons
Troubleshooting Slow Logons
ICA Protocol Security
Certificates
Certificate Revocation List Checking
Enabling Certificate Revocation List Checking
Smart Card Support
Copying Smart Card User Certificates
Kerberos Authentication
Configuring Kerberos without Pass-Through Authentication
Configuring Kerberos with Pass-Through Authentication

9. Optimizing and Troubleshooting Sessions


Session Connection Settings
Configuring Virtual IP Addresses
Configuring Broadcast Settings
Configuring the Citrix XML Service
Configuring Time Zone Settings
Session Reconnection Configuration
Configuring Keep-Alive Settings
Configuring Session Reliability
Configuring Auto Client Reconnect

10. Optimizing and Troubleshooting Web Interface


Web Interface Communications
Web Interface Configuration Methods
Web Interface Site Structure
Web Interface Logs
Enabling Detailed Error Messages
Internet Explorer and the Web Interface
Web Interface Security
Web Interface to XenApp Communication
Securing Servers with Citrix SSL Relay
Securing Servers with HTTPS
Client to XenApp Communication
Securing Communication from the Client to XenApp
Client to Web Interface Communication
Securing Communication from the Client to Web Interface
Client to Web Interface Communication Troubleshooting
Verifying Site Settings
Verifying Settings for All Servers
Using the Repair Option
Troubleshooting Web Interface Errors
Authentication Troubleshooting
Troubleshooting Explicit Authentication
Troubleshooting Pass-Through Authentication
Troubleshooting Smart Card Authentication
Troubleshooting ICA Authentication Tickets
Troubleshooting the Least Busy Server Determination
Troubleshooting Address Translation
Enabling Tracing with ASP.NE
Troubleshooting Error Messages

11. Optimizing and Troubleshooting Secure Gateway


Secure Gateway Components
Secure Gateway Connection Process
Secure Gateway Monitoring
Monitoring the Secure Gateway Service
Monitoring the Secure Ticket Authority
Using the Secure Gateway Management Console
Using the Secure Gateway Diagnostics Tool
Secure Gateway Optimization
Configuring Secure Gateway with Web Interface
Installing the Secure Gateway Proxy
Configuring Firewalls
Load Balancing Servers
Identifying Keep-Alive Values
Digital Certificates
Identifying Server Certificate Requirements
Secure Gateway Troubleshooting
Viewing Event Logs and Access Logs
Identifying Connection Issues
Identifying Certificate Issues
Using Web Server Load Balancers
Placing Secure Gateway Parallel to the Load Balancer
Using Network Address Translation




Prerequisites & Certificates

Pre-Requisites

- Working knowledge of Microsoft Windows Server 2003 with Terminal Services - Familiarity with Microsoft Windows Server 2008 with Terminal Services - Familiarity with Microsoft SQL Server 2005 with Reporting Services - Working knowledge of the architecture and administrative tasks associated with Citrix XenApp - CXA-201-1I Implementing Citrix XenApp 5.0 for Windows Server 2008 (CXA-2-1-1I) or CXA-202-1I Implementing Citrix XenApp 5.0 for Windows Server 2008 Skills Update - Implementing Citrix XenApp 5.0 for Windows Server 2008 (CXA-201-2)

Certificates offered

Certificate of Completion




Cancellation Policy

We require 16 calendar days notice to reschedule or cancel any registration. Failure to provide the required notification will result in 100% charge of the course. If a student does not attend a scheduled course without prior notification it will result in full forfeiture of the funds and no reschedule will be allowed. Within the required notification period, only student substitutions will be permitted.

Reschedules are permitted at anytime with 16 or more calendar days notice. Enrollments must be rescheduled within six months of the cancel date or funds on account will be forfeited.


Map & Reviews




Reviews

This course has not yet been rated by one of our members.

If you have taken a course through this vendor please log into your account and leave feedback for this vendor. You will be helping ensure our members get directed to the best training facilities.

Here are some reviews of the training vendor.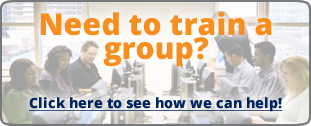 This course currently does not have any dates scheduled. Please call
1-877-313-8881

to enquire about future dates or scheduling a private, in house course for your team.
This page has been viewed 3228 times.