ACCMU v6.1 - Administering Cisco Unified Communications Manager v6.1 and Cisco Unity v5.0
» back to Search Results
In this 5-day course, learn to add, move, change & troubleshoot IP telephony devices. Learn to support IP phone users & identify network & server impact when administering changes. Configure the latest versions of Cisco Unified Communications Manager...
Course Outline

In this five-day course, learn to add, move, change, and troubleshoot IP telephony devices. Learn to support IP phone users and identify network and server impact when administering changes. Configure the latest versions of Cisco Unified Communications Manager (CUCM) on a Linux appliance with Cisco 7960 & 7965 IP Phones, IP Communicator, and Catalyst® switches with in-line power. During the first three days of this class, you'll cover CUCM basic administration (CMBA). In the last two days you'll cover Cisco Administering Unified Messaging (AUM). CUCM provides voice and video call routing, while Cisco Unified Unity provides a voice mail and unified messaging solution that allows users to integrate voice mail, e-mail, and fax messages into a single inbox. During this course, you will configure a CUCM server and perform a digital integration to a Cisco Unified Unity server. Learn to add and delete Unity subscribers, build voice mail system features, and program and deploy automated attendant call handlers.

Why Take ACCMU v6.1 from Global Nexient Learning? In our unique, real-world ACCMU lab, learn to build and test a sophisticated IP telephony network that you can use as a template for a real deployment. We have set ourselves apart from other Cisco training providers by enhancing our ACCMU hands-on labs to include a real dial plan and Class of Service for calling out to the PSTN and branch offices. The Unity component allows seamless integration of the Unity server into the CallManager cluster deployed in the first part of the course. No other training company offers a unique, real-world lab solution like ours.

All of our Unified Communications courses provide a simulated PSTN, enabling students to test 3-digit, 7-digit, 10-digit, 11-digit, and international route patterns.

• Deploy Cisco Unified Communications Manager 6.1
• Work with three phones per student pod
? Two internal phones
? One test phone allowing students to test PSTN dial plan
• Build and test a real dial plan including:
? 911
? 3-digit service codes: 411, 511, etc.
? 7-digit local numbers: 681-1901
? 10-digit local numbers: 416-681-1901
? 11-digit long distance numbers: 1-733-802-1901
? International numbers: 011441902

The simulated PSTN is accessible through all pods, providing interesting scenarios for intercluster communication in which remote clusters can communicate over the IP infrastructure and leverage the PSTN for backup call routing.

Build and test a Class of Service (CoS) solution that partitions the dial plan into the following:
• Internal Dialing
• 911 and service code dialing
• Local dialing
• Long distance dialing
• International dialing

Who should attend PBX administrators, voice technicians, systems engineers, and database administrators who are installing, maintaining, and troubleshooting Cisco IP telephony products.

Follow-On Courses
• QOS
• TUC

What you'll Learn • Perform Cisco Unified Communications Manager Initial Configuration
? Call Manager Groups
? Device Pools
? Regions
? Date/Time Groups
• Perform Moves, Adds, and Changes (MACs)
• Configure Bulk Administration Tool (BAT)
• Configure and verify Dial Plans for full PSTN and inter-site call routing
? Route Pattern -> Route List -> Route Group -> Intercluster Trunk or Gateway
• Configure IP Phone Services and Corporate Directory
• Configure and Test Cisco IP Phones Features
? Call Hold
? Call Transfer
? Call Park
? Call Pickup and Group Call Pickup
? Speed Dials
? Auto Answer
? Softkey Templates
? Extension Mobility
? Presence
? Attendant Console
• Configure Media Resources
? Music On Hold
· Conferencing
· Integrate Unity with a CUCM Deployment
· Configure Class of Service
· Add Unity Subscribers
· Configure and Test Unity Features
· Configure and Test Unity Interview and Call Handlers
· Configure and Test Unity Greetings and Broadcast Administrator
· Configure and Verify Basic Auto Attendant Call Handlers
· Configure and Verify Advanced Auto Attendant Call Handlers
· Configure Outcall Notification

Get Certified
• CCNA Security
• CCSP

Course outline CMBA+ (3 days) 1. Cisco Unified Communications Manager (CUCM) Release 6.1 Basic Administration
o Objectives
o Prerequisites
o Information Sources

2. Introducing CUCM Release 6.1
o Cisco Unified Communications Solution
o CUCM Functions
o CUCM 6.1 as an Appliance
o Database Operation
o Cluster Communication
o CUCM Operating System, Database, and Supporting Applications
o CUCM Server

3. Evaluating CUCM 6.1 Deployment Options
o Call-Processing Deployment Models
o Single-Site Deployment
o Multisite WAN with Centralized and Distributed Call Processing
o Clustering over the IP WAN
o CUCM 6.1 Database Redundancy

4. Administering the Cisco IP Telephony Platform
o Cisco IP Telephony Platform Administration Overview
o Checking Platform Status
o Viewing and Updating Platform Settings
o Switching Versions and Restarting the Server
o Managing Security Certificates and IPsec
o Upgrading Software or Adding Options
o Checking Network Connectivity and Setting Up Remote Support
o Using the CLI

5. Performing General Administration
o CUCM Administration Overview
o CUCM 6.1 Applications
o Multilevel Administration Overview
o Roles and User Groups
o Creating a New Role and User Group

6. Configuring CUCM 6.1 Basic Settings
o Basic Settings Configuration Overview
o DNS vs. IP Addresses
o Service Activation
o Service Parameters
o Enterprise Parameters

7. Implementing Disaster Recovery
o Disaster Recovery System Overview
o Performing a Backup
o Performing a Restore
o Executing CLI Commands

8. Evaluating Cisco IP Telephony Endpoints
o Cisco IP Phone Overview
o SCCP Phones
o SIP Endpoints
o SIP and SCCP Phone Configuration Comparison
o Video Endpoints
o Cisco IP Phone Codec Support

9. Configuring CUCM to Support IP Phones
o Device Pools
o CallManager Groups
o Date/Time Groups
o Phone Templates
o Phone and Line Configuration
o Auto-Registration

10. Configuring SIP Endpoints
o CUCM 5.0 SIP Phones
o CUCM 5.0 SIP Line-Side Support
o SIP Call Flow and Digit Collection
o Configuring Cisco SIP Phones
o Converting SCCP Phones to SIP
o Adding Third-Party SIP Phones
o Adding SIP Dial Rules

11. Managing Endpoints Using the Bulk Administration Tool
o BAT Features
o Phone Templates
o Inserting and Updating Phones

12. Configuring Basic Dial Plan Elements
o External Call Routing
o Route Groups
o Route Lists
o Route Patterns
o Digit Analysis
o Call Routing Summary

13. Configuring CUCM Trunks
o CUCM Trunks
o Configuring Non-Gatekeeper-Controlled Intercluster Trunks
o Configuring Gatekeeper-Controlled Intercluster Trunks
o Configuring H.225 Trunks
o Configuring Q.SIG for Trunks
o Configuring SIP Trunks
o Verifying Trunk Configurations

14. Implementing Class of Control
o Partitions and Calling Search Spaces
o Time-of-Day Routing

15. Multisite Deployment

16. Configuring Media Resources
o Conference Bridges
o Music On Hold Servers
o Transcoders
o Annunciator

17. Configuring User Features
o Speed Dial
o Enhanced Features
o Softkey Templates
o Call Pickup
o Barge

AUM (2 days) Understanding Cisco Unity
What is Unity
Outside Caller Call Flow
Subscriber Call Flow

Unified Communications Integrations
Information Exchanged Between Phone System and Unity
Types of Integrations
Supported PBX Integrations

Cisco Unity Standard System Features
Cisco UMR
System Broadcast Messages
Cisco Uniity Message Security
Exchange 2007 Support

Cisco Unity Standard User Features
Automated Attendant
Live Reply
Cisco Personal Communications Assistant
Cisco Unity Greetings Assistant
Secure Private Messaging

Optional Cisco Unity Features
Unified Messaging
Cisco Personal Assistant Inbox
Text-to-Speech

Cisco Unity Connection
What is Cisco Unity Connection
Cisco Unity Connection Call Flow
Cisco Unity Connection Message and Data Store

Positioning Cisco Unity Connection
Cisco Messaging Portfolio
Comparing Cisco Messaging Products
Cisco Unity Connection as a Part of Cisco Unified Communications Manager Business Edition

Understanding Cisco Unity Connection Integrations
Cisco Unity Connection Integration
Supported Integrations

Cisco Unity Connection Standard Features
Standard Cisco Unity Features
Cisco VTG Appliance Platform
New Client Desktop Support

Cisco Unity Connection Optional Features
Cisco Unity Connection Inbox
Cisco Unity Connection Integration with Exchange
Cisco Unified Personal Communicator
Cisco unity Connection Voice Recognition

Using Cisco Unity
How the System Handles Calls
Outside Callers and Subscribers
Using View Mail for Outlook

Using the Cisco Unity Administrator
Navigation Bar
On-Screen Help
Media Master Recording Tool

Setting Up Cisco Unity
System Setup
Schedules
Ports
Opening Greeting

Configuring Cisco Unity Global Subscriber Settings
Global Subscriber Settings
Account Policy
Class of Service
Distribution Lists
Subscriber Templates

Configuring Cisco Unity Subscriber Accounts and Settings
Private Lists
Alternate Extensions
Message Notification
Types of Cisco Unity Subscribers
Adding and Deleting Subscribers

Using Call Handlers and Interview Handlers
Call Handlers
Interview Handlers
Opening Greetings
Making a Call Handler Plan
Call Routing Rules
Restriction Tables

Monitoring Unified Cisco Communications Systems
Real-Time Monitoring Tools
Call Viewer
Status Monitor
Port Status Monitor

Maintaining Unified Communications Systems
Disaster Recovery
DbWalker
Audio Text Manager
Bulk Edit
Bulk Import

Managing Unified Messaging System Reporting
Types of Reporting Tools
Unity Reports
Subscriber Reports

Hands-On Labs Our investment in enhanced and exclusive labs means you get the experience you need using current software and hardware. No other training company offers a unique, real-world lab solution like ours.

In our lab descriptions, an enhanced lab contains a significant addition to the standard labs and may or may not be offered by other providers, while an exclusive lab contains material that is not offered by any other provider.

Our ACCMU lab environment consists of 12 interconnected Cisco Unified Communications Manager (CUCM) 6.1 clusters. Each has its own Unity 5.0 server, and two students are responsible for configuring each cluster. A sophisticated telephony simulation is provided allowing you to configure a complete dial plan including Class of Service. Integrate the Unity server into the CUCM cluster, add subscribers, and build a voice mail menu system. This course focuses on CUCM and Unity configuration. Routers are not configured in this course. A minimal understanding of IP is helpful.

Lab 1: Enhanced – Topology and Deployment
Wire the CMBA v6.1 classroom network and image the CUCM servers for each cluster. The CUCM is installed but not configured. This lab takes less than 60 minutes, and no additional wiring is required for any later labs.
Enhanced content: Extension mobility test profiles

Lab 2: CUCM 6.1 Platform Administration
Explore the administration of the CUCM 6.0 platform, including OS administration and the new CLI.

Lab 3: CUCM Initial Setup
Preparing for later labs, activate CUCM services, enable auto registration, provide initial configuration of IP Phones, and configure CDR and tracing. Configure a DHCP scopes with OPTION 150 to support IP Phone deployment.

Lab 4: Disaster Recovery System
Learn to configure a disaster recovery system to provide full data backup and restore capabilities for all servers in a CUCM cluster.

Lab 5: User Management – CUCM GUI
Learn to manage, add, and delete end users and application users.

Lab 6: User Management – Bulk Administration Tool (BAT)
Learn to use BAT to configure large numbers of phones, users, or device profiles by using Excel to create a CSV file to import into CUCM.

Lab 7: User Management – LDAP
Learn to configure LDAP synchronization in CUCM.

Lab 8: Common Device Configuration
Configure phone NTP references, date/time groups, device pools, common device configuration, and common phone profiles.

Lab 9: Basic IP Phone and IP Communicator Configuration
Further configure your pod's IP Phones and deploy IP Communicator.

Lab 10: SIP Endpoints
Add a third-party SIP phone and configure local dial rules.

Lab 11: BAT
Use the BAT tool to add phones to the CUCM configuration.

Lab 12: PSTN Trunk Lab 1: SIP to the PSTN
Configure a gateway allowing incoming calls from the outside phone and a dial plan allowing outgoing calls to the lines on the outside phone.

Lab 13: Dial Plan Lab: SIP Trunk Outgoing to PSTN
Lab 14: Digit Manipulation
Learn to adjust Caller ID on outbound calls for 7-digit local, 10-digit local, long distance, and international numbers.

Lab 15: Dialed Number Analyzer
Learn to use the Dialed Number Analyzer to troubleshoot problems with your dial plan.

Lab 16: Class of Service Lab: PSTN Access
Deploy partitions and calling search spaces to control which lines on which phones can reach outside lines.

Lab 17: Dial Plan Lab: Hunt Lists and Call Coverage
Learn to configure and test hunting.

Lab 18: Music On Hold and Software Conference Resources
Deploy MOH and software conferencing.

Lab 19: User Features

Lab 20: Presence

Lab 21: CUCM Configuration for Unity Integration

Lab 22: Unity Integration
Complete the integration by running the Unity Telephony Integration Tool on the Unity server.

Lab 23: Unity System Settings
Configure some basic system settings to become familiar with the Unity System Administration Interface.

Lab 24: Unity System Schedule
Create a system schedule and define holidays for use in later labs.

Lab 25: Class of Service
Create a "Junior Administrator" Class of Service and associated subscriber template with specific system access, call transfer, password, and conversation features.

Lab 26: Subscribers
Add subscribers to the Unity System and investigate the relationships between Unity, Microsoft Exchange, and Active Directory.

Lab 27: Unity Features
Explore Cisco Unity Assistant and Cisco Unity Inbox capabilities as well as private distribution lists and live reply.

Lab 28: Opening Greeting
Reprogram the opening greeting in the first of three call handler labs.

Lab 29: Interview and Call Handlers
Program interview and call handlers and begin to organize them into a voice mail menu system.

Lab 30: Emergency Out-Dial Notification Plan
Configure an after-hours emergency support service to illustrate message notification.

Lab 31: More Call Handlers (Optional)
Deploy more call handlers so you can build and test a more complete voice mail menu system.

Lab 32: Greetings and Broadcast Administrators
Investigate the use of greetings and broadcast administrators to delegate tasks associated with maintaining the voice mail menu system. Investigate the audio text manager tool as well.

Lab 33: Status Monitor and Reports
Use the Unity reporting tool to query the system for a variety of information. Investigate the two styles of reports, CSV and web-page format, as well as subscriber and system reports.


Prerequisites & Certificates

Pre-Requisites

Basic knowledge of the Windows 2000 operating system, TCP/IP, and IP telephony concepts is required. No router experience is required. You do not need to know Cisco's router command line interface. Some knowledge of IP is helpful, but it is not required.

Certificates offered




Cancellation Policy

We require 16 calendar days notice to reschedule or cancel any registration. Failure to provide the required notification will result in 100% charge of the course. If a student does not attend a scheduled course without prior notification it will result in full forfeiture of the funds and no reschedule will be allowed. Within the required notification period, only student substitutions will be permitted.

Reschedules are permitted at anytime with 16 or more calendar days notice. Enrollments must be rescheduled within six months of the cancel date or funds on account will be forfeited.


Map & Reviews




Reviews

This course has not yet been rated by one of our members.

If you have taken a course through this vendor please log into your account and leave feedback for this vendor. You will be helping ensure our members get directed to the best training facilities.

Here are some reviews of the training vendor.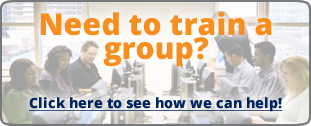 This course currently does not have any dates scheduled. Please call
1-877-313-8881

to enquire about future dates or scheduling a private, in house course for your team.
This page has been viewed 451 times.