Electrical Equipment: Selection, Applications, Operation, Diagnostic Testing, Troubleshooting
» back to Search Results
This seminar is a MUST for anyone who is involved in the selection, applications, or maintenance of electrical equipment. It covers how this equipment operates and provides guidelines and rules that must be followed for a successful operation.
Course Outline

After participating in this course, you will be able to:
• Select out of the various types of transformers, motors, variable speed drives, rectifiers, inverters, uninterruptable power systems (UPS), generators, circuit breakers, and fuses that are more suitable for your application.
• Use diagnostic testing, inspect with the awareness of common failure modes, apply advanced fault detection techniques, and recognize critical components that need more frequent attention.
• Save cost by enhancing reliability through predictive and preventive maintenance
• Increase availability of your equipment by appropriate commissioning using the understanding of commissioning requirements gained at the course
• Apply the new maintenance skills learnt at the course to minimize the operating cost and maximize efficiency, reliability and longevity

Description Maximum efficiency, reliability, and longevity of electrical equipment such as the various types of motors, variable-speed drives, transformers, generators, rectifiers, inverters, uninterruptible power systems, circuit breakers, and fuses are of great concern to many industries. These objectives can only be achieved by understanding the characteristics, selection criteria, common problems and repair techniques for preventive and predictive maintenance. This seminar is a MUST for anyone who is involved in the selection, applications, or maintenance of electrical equipment. It provides the latest in technology. The seminar covers how this equipment operates and provides guidelines and rules that must be followed for a successful operation. Their basic design, operating characteristics, specification, selection criteria, advanced fault detection techniques, critical components as well as all maintenance issues are covered in detail.

Objectives To provide a comprehensive understanding of the various types of motors, variable-speed drives, transformers, rectifiers and inverters, uninterruptable power systems (UPS), generators, circuit breakers, and fuses to enable participants better specify, select, commission and maintain this equipment for their applications.

To achieve reduced capital, operating and maintenance costs along with increase in efficiency.

Who Should Attend Electrical and mechanical engineers, consulting engineers, electrical and mechanical technicians and technologists, project engineers, power plant managers, outage managers, maintenance and operations engineers, procurement managers, technical sales managers, senior electricians and other technical personnel interested in electrical equipment.

Special Features Included in the seminar is a book titled "Electrical Equipment Handbook" (600 pages) published by McGraw-Hill in 2003, and a manual. Both the book and the manual are authored by the instructor.

Faculty: Philip Kiameh, University of Toronto, Ontario

Program Outline
Power Generation

1: Fundamentals of Electric Systems
1.0 Faraday's Law of Induction
2.0 Alternating currents
3.0 Three-phase system

2: Introduction to Machinery Principles
1.0 Faraday's Law – Induced voltage from a magnetic field changing with time
2.0 Permanent magnets
3.0 Induced voltage on a conductor moving in a magnetic field

3: Transformers
1.0 Impedance transformation through a transformer
2.0 Analysis of circuits containing ideal transformers
3.0 Three-phase transformers

4: Transformer Components and Maintenance
1.0 Classification of transformers
2.0 Main components of a power transformer
3.0 Transformer oil
4.0 Interconnection with the grid

5: AC Machine Fundamentals
1.0 The induced voltage in AC machines
2.0 Winding insulation in AC machines
3.0 AC machine power flow and losses

6: Induction Motors
1.0 Induction motor torque-speed characteristics
2.0 Control of motor characteristics by squirrel-cage rotor design

7: Speed Control of Induction Motors
1.0 Solid-state induction motor drives
2.0 Motor protection
3.0 The induction generator

8: Maintenance of Motors
1.0 Failures in three-phase stator windings
2.0 Motor troubleshooting
3.0 Diagnostic testing for motors
4.0 Repair and refurbishment of AC induction motors

9: Power Electronics, Rectifiers and Pulse-Width Modulation Inverters
1.0 Basic rectifier circuits
2.0 Inverters

10: Variable Speed Drives
1.0 Inverters
2.0 Input power converter (rectifier)
3.0 IGBT switching transients

11: Uninterruptible Power Systems (UPS's)
1.0 UPS operation
2.0 Advanced UPS design
3.0 UPS maintenance

12: Maintenance of Industrial Batteries
1.0 Battery types
2.0 Lead-acid batteries
3.0 Repairs and maintenance of batteries

13: Synchronous Machines
1.0 Field excitation
2.0 Excitation of a synchronous machine
3.0 Machine losses

14: Synchronous Generators
1.0 Synchronous generator construction
2.0 The synchronous generator operating alone
3.0 Parallel operation of AC generators

15: Generator Components, Auxiliaries and Excitation
1.0 The rotor
2.0 Turbine-generator components: the stator
3.0 The voltage regulator
4.0 The power system stabilizer

16: Generator Main Connections
1.0 Isolated phase bus bar circulatory currents
2.0 System description

17: Double-Feed Generators
1.0 Basic system configuration
2.0 Equivalent Circuit for the Brushless Double-fed Machine
3.0 Parameter extraction
4.0 Generator operation
5.0 Converter rating
6.0 Machine control
7.0 Conclusions

18: Performance and Operation of Generators
1.0 Generator systems
2.0 Condition monitoring

19: Generator Surveillance and Testing
1.0 Generator operational checks (surveillance and monitoring)
2.0 Generator diagnostic testing
3.0 Synchronous machine rotor windings
4.0 Partial discharge tests
5.0 Mechanical tests

20: Generator Inspection and Maintenance
1.0 On-load maintenance and monitoring
2.0 Off-load maintenance
3.0 Generator testing

21: Generator Operational Problems and Refurbishment Options
1.0 Typical generator operational problems
2.0 Generator rotor refurbishment
3.0 Generator rotor modifications, upgrades and uprates
4.0 High speed balancing

22: Circuit Breakers
1.0 Physics of arc phenomena
2.0 Circuit breaker rating
3.0 Conventional circuit breakers
4.0 Oil circuit breakers
5.0 Recent developments in circuit breakers

23: Fuses
1.0 Types of fuses
2.0 Advantages of fuses over circuit breakers

24: Bearings and Lubrication
1.0 Types of bearings
2.0 Thrust bearings
3.0 Lubrication

25: Used Oil Analysis
1.0 Test description and significance
2.0 Chemical and physical tests

26: Vibration Analysis
1.0 Resonance
2.0 Vibration analysis
3.0 Vibration severity

27: Power Station Electrical Systems and Design Requirements
1.0 Electrical system description
2.0 System performance
3.0 Power plant outages and faults
4.0 DC systems

28: Power Station Protective Systems
1.0 Design criteria
2.0 Generator protection
3.0 DC tripping systems

29: Frequently Asked Questions
1.0 Transformers
2.0 Interconnection with the grid
3.0 Variable speed drives
4.0 Synchronous generators
5.0 Generator components, auxiliaries, and excitation

There will be a one-hour lunch break each day in addition to refreshment and networking breaks during the morning and afternoon. Lunch and refreshments will be provided.

Daily Schedule
8:00 Registration and Coffee (1st day only)
8:30 Session begins
4:30 Adjournment




Prerequisites & Certificates

Pre-Requisites

Certificates offered

3.0 CEUs / 30 PDHs




Cancellation Policy

To withdraw from a course, you must send a request, in writing, with the official receipt to our office. Fifteen or more business days in advance: full refund less $50.00 administration charge. Five to fifteen business days in advance: non-refundable credit of equal value for any future EPIC seminar within one year. Credits are transferable within your organization. In case of an unexpected event occurring after this time, you may send someone else to take your place without any additional cost.


Map & Reviews




Reviews

This course has not yet been rated by one of our members.

If you have taken a course through this vendor please log into your account and leave feedback for this vendor. You will be helping ensure our members get directed to the best training facilities.

Here are some reviews of the training vendor.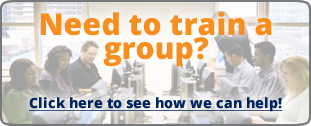 This course currently does not have any dates scheduled. Please call
1-877-313-8881

to enquire about future dates or scheduling a private, in house course for your team.
This page has been viewed 429 times.