Gathering and Documenting User Requirements with Use Cases (2 Day)
» back to Search Results
Trainees learn state-of-the-art practices for gathering and documenting requirements based on the use case approach. ).
Course Outline

The course covers what the Business Analyst needs to accomplish in each

requirements-gathering session (goals, agenda, who to invite, artifacts, etc.) as the

project progresses - starting from business use-case sessions that focus on the

business context through to system use cases that focus on user-IT interactions.

Trainees also learn advanced techniques (extension, generalized and inclusion use

cases) for structuring use cases that result in requirements documentation that is easy

to revise as business rules change.

The course employs use cases, today's most widely accepted method of requirements

capture. The clear style and organization of use cases makes them well-suited as a

source of test cases and for communicating with both business stakeholders and

developers. In addition, use cases are a central aspect of iterative development

methodologies such as IBM's RUP and Microsoft's MSF. Business Process Modeling

Notation (BPMN) is also introduced as an alternative to activity diagrams, for

documenting the way business use cases are implemented.

Why?

·

each phase of a project.

·

requirement-gathering process from high-level business use cases down to lowlevel

requirements.

·

large project.

·

requirements as

smaller units as

·

·

organization of the textual requirements.

·

documentation. Working in small interview teams, trainees facilitate requirements-gatheringThe approach is presented in an easy-to-follow step-by-step plan.Each step is introduced and demonstrated by the instructor. Trainees follow byFacilitate requirements gathering sessions (with Business and System UseExamine the impact of the project on the enterprise through business use-caseCreate detailed textual requirements with the Use Case Description Template.Decrease software bugs and omissions introduced in the analysis phase of yourCommunicate effectively with the development team.Model high-level requirements with use case diagrams.Understand how use cases are used in the context of iterative development.Link other relevant material to use cases – such as business entities, nonfunctional

Class Format

·

sessions and document requirements for an end-to-end case study, learning what

types of interviews, questions and techniques are appropriate for each phase of

the IT project.

·

·

actively facilitating and participating in requirements-gathering sessions.

Objectives

·

Cases).

·

analysis.

·

·

project – by employing powerful use case techniques that reduce redundancies

and inconsistencies in the documentation.

·

·

·

·

requirements and activity diagrams.

Course Content

• Introduction to Use Cases

• History of Use Cases

• Use cases and the Business Requirements Document

• Link to other technologies:

• OO, Iterative development

• Criteria for selecting projects

• Facilitating Requirements –Gathering Sessions with Use Cases

• Rules for conducting use case workshop sessions

• Preparation

• Who should attend

• Roles

• Defining the Deliverables: When to best introduce and create:

• Stakeholder Interest Table

• Use Case Packages

• Role Maps

• Use Case Diagrams

• Use Case Text

• Analyzing the impact on the Enterprise with business use cases.

• Eliciting and documenting end-to-end business processes with business use

cases

Business use-case diagrams

• Documenting business use cases

• Modeling business use-case workflow with activity diagrams

• Modeling business use-case workflow with BPDs (BPMN standard)

• Eliciting and documenting detailed user requirements with system use cases

• Use Case Description Template for textual documentation

• Writing guidelines

• How to number the requirements

• Defining the users of the system:

• Role Map

• Defining actors, "generalized" and "specialized" actors

• Working with stakeholders to discover and document the textual

requirements:

• Triggers

• Preconditions

• Postconditions

• Basic (Normal) Flow

• Alternate and Exceptional Flows

• Organizing the documentation for maximum reuse with inclusion, extension

and generalized use cases.

• Links to other documentation

• Data dictionary

• Entity classes and class diagrams

• Activity Diagrams

• Non-functional requirements

• Avoiding common errors

• Standard solutions for common situations:

• Customer IVR identification

• CRUD (Create/ Read/ Update/Delete)

• Login

• Technology variations

• Customer self-service

• Geographical sub-sites within an e-commerce application

• Job Aids containing:

• Templates

• Tips

• Examples

• Glossary of technical terms

Daily Schedule

Day 1:

• Lesson 1: Introduction to Use Cases

• Lesson 2: The Kick-off Meeting

• Analyze stakeholders and interests; identify high and mid-level objectives

•

• Lesson 3: Analyze Business Use Cases

• Introduction to activity diagrams and BPDs

• Lesson 4: Structure System Use Cases

Day 2

• Lesson 5: Elicit and document System Use Cases/ Context and Basic Flow

• Lesson 6: Elicit and document Alternate and Exception Flows

•

• Lesson 7: Document inclusion, extension and generalized use cases

• Lesson 8: Link use cases to other project artifacts (documentation and

models)

On-site requirements:

Room set-up:

Set up tables (e.g., round tables) so that trainees are sitting in groups of 3-5. Each

group should have 1 flipchart. Each trainee requires 1 pad or paper + pen + 1 copy of

the course material. The course material comes in one binder and contains:

• Detailed course notes (printed PowerPoint presentation)

• Workshop and Job Aids (Word document) with:

• Full workshop solutions

• Job Aids booklet containing:

• Templates

• Examples

• Glossary of technical terms

• Alternative case study (separate Word document)

The workshops may be run with or without a modeling tool (e.g., IBM Rational

ROSE). Generally, for public classes, modeling tools are not used and, therefore,

no PCs are required for trainees.

For the instructor:

• Whiteboard

• Overhead screen projector or large colour monitor, connected to instructor's

PC

• PC loaded with:

• Windows XP Professional

• PowerPoint

• Modeling tool, e.g., Rational ROSE Enterprise Edition (Evaluation or

other)

• PowerPoint presentation

• Workshops and Job Aids file (1 Word doc)

• Case study software (ROSE .mdl files)

LunchLunchInexperienced BAs are often unclear about what level of requirements to capture atThis course provides clear guidance by pacing the trainee through theBAs are often unclear how best to divide up the requirements documentation for aTrainees learn how to divide the project into end-to-end business processbusiness use-cases and how best to decompose these intosystem use cases.BAs need clear guidance in documenting the text of user requirements.This course provides explicit, detailed instruction in the writing, numbering andSmall changes to the business environment often lead to big changes in the


Prerequisites & Certificates

Pre-Requisites

Certificates offered




Cancellation Policy

You may cancel, at no charge, a Class enrollment at least 15 days prior to the Class start date by giving us notice. If your plans change, please cancel your enrollment as soon as possible by calling 416-927-7170. A cancellation must be done on a business day at least 15 days prior to the course start date. If canceled less than 15 days before the course, it is subject to a cancellation charge equal to the list tuition fee. If a student does not attend a Class without having canceled in accordance with these Terms, you must pay the full price for the Class.

Substitutions of enrolled students in the scheduled Classes are permitted at no charge prior to the Class start on the first day. If you are sending a substitute, please let us know to avoid no show charges.



Map & Reviews




Reviews

This course has not yet been rated by one of our members.

If you have taken a course through this vendor please log into your account and leave feedback for this vendor. You will be helping ensure our members get directed to the best training facilities.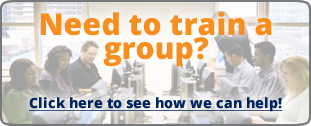 This course currently does not have any dates scheduled. Please call
1-877-313-8881

to enquire about future dates or scheduling a private, in house course for your team.
This page has been viewed 366 times.