Oracle Fundamentals (Technical)
» back to Search Results
Overview This course introduces students to the world of the Oracle' professional. You will learn what Oracle is how companies use it and the roles and responsibilities of the individuals that create and manage Oracle systems.
Course Outline

Overview This course introduces students to the world of the Oracle professional. You will learn what Oracle is how companies use it and the roles and responsibilities of the individuals that create and manage Oracle systems. You will also learn about the development life cycle and the activities that take place during each phase. In addition you will learn to create a basic data model and how to implement that model as a fully functioning Oracle database. Finally you will learn about the basics of database storage and the overall architecture of the Oracle Relational Database Management System RDBMS.

Course Completion Skills:



Describe basic Oracle concepts and how they relate to DBAs and developers.
List and describe the levels of normalization.
Identify the techniques of logical database design and apply these techniques to design a basic Entity-Relationship Diagram ERD.
Describe the use of SQL and write SQL statements to create retrieve and manipulate data.
Create and execute a simple PLSQL program and describe the use and syntax of packages procedures functions and triggers.
List the objects that might be found in an Oracle database and describe how they are stored.
Explain the architecture of Oracle8i and the overall operation of the RDBMS.

Course Outline Lesson 1 Introduction to Database Concepts
Topic 1A Users of Oracle


Task 1A-1 Discussing How Companies Use Oracle
Task 1A-2 Discussing End Users
Task 1A-3 Discussing Developers
Task 1A-4 Defining Database Administrators and Database Operators

Topic 1B The Relational Database Model


Task 1B-1 Reviewing The History of Databases
Task 1B-2 Understanding Tiered Architecture

Topic 1C The Development Life Cycle


Task 1C-1 Identifying System Requirements
Task 1C-2 Describing the Design Phase
Task 1C-3 Describing the Development and Documentation Phase
Task 1C-4 Describing the Transition Phase
Task 1C-5 Describing the Production Phase


Lesson 2 Data Normalization
Topic 2A Overview of Normalization


Task 2A-1 Discussing the Purpose of Normalization

Topic 2B The Normal Forms


Task 2B-1 Describing First Normal Form
Task 2B-2 Describing Second Normal Form
Task 2B-3 Describing Third Normal Form
Task 2B-4 Describing Boyce-Codd Normal Form
Task 2B-5 Describing Fourth Normal Form
Task 2B-6 Describing Fifth Normal Form
Task 2B-7 Describing Domain-key Normal Form

Lesson 3 Logical Design
Topic 3A Data Modeling


Task 3A-1 Distinguishing Between Data Modeling Techniques

Topic 3B Entities and Attributes


Task 3B-1 Creating Entities
Task 3B-2 Adding Attributes
Task 3B-3 Identifying Candidate Keys and Constraints

Topic 3C Entities and Their Relationships


Task 3C-1 Adding Relationships


Lesson 4 Introduction to Structured Query Language

Topic 4A Introduction to SQLPlus
Topic 4B The SELECT Statement


Task 4B-1 Querying with the SELECT Statement
Task 4B-2 Querying with Set Operators
Task 4B-3 Querying Multiple Tables with a Subquery
Task 4B-4 Querying Multiple Tables with a Join
Task 4B-5 Querying the Database with Grouping Functions

Topic 4C Data Definition Language DDL


Task 4C-1 Creating Tables
Task 4C-2 Modifying Tables with the ALTER Statement
Task 4C-3 Renaming a Table with the RENAME Statement
Task 4C-4 Truncating a Table
Task 4C-5 Dropping a Table

Topic 4D Data Control Language DCL


Task 4D-1 Granting Privileges to Users
Task 4D-2 Managing Privileges Through Roles

Topic 4E Data Manipulation Language DML


Task 4E-1 Adding Data with the INSERT Statement
Task 4E-2 Modifying Data with the UPDATE Statement
Task 4E-3 Removing Data with the DELETE Statement

Topic 4F Transaction Control Language TCL


Task 4F-1 Committing Changes to Data
Task 4F-2 Undoing Changes with the ROLLBACK Statement
Task 4F-3 Controlling a Transaction with Savepoints

Lesson 5 Procedural Language Structured Query Language
Topic 5A Overview of PLSQL


Task 5A-1 Describing the Anonymous Block
Task 5A-2 Identifying Variables and Constants
Task 5A-3 Describing Conditional Logic Flow
Task 5A-4 Describing Cursors

Topic 5B Stored Packages


Procedures
and Functions
Task 5B-1 Describing Procedures
Task 5B-2 Describing Functions
Task 5B-3 Describing Packages

Topic 5C Triggers


Task 5C-1 Describing Table-level Triggers
Task 5C-2 Describing Event-level Triggers

Lesson 6 Database Objects
Topic 6A Datablocks


Task 6A-1 Describing the Contents of a Datablock
Task 6A-2 Managing Datablocks

Topic 6B Database Storage


Task 6B-1 Describing How Data Segments are Stored
Task 6B-2 Describing Temporary Segments
Task 6B-3 Finding PLSQL Source Code
Task 6B-4 Describing Other Objects in the Oracle Database

Topic 6C Oracle and Object-oriented Methodology


Task 6C-1 Describing Object-oriented Methodology
Task 6C-2 Describing the Object-Relational Database Management System ORDBMS

Lesson 7 Oracle Architecture
Topic 7A The Oracle Database


Task 7A-1 Describing Tablespaces and Datafiles
Task 7A-2 Describing the Redo Log Files
Task 7A-3 Describing the Control File
Task 7A-4 Describing Supporting Files

Topic 7B The Oracle Instance


Task 7B-1 Describing the System Global Area SGA
Task 7B-2 Identifying the Background Processes

Topic 7C Accessing the Database


Task 7C-1 Describing the Connection Process
Task 7C-2 Listing the SQL Processing Steps

Topic 7D Other Oracle Products and Tools


Task 7D-1 Describing Tools for End Users
Task 7D-2 Describing Oracle Development Tools
Task 7D-3 Describing Administration and Management Tools

Appendix A Removing Oracle


Removing Oracle Databases and Software




Prerequisites & Certificates

Pre-Requisites

To ensure your success we recommend you first take the following Element K courses or have equivalent knowledge Introduction to Programming Introduction to Relational Databases

Certificates offered

Certificate of Completion




Cancellation Policy

ctc TrainCanada - We Never Cancel*:
We are unique in the corporate training field in that we do not cancel desktop applications courses due to low enrollment. When there are less than 3 students, ctc TrainCanada will personalize the class (students then receive more time with the instructor to address their individual needs allowing the student to complete the full course in less time) or connect the student remotely to a class at one of our other branches via TrainLive remote classroom instruction. *Microsoft Certified Courses and other technical courses require a minimum enrollment of three students. Business Skills courses require multiple students in order to run due to the interactive nature of the training. Selected Desktop Applications courses may require a minimum enrollment of two students to run. ctc TrainCanada® reserves the right to deliver Microsoft Certified and other technical courses via TrainLive remote classroom instruction in order to guarantee the course to run.

ctc TrainCanada Cancellation policy:
You may cancel or reschedule this registration in writing with no penalty with a minimum of 10 business days' notice prior to the first day of the course. Full payment is required if you cancel or reschedule this registration within 10 business days prior to the first day of the course. However, substitutions are welcome. If you do need to cancel or reschedule a publicly scheduled course within the 10 day non-cancellation period (not a client dedicated course), payment is to be made and a training voucher for a public course will be issued to you. This allows you to attend a future date for the same course at no charge (subject to availability).
No-shows will not be issued a training voucher.

Complimentary Service: We offer all our students coffee, tea, juice or pop, muffins or pastries in the morning and cookies baked in our own oven each afternoon.


Map & Reviews




Reviews

This course has not yet been rated by one of our members.

If you have taken a course through this vendor please log into your account and leave feedback for this vendor. You will be helping ensure our members get directed to the best training facilities.

Here are some reviews of the training vendor.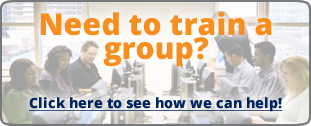 This course currently does not have any dates scheduled. Please call
1-877-313-8881

to enquire about future dates or scheduling a private, in house course for your team.
This page has been viewed 263 times.