Business Process Modeling/ Workflow Modeling and State
» back to Search Results
A practical guide in business process modeling focused on the BA perspective, using the 2 state-of-the-art standards – UML 2 (the focus of the course) and BPMN.
Course Outline

Learn to employ workflow and state machine modeling

as an effective tool for analyzing the business timing rules (how events are

sequenced) in the context of business process improvement and/or as input

to an IT project. Trainees learn to use the techniques covered in the course

may be used to analyze business rules regarding the workflow of end-to-end

business processes (business use cases) and IT interactions (system use

cases) as well as the lifecycle of key business objects.

Description:

This is a hands-on practical workshop in business process modeling using

workflow and state machine models to describe the sequencing of events for

a business or IT process. Trainees step through a complex real-life case

study, learning not only how to draw the diagrams but how and when to

effectively use the techniques during a projects' life cycle. Trainees learn how

to use business process diagrams to model existing and to-be processes, to

define workflow for business use cases, to supplement the documentation of

system use cases and to define lifecycle rules for business objects. The

course covers the most popular standards for business process modeling:

UML 2 - a standard robust enough to cover the complete IT project lifecycle

– and BPMN – a standard specifically created for business process modeling

that is gaining widespread popularity. Trainees wil learn to employ UML

activity diagrams (with and without partitions/swimlanes), UML state machine

diagrams and BPMN Business Process Diagrams (BPD). As a supplement,

IDEF workflow conventions developed by the military are also included in the

material and may be optionally included in class-time instruction.

Why:

·

regarding workflow –the sequencing of business operations.

Interviews with groups of users often lead to conflicting requirements

·

develop a consensus amongst stakeholders during follow-up interviews or

JAD Sessions.

Workflow modeling is an effective way to illustrate these differences and to

·

Workflow modeling is a key activity during process improvement:

·

and comparing proposed improvements.

The techniques provide an effective means of analyzing existing workflow

·

misunderstood by developers:

The techniques in this course result in standardized visual

documentation that cannot be misinterpreted by the development

team.

What makes this course stand out from the competition?

1.

when to use each technique during the course of a project. We find

this approach greatly enhances the ability of trainees to apply what

they've learned in the workplace.

2.

integrate these modeling techniques with use-case analysis. Trainees

learn at what steps during use case analysis to create the workflow

models and how these models fit into use-case documentation.

3.

extensive practical experience in workflow modeling for IT business

system within the context of use-case analysis.

Audience:

• IT Business Analysts and their managers

• Systems Analysts and programmers interested in expanding their

role into the business area.

Prerequisites:

Objectives

Upon completion of this course, you will be able to:

•

diagrams.

•

sessions

•

diagrams.

•

without partitions/ swimlanes and object flows.

•

•

business object.

•

•

•

Understand alternative legacy approaches the UML standard,

including flowcharting, block diagrams and Data Flow Diagrams

(DFD)

Content:

• Features of workflow modeling

• Rules of precedence

• Basic workflow structures: sequential sequencing, repetition,

selection, parallel activities

• UML standards for workflow: activity, state and sequence

diagrams

• Creating activity diagrams

• Activities

• Sub-activities

• Transitions

• Guards

• Split and merge

• Fork and Join

• Partitions/ Swimlanes

• Advanced activity diagramming techniques:

• Object flows

• Expansion regions

• Sub-activities

• Signals

• Creating workflow textual requirements documentation:

• Pre and post-conditions

• Metrics

• Creating UML state transition diagrams

• States

• State transitions

• Transition guards, events and send events

• State activities

• Orthogonal (concurrent) states

• Superstates

• State History

• Alternatives to the UML

• BPMN (Business Process Modeling Notation) and BPD

(Business Process Diagram)

• Flow objects:

• Events

• Activities

• Gateways

• Connecting objects

• Sequence Flow

• Message Flow

Swimlanes

• Pool

• Lane

• Converting activity diagrams to BPDs

• Supplement: Workflow standards developed by the military:

IDEF0, IDEF3

• Supplement: Flowcharts

• Supplement: Block diagrams

• Data Flow Diagrams (DFD)

Class Format:

The course content is presented:

• Through lectures and mentoring.

On-site requirements:

Room set-up:

Set up tables (e.g., round tables) so that trainees are sitting in groups of 3-5.

Each group should have 1 flipchart. Each trainee requires 1 pad or paper +

pen + 1 copy of the course material. The course comes in one binder and

contains:

• Detailed course notes (printed PowerPoint presentation)

• Workshop and Job Aids (Word document) with:

• Full workshop solutions

• Job Aids booklet containing:

• Templates

• Examples

• Glossary of technical terms

For the instructor:

• Whiteboard

• Overhead screen projector or large colour monitor, connected to

instructor's PC

• PC loaded with:

• Windows XP Professional

• MS PowerPoint

• PowerPoint presentation (1 ppt file)

• Workshops and Solutions file (1 Word doc)

Scenario-based training: The trainee learns not only what to do, butIntegration with use cases: We teach the trainee exactly how toExperience: Our course is written and delivered by professionals withNone:Define the As-Is workflow rules for a business system using activityConsolidate the viewpoints of stakeholders during requirementsgatheringusing activity diagrams.Supplement business use-case documentation with activityTie together system use cases using activity diagrams with andAugment system use case documentation with activity diagrams.Create UML state machine diagrams that describe the life cycle of aLink use cases to state machine diagrams.Convert activity diagrams to BPMN format (BPD).Convert activity diagrams to IDEF format.Complex rules regarding the sequencing of operations are often


Prerequisites & Certificates

Pre-Requisites

Certificates offered




Cancellation Policy

You may cancel, at no charge, a Class enrollment at least 15 days prior to the Class start date by giving us notice. If your plans change, please cancel your enrollment as soon as possible by calling 416-927-7170. A cancellation must be done on a business day at least 15 days prior to the course start date. If canceled less than 15 days before the course, it is subject to a cancellation charge equal to the list tuition fee. If a student does not attend a Class without having canceled in accordance with these Terms, you must pay the full price for the Class.

Substitutions of enrolled students in the scheduled Classes are permitted at no charge prior to the Class start on the first day. If you are sending a substitute, please let us know to avoid no show charges.



Map & Reviews




Reviews

This course has not yet been rated by one of our members.

If you have taken a course through this vendor please log into your account and leave feedback for this vendor. You will be helping ensure our members get directed to the best training facilities.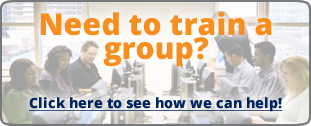 This course currently does not have any dates scheduled. Please call
1-877-313-8881

to enquire about future dates or scheduling a private, in house course for your team.
This page has been viewed 405 times.