» back to Search Results
The CompTIA Security+ certification designates knowledgeable professionals in the field of security, one of the fastest-growing fields in IT. It is an international, vendor-neutral certification that proves competency in system security, network ...
Course Outline

The CompTIA Security+ certification designates knowledgeable professionals in the field of security, one of the fastest-growing fields in IT. It is an international, vendor-neutral certification that proves competency in system security, network infrastructure, access control and organizational security.

Introducing the Acend Modern Classroom Classes Guaranteed to Run

An assessment process takes place at the start of class that results in the creation of a personalized learning plan for each participant . We integrate each individual's specific project objectives with their skill gaps to create the learning prescription. The instructor assumes the role of consultant and guides each participant through the process of filling the critical gaps identified in the learning plan.

Course Outline Course Introduction
Unit 01 - Mitigating Threats 3h 58m
Topic A: Core System Maintenance
Primary Causes for Compromised Security
The Goal - CIA
Technology Weaknesses
Configuration Weaknesses
Human Error and Malice
Securing the Operating System
Microsoft Update
Demo - Windows Update
Windows Update Categories
Update History List
Service Packs
Demo - Installing Service Pack
BIOS Version
BIOS Update
Windows Firewall
Demo - BIOS and Firewall
Tasks Requiring Administrative Privileges
User Account Control Consent
User Account Control Credential

Topic B: Virus and Spyware Management

Viruses

Worms

Trojan Horses

Antivirus Software

Demo - Antivirus

Spyware

Windows Defender

Demo - Spyware

Spybot Search & Destroy

Network AV & Spyware

Demo - Securing Mail

Topic C: Browser Security

Pop-ups

Demo - Managing Pop-ups

Cookies

Cookie Vulnerabilities

Cookie Safeguards

Demo - Managing Cookies

Web Application Security Threats

JavaScript

Simple JavaScript Code

JavaScript Security Holes

ActiveX

ActiveX Vulnerabilities and Safeguards

Java Applets

Signed and Unsigned Applets

CGI

Form Submission

CGI Vulnerabilities and Safeguards

Cross-site Scripting

Buffer Overflow Attacks

Preventing Input Attacks

Demo - Script Weaknesses

Topic D: Social Engineering Threats

Social Engineering

Dumpster Diving

Online Attacks

Social Engineering Countermeasures

Phishing

Domain Kiting

Unit 01 Review



Unit 02 - Cryptography 1h 31m

Topic A: Symmetric Cryptography

Cryptography

Alice, Bob, and Eve

ROT13 Cipher

Keys

Symmetric Encryption in Action

Common Symmetric Ciphers

Demo - Encrypting and Decrypting Data

Hashes

Hashing Example

Uses for Hashes

MD5 Hash Algorithm

SHA Algorithm

Hash Vulnerabilities

Steganography

Demo - Steganography

Topic B: Public Key Cryptography

Public Key Cryptography

Asymmetric Encryption in Action

Common Asymmetric Ciphers

Demo - Public Key Encryption

Digital Signatures

Signature Process

Features of Signatures

Digital Certificates

Certificate Types

Demo - Examining Certificates

Public Key Infrastructure

Certificate Policy

Certificate Practice Statement

Trust Models

Single Authority Trust Model

Hierarchical Trust Model

Web of Trust Model

Single- and Dual-key Certificates

Unit 02 Review



Unit 03 - Authentication Systems 2h 22m

Topic A: Authentication

3 Steps to Secure Resources

Usernames and Passwords

Password Protection

Strong Passwords

Multiple passwords

Run As Administrator

Demo - Identifying Components of Authentication

Authentication Factors

One-factor Authentication

Two-factor Authentication

Three-factor Authentication

Network Monitor Data

Demo - Network Monitor

Active Directory Services and Features

Demo - Installing Active Directory

Demo - Joining a Domain

Topic B: Hashing

Authentication Protocols

Encryption

Weak Keys

Mathematical Attacks

Birthday Attack

Password Guessing

SAM and System Files

Demo - Password Cracking

Topic C: Authentication Systems

Preventing Impersonation

Identity Proofing

Single Sign-on

Kerberos

Kerberos System Composed Of

Kerberos Data Types

Kerberos Authentication Process

Cross-realm Authentication

Kerberos Security Weaknesses

CHAP

PAP

EAP

Mutual Authentication

Unit 03 Review



Unit 04 - Messaging Security 1h 38m

Topic A: E-mail Security

E-mail Vulnerabilities

Spam

Hoaxes and Chain Letters

Hoax – Company Reputation Issue

Phishing

Hoax Countermeasures

SMTP Open Relays

E-mail Server Security

Demo - Configure Security on Email Server

Secure E-mail

Encryption

Hash Function

PGP Symmetric Encryption Methods

PGP Certificates

S/MIME

X.509 Certificates

X.509 Certificate Content

S/MIME Trust Model

PGP and S/MIME Differences

To Install and Configure PGP

Restricting Permissions to Messages

Sending Restricted Messages

Digitally Signed Message

Demo - Digital Signatures

Encrypting Messages

Topic B: Messaging and Peer-to-peer Security

Instant Messaging

IM Risks

Cell Phone SMS

Blocking IM

Corporate IM

Intrusion Detection

Packet Sniffing

Additional IM Features

IM Client Security

Legal Issues

Demo - Configure IM Client Security

Unit 04 Review



Unit 05 - User and Role Based Security 2h 4m

Topic A: Security Policies

Group Policy Settings

Local GPO Types

GPO Editor

Local Computer GPO Nodes

Policy Properties Dialog Box

Demo - Creating Console to Manage Local Security Policies

Container Types

Types of Domain GPOs

GPOs Applied in this Order

Demo - GPMC

Windows Applications Configured with Group Policies might Include

Device Installation Policy Settings

Internet Explorer 7 Policy Settings

IE8 Features

Demo - Implementing GPO's

Security Templates

Windows Vista Security Guide Templates

Demo - Analyzing Windows Vista Computer Security

Topic B: Securing File and Print Resources

File and Print Security

Groups

Demo - Groups

File System Security

Permissions

Demo - Permissions

Access Control Models

Printer Permissions

Demo - Securing Printer Resources

Unit 05 Review



Unit 06 - Public Key Infrastructure 2h 3m

Topic A: Key Management and Life Cycle

Course Introduction

Unit 01 - Mitigating Threats 3h 58m

Topic A: Core System Maintenance

Primary Causes for Compromised Security

The Goal - CIA

Technology Weaknesses

Configuration Weaknesses

Human Error and Malice

Securing the Operating System

Microsoft Update

Demo - Windows Update

Windows Update Categories

Update History List

Service Packs

Demo - Installing Service Pack

BIOS Version

BIOS Update

Windows Firewall

Demo - BIOS and Firewall

Tasks Requiring Administrative Privileges

User Account Control Consent

User Account Control Credential

Topic B: Virus and Spyware Management

Viruses

Worms

Trojan Horses

Antivirus Software

Demo - Antivirus

Spyware

Windows Defender

Demo - Spyware

Spybot Search & Destroy

Network AV & Spyware

Demo - Securing Mail

Topic C: Browser Security

Pop-ups

Demo - Managing Pop-ups

Cookies

Cookie Vulnerabilities

Cookie Safeguards

Demo - Managing Cookies

Web Application Security Threats

JavaScript

Simple JavaScript Code

JavaScript Security Holes

ActiveX

ActiveX Vulnerabilities and Safeguards

Java Applets

Signed and Unsigned Applets

CGI

Form Submission

CGI Vulnerabilities and Safeguards

Cross-site Scripting

Buffer Overflow Attacks

Preventing Input Attacks

Demo - Script Weaknesses

Topic D: Social Engineering Threats

Social Engineering

Dumpster Diving

Online Attacks

Social Engineering Countermeasures

Phishing

Domain Kiting

Unit 01 Review



Unit 02 - Cryptography 1h 31m

Topic A: Symmetric Cryptography

Cryptography

Alice, Bob, and Eve

ROT13 Cipher

Keys

Symmetric Encryption in Action

Common Symmetric Ciphers

Demo - Encrypting and Decrypting Data

Hashes

Hashing Example

Uses for Hashes

MD5 Hash Algorithm

SHA Algorithm

Hash Vulnerabilities

Steganography

Demo - Steganography

Topic B: Public Key Cryptography

Public Key Cryptography

Asymmetric Encryption in Action

Common Asymmetric Ciphers

Demo - Public Key Encryption

Digital Signatures

Signature Process

Features of Signatures

Digital Certificates

Certificate Types

Demo - Examining Certificates

Public Key Infrastructure

Certificate Policy

Certificate Practice Statement

Trust Models

Single Authority Trust Model

Hierarchical Trust Model

Web of Trust Model

Single- and Dual-key Certificates

Unit 02 Review



Unit 03 - Authentication Systems 2h 22m

Topic A: Authentication

3 Steps to Secure Resources

Usernames and Passwords

Password Protection

Strong Passwords

Multiple passwords

Run As Administrator

Demo - Identifying Components of Authentication

Authentication Factors

One-factor Authentication

Two-factor Authentication

Three-factor Authentication

Network Monitor Data

Demo - Network Monitor

Active Directory Services and Features

Demo - Installing Active Directory

Demo - Joining a Domain

Topic B: Hashing

Authentication Protocols

Encryption

Weak Keys

Mathematical Attacks

Birthday Attack

Password Guessing

SAM and System Files

Demo - Password Cracking

Topic C: Authentication Systems

Preventing Impersonation

Identity Proofing

Single Sign-on

Kerberos

Kerberos System Composed Of

Kerberos Data Types

Kerberos Authentication Process

Cross-realm Authentication

Kerberos Security Weaknesses

CHAP

PAP

EAP

Mutual Authentication

Unit 03 Review



Unit 04 - Messaging Security 1h 38m

Topic A: E-mail Security

E-mail Vulnerabilities

Spam

Hoaxes and Chain Letters

Hoax – Company Reputation Issue

Phishing

Hoax Countermeasures

SMTP Open Relays

E-mail Server Security

Demo - Configure Security on Email Server

Secure E-mail

Encryption

Hash Function

PGP Symmetric Encryption Methods

PGP Certificates

S/MIME

X.509 Certificates

X.509 Certificate Content

S/MIME Trust Model

PGP and S/MIME Differences

To Install and Configure PGP

Restricting Permissions to Messages

Sending Restricted Messages

Digitally Signed Message

Demo - Digital Signatures

Encrypting Messages

Topic B: Messaging and Peer-to-peer Security

Instant Messaging

IM Risks

Cell Phone SMS

Blocking IM

Corporate IM

Intrusion Detection

Packet Sniffing

Additional IM Features

IM Client Security

Legal Issues

Demo - Configure IM Client Security

Unit 04 Review



Unit 05 - User and Role Based Security 2h 4m

Topic A: Security Policies

Group Policy Settings

Local GPO Types

GPO Editor

Local Computer GPO Nodes

Policy Properties Dialog Box

Demo - Creating Console to Manage Local Security Policies

Container Types

Types of Domain GPOs

GPOs Applied in this Order

Demo - GPMC

Windows Applications Configured with Group Policies might Include

Device Installation Policy Settings

Internet Explorer 7 Policy Settings

IE8 Features

Demo - Implementing GPO's

Security Templates

Windows Vista Security Guide Templates

Demo - Analyzing Windows Vista Computer Security

Topic B: Securing File and Print Resources

File and Print Security

Groups

Demo - Groups

File System Security

Permissions

Demo - Permissions

Access Control Models

Printer Permissions

Demo - Securing Printer Resources

Unit 05 Review



Unit 06 - Public Key Infrastructure 2h 3m

Topic A: Key Management and Life Cycle


Prerequisites & Certificates

Pre-Requisites

Although not a prerequisite, it is recommended that CompTIA Security+ candidates have at least two years of technical networking experience, with an emphasis on security. The CompTIA Network+ certification is also recommended.

Certificates offered

Certificate of completion




Cancellation Policy

Cancellations or postponements received more than ten business days prior to the first day of the course will be fully refunded less a $75 processing fee. The cost of the course is payable, in full, for any cancellations or postponements received within ten business days, or less, prior to the first day of the course.


Map & Reviews




Reviews

This course has not yet been rated by one of our members.

If you have taken a course through this vendor please log into your account and leave feedback for this vendor. You will be helping ensure our members get directed to the best training facilities.

Here are some reviews of the training vendor.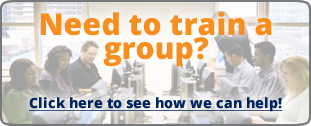 This course currently does not have any dates scheduled. Please call
1-877-313-8881

to enquire about future dates or scheduling a private, in house course for your team.
This page has been viewed 279 times.