CPTE - Certified Penetration Testing Engineer (Certification)
» back to Search Results
The course is taught with this in mind while keeping the focus on professional penetration testing and ensuring the security of information assets.
Course Outline





The CPTEngineer presents information based on the 5 Key Elements of Pen Testing: Information Gathering, Scanning, Enumeration, Exploitation and Reporting. System vulnerabilities will be discovered using these tried and true steps alongside the use of the latest hacking techniques.

The course was developed around principles and behaviors used by malicious hackers. The course is taught with this in mind while keeping the focus on professional penetration testing and ensuring the security of information assets.



Prepares For

CPTE - Certified Pen Testing Engineer (Thompson Prometric - Globally)
OSCP - Offensive Security Certified Professional
Certification Track:
CPTE - Certified Pen Testing Engineer
CPTC - Certified Pen Testing Consultant
CDFE - Certified Digital Forensics Examiner

Course Completion Skills:

Certified Penetration Testing Engineer graduates will obtain real world security knowledge enabling them to recognize vulnerabilities, exploit system weaknesses, and safeguard organizations against threats. Graduates will learn the art of Ethical Hacking with a professional edge (Penetration Testing).
Upon proper completion of the course, CPTEngineer students will be able to confidently sit for the CPTEngineer certification exam (recommended).

Module 1 Business and Technical Logistics of Pen Testing What is a Penetration Test? Benefits of a Penetration Test Data Breach Insurance CSI Computer Crime Survey Hacking Examples and Associated Costs Statistics on Internal Breaches Stat Trend at the End of 2008 The Evolving Threat Security Vulnerability Life Cycle Exploit Timeline Zombies and Botnets How are Botnet's Growing? Types of Penetration Testing "Hacking-Life-Cycle Penetration Testing Methodology Other Penetration Testing Methodologies Hacker vs. Penetration Tester It is not always about the Tools! Website Reviews CIOview and SecurityNOW! SX Seven Management Errors What does the future hold? Review

Labs

Lab 1 - Getting Set Up
Exercises: Discovering your class share, Discovering your student DVD's, VM Image Preparation, Naming and Subnet Assignments, PDF Penetration Testing Methodology

Module 2 Financial Sector Regulations IT Governance Best Practices IT Risk Management Types of Risks Approaches to Risk Management Information Security Risk Evaluation Improving Security Posture Risk Evaluation Activities Risk Assessment Information Gathering Data Classification Threats and Vulnerabilities Analytical Methods Evaluate Controls Risk Ratings Important Risk Assessment Practices Compliance Many Regulations Basel II Gramm-Leach-Bliley Act 1999 Federal Financial Examination Institution Council Sarbanes-Oxley Act (SOX 404) 2002 ISO 27002 PCI-DSS Total Cost of Compliance What does this mean to the tech? Review

Labs

Lab 2 - Linux Fundamentals
Exercises: ifconfig, Mounting a USB Thumb Drive, Mount a Windows Partition
VNC Server, Preinstalled Tools in BackTrack3

Module 3 Information Gathering What information does the Hacker want? Methods of Obtaining Information Physical Access Social Engineering Social Engineering via MySpa Social Engineering via Facebook Other Social Networks from around the world! Identity Theft and MySpace Instant Messengers and Chats Digital Access Passive vs Active Reconnaissance Footprinting Defined KartOO Maltego Firecat - Firefox Catalog of Auditing Extensions Footprinting Tools Johnny.ihackstuff.com Google Hacking SPUD Wikto for Google Hacking Blogs, Forums and Newsgroups The Wayback Machine Domain Name Registration WHOIS Dirk-loss - Online Tools Dnsstuff Central Ops DNS Database Record Types Nslookup Dig Traceroute VisualRoute Opus One Traceroute Tools People Search Engines EDGAR Company House Reputation Authority Intelius - Background Check Netcraft Countermeasures Review

Labs

Lab 3 - Information Gathering
Exercises: Google Queries, Footprinting Tools, Getting Everything You Need with Maltego Preparing Fi.

Module 4 Detecting Live Systems Introduction to Port Scanning Port Scan Tips Expected Results Organizing the Results Leo Meta-Text Editor Free Mind IHMC CmapTools Popular Port Scanning Tools Online Ping NMAP - Ping ICMP Disabled? NMAP TCP Connect Scan TCP Connect Port Scan NMAP Half-Open Scan Half-Open Scan Firewalled Ports Iron Geek - Hacking Illustrated NMAP Service Version Detection Addition NMAP Scans Saving NMAP Results NMAP UDP Scans UDP Port Scan NMAP Idle Scan Superscan Look@LAN Unicornscan Hping2 AutoScan Xprobe2 What is Fuzzy Logic? P0f 4.33 AMAP Fragrouter Countermeasures Review

Labs

Lab 4 - Scanning
Exercises: Leo, Look@LAN, Zenmap, Zenmap in BT3, NMAP Command Line, Hping2, Unicornscan

Module 5 - Enumeration Banner Grabbing with Telnet Banner Grabbing with Sup HTTPrint SMTP Server Banner Grabbing DNS Enumeration Zone Transfers Backtrack DNS Enumeration Countermeasure: DNS Zone Transfer SNMP Insecurity SNMP Enumeration Tools SNMP Countermeasures Active Directory Enumeration LDAPMiner Active Directory Countermeasures Null Sessions Syntax for Null Sessions Viewing Shares Null Session Tools Cain and Abel NAT Dictionary Attack Tool THC-Hydra Injecting the Abel Service Null Session Countermeasures Tools Summary Review

Labs

Lab 5 - Enumeration
Exercises: Banner Grabbi, Zone Transfers, SNMP Enumeration, LDAP Enumeration, Null Sessions, SMB Enumeration, SMTP Enumeration, Maltego.

Module 6 Vulnerability Assessments Vulnerabilities in Net Vulnerabilities in Networks Vulnerability Assessment Introduction Testing Overview Staying Abreast: Security Alerts Vulnerability Scanners Nessus Saint Retina Qualys Guard GFI LANguard Scanner Comparison Microsoft Baseline Analyzer Dealing with the Results Patch Management Shavlik HFNetChkPro Patching with GFI LANguard Review

Labs

Lab 6 - Vulnerability Assessment
Running Nessus in Windows, Running Saint in Linux.

Module 7 Malware, Trojans and BackDoors Distributing Malware Malware Capabilities Auto-Starting Malware Countermeasure to Auto Netcat Netcat Commands Executable Wrappers Historically Wrapped Trojans Restorator EXE Icon Infectious CD-ROM Technique Trojan Examples Avoiding Detection BPMTK Malware Countermeasures Gargoyle Investigator Spy Sweeper Enterprise Port Monitoring Software File Protection Software Windows File Protection Windows Software Restriction Policies Company Surveillance Software Hardware-Based Malware Detectors Countermeasure Review

Labs

Lab 7 - Malware
Exercises: Netcat and its uses, Exploiting and Pivoting our Attack, Creating a Trojan.

Module 8 Windows Hacking Types of Password Attacks Keystroke Loggers Password Guessing Password Cracking LM Hash Encryption NT Hash Encryption Syskey Cracking Techniques Rainbow Tables Creating Rainbow Tables Free Rainbow Tables Hash Insertion Attack Password Sniffing Windows Authentication Protocols Breaking Kerberos Monitoring Logs Hard Disk Security Breaking Hard Disk Encryption Tokens and Smart Cards Covering your Tracks Disabling Auditing Clearing the Event Log Alternate Data Streams ADS Countermeasures Stream Explorer Steganography Steganography Tools Shredding Files Left Behind Leaving No Local Trace Anonymizers StealthSurfer II Privacy Stick TOR Janus VM Encrypted Tunnel Notes Rootkits Windows Rootkit Countermeasures Review

Labs

Lab 8 - Hacking Windows
Exercises: Cracking a Windows Password with Linux, Cracking a Windows Password with Cain and Abel, Covering your tracks, Alternate Data Streams, Steganography, Understanding Rootkits

Module 9 Hacking UNIXLinux Linux Introduction File System Structure Kernel Processes Starting and Stopping Processes Interacting with Processes Accounts and Groups Password and Shadow File Formats More on Accounts and Groups Linux and UNIX Permissions Set UID Programs Trust Relationships Logs and Auditing Common Network Services Remote Access Attacks Brute-Force Attacks Brute-Force Countermeasures X Window System X Insecurities Countermeasures Network File System NFS in Action NFS Countermeasure Passwords and Encryption Password Cracking Tools Salting Symbolic Link Symlink Countermeasure Core File Manipulation Shared Libraries Kernel Flaws File and Directory Permissions SUID Files Countermeasure File and Directory Permissions World-Writable Files Countermeasure Clearing the Log Files Rootkits - User and Kernel Rootkit Countermeasure Review

Labs

Lab 9 - Hacking UNIX/Linux
Exercises: Setup and Recon, Making use of a poorly configured service,
Cracking a Linux Password, Creating a simple backdoor and covering your tracks.

Module 10 Advanced Exploitation TechniquesHow Do Exploits Work Format String Race Conditions Memory Organization Buffer Overflows Buffer Overflow Illustration How Stacks Work Stack Function Illustrated Buffer Overflow Illustration #2 1 Heap Overflows Heap Spraying Prevention Secure Code Reviews Review Process 1 Know the Vulnerabilities Know the Business Risks When to Conduct the Review Who should be Involved What to Look For Fixing the Issues Automated Tools Stages of Exploit Development Shellcode Development Metasploit Metasploit - Mete Fuzzers SaintExploit Core Impact Tools Comparison Review

Labs

Lab 10 - Advanced Exploitation Techniques
Exercises: Metasploit Command Line, Metasploit Web Interface, Milw0rm, SaintExploit, Core Impact

Module 11 Pen Testing Wireless Networks Standards Comparison SSID MAC Filtering WEP Weak IV Packets XOR Basics WEP Weaknesses How WPA Improves on WEP TKIP The WPA MIC Vulnerability WPA2 WPA and WPA2 Modes WPA-PSK Encryption LEAP LEAP Weaknesses NetStumbler KNSGEM Vistumbler Kismet OmniPeek Personal Aircrack-ng Suite Airodump-ng Aireplay-ng DoS Attack Aircrack-ng Aircrack for Windows Attacking WEP Attacking WPA coWPAtty Exploiting Cisco LEAP asleap 11.33 WiFiZoo Wesside-ng Typical Network Blueprint EAP Types EAP Advantages/Disadvantages EAP/TLS Deployment Aruba Products Airwave - RAPIDS Rogue Detection Module Review

Labs

Lab 11 - Pen Testing Wireless Networks
Exercises: War Driving, WEP Cracking.

Module 12 Networks, Sniffing and IDS Packet Sniffers Pcap and WinPcap Wireshark TCP Stream Re-assembling Packetyzer tcpdump and windump Omnipeek Cain and Abel Active Sniffing Methods Switch Table Flooding ARP Cache Poisoning ARP Normal Operation ARP Cache Poisoning in Action ARP Cache Poisoning with Linux Countermeasures Using Cain and Abel for ARP Cache Poisoning Ettercap Dsniff Suite Dsniff in Action MailSnarf, MsgSnarf and FileSnarf What is DNS Spoofing? DNS Spoofing Session Hijacking Breaking SSL Capturing VoIP Intercepting VoIP Intercepting RDP Routing Protocols Analysis Countermeasures for Sniffing Evading the Firewall and IDS Fragmentation Evading with Encryption Newer Firewall Capabilities New Age Protection Bastion Host Spyware Prevention System Intrusion 'SecureHost' Overview IPS Overview Review

Labs

Lab 12 - Networks, Sniffing and IDS
Exercises: Capture FTP Traffic, ARP Cache Poisoning Basics, ARP Cache Poisoning.

Module 13 Injecting the Database Vulnerabilities and Common Attacks SQL Injection Business Impacts of SQL Injection Why SQL Injection? Database Enumeration Extended Stored Proc Direct Attacks SQL Connection Properties Default Ports Obtaining Sensitive Info SQL Ping2 osql.exe Query Analyzers SQLExec Metasploit Finding and Fixing SQL Injection Hardening Databases Review

Labs

Lab 13 - Attacking the Database
Exercises: Login Bypass, Verbose Table Modific, Denial of Service, Data Tampering.

Module 14 Attacking Web Technologies Web Server Market Share OWASP Top Progression of the Professional Hacker The Anatomy of a Web Application Attack Components of a Web Application System Query String URL Mappings Information Gathering Changing URL Login Parameters URL Login - Horizontal Attack URL Login - Vertical Escalation Cross-Site Scripting Stored XSS Illustrated Reflected XSS Illustrated Business Impacts of XSS Finding and Fixing XSS Injection Flaws Invalidated Input Unvalidated Input Illustrated Business Impacts of Unvalidated Input Finding and Fixing Unvalidated Input Attacks against IIS IIS Directory Traversal Unicode IIS Logs N-Stalker NTO Spider HTTrack Website Copier Wikto Burp Proxy Brutus Dictionary Maker Cookies Acunetix Web Scanner Eclipse for Code Review WebScarab Samurai OWASP Web Application Penetration Checklist Review

Labs

Lab 14: Attacking Web Technologies
Exercises: Input Manipulation, Shovelling a Shell, Horizontal Privilege Escalation, Vertical Privilege Escalation, Cross Site Scripting.

Module 15 Report Writing Additional Items to Consider The Report Support Documentation Analyzing Risk Report Results Matrix Findings Matrix Examples Delivering the Report Stating the Fact Recommendations Executive Summary Technical Report Table of Contents Summary of Weaknesses Identified Scope of Testing Summary of Recommendations Summary Observations Detailed Findings Strategic and Tactical Directives Statement of Responsibility Review Appendix 1 - The Basics Appendix 2 - Linux Fundamentals Appendix 3 - Access Controls Appendix 4 - Protocols Appendix 5 - Cryptography 10 Appendix 6 - Economics and Law


Prerequisites & Certificates

Pre-Requisites

A minimum of 12 months experience in networking technologies. Sound knowledge of TCP/IP. Knowledge of Microsoft Packages, Network+, Microsoft, Security+, Basic knowledge of Linux is essential.

Certificates offered




Cancellation Policy

ctc TrainCanada - We Never Cancel*:
We are unique in the corporate training field in that we do not cancel desktop applications courses due to low enrollment. When there are less than 3 students, ctc TrainCanada will personalize the class (students then receive more time with the instructor to address their individual needs allowing the student to complete the full course in less time) or connect the student remotely to a class at one of our other branches via TrainLive remote classroom instruction. *Microsoft Certified Courses and other technical courses require a minimum enrollment of three students. Business Skills courses require multiple students in order to run due to the interactive nature of the training. Selected Desktop Applications courses may require a minimum enrollment of two students to run. ctc TrainCanada® reserves the right to deliver Microsoft Certified and other technical courses via TrainLive remote classroom instruction in order to guarantee the course to run.

ctc TrainCanada Cancellation policy:
You may cancel or reschedule this registration in writing with no penalty with a minimum of 10 business days' notice prior to the first day of the course. Full payment is required if you cancel or reschedule this registration within 10 business days prior to the first day of the course. However, substitutions are welcome. If you do need to cancel or reschedule a publicly scheduled course within the 10 day non-cancellation period (not a client dedicated course), payment is to be made and a training voucher for a public course will be issued to you. This allows you to attend a future date for the same course at no charge (subject to availability).
No-shows will not be issued a training voucher.

Complimentary Service: We offer all our students coffee, tea, juice or pop, muffins or pastries in the morning and cookies baked in our own oven each afternoon.


Map & Reviews




Reviews

This course has not yet been rated by one of our members.

If you have taken a course through this vendor please log into your account and leave feedback for this vendor. You will be helping ensure our members get directed to the best training facilities.

Here are some reviews of the training vendor.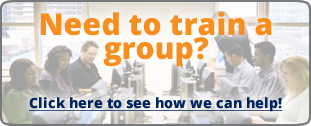 This course currently does not have any dates scheduled. Please call
1-877-313-8881

to enquire about future dates or scheduling a private, in house course for your team.
This page has been viewed 577 times.