Adobe Photoshop - Level 2 & 3 / Advanced
» back to Search Results
Photoshop lets you create professional looking photographs, touch-ups and special effects and filters for both print and the Internet.
Course Outline

Adobe Photoshop has been a dominant program in the photographic community for years. Photoshop lets you create professional looking photographs, touch-ups and special effects and filters for both print and the Internet. Items marked with an asterisk* are taught in version CS5 only.

Course Outline

WORKING WITH PATHS AND SHAPES


Use the Drawing Tools
Fill and Stroke Objects
Apply Styles to Shapes
Use Adobe Kuler
Align and Distribute Objects
Add a Shape to the Custom Shape Picker
Use the Pencil Tool
Use the Pen Tools
Use Path Selection and Direct Selection Tools
Use the Paths Panel
Use Shape Interactions and Pathfinder Options
Convert a Selection into a Path
Paste a Path Object as a Shape
Create and Modify a Layer Clipping Path
Create and Modify a Shape Layer
Mask Images with Paths
Rasterize and Flatten

WORK WITH MASKS AND CHANNELS


Use Clipping Mask to Vignette an Image
Use the Quick Mask Mode
Use the Mask Panel
Save and Edit a Selecton as an Alpha Channel
Create Channel Masks
Load Channel Mask as Selection
Apply Effects with Gradient Masks
Use Type as a Mask
Use Type Shapes as a Layer Mask
Use a Mask to Paint an Image on a White Background
Use Layer Masks to Blend Images and Seams

USE ADJUSTMENT LAYERS


Use the Adjustment Panel
Use a Hue and Saturation Adjustment Layer
Create Patterns and Apply to Adjustment Layer
Apply Blending to an Adjustment Layer
Use a Black and White Adjustment Layer
Apply Effects with a Gradient Mask
Use Gradient Tool to Adjust Layer Mask
Use a Threshold Adjustment Layer
Levels Vs Curves Adjustments

USE SMART OBJECTS, LAYERS AND FILTERS


Create Smart Objects
Create Smart Layers
Edit Smart Objects
Export Smart Objects
Use Smart Filters
Combine and Edit Smart Filters
Combine Masks with Smart Filters

COMBINE LAYERS AND FILTERS TO TOUCH-UP PHOTOGRAPHS


Retouch Separate Layers with the Healing Tools
Use the Smart Sharpen Filter to Whiten Teeth and Eyes
Use the Surface Blue Filter to Smooth Mottled Skin

ADVANCED EFFECTS


Warp an Image
Use Puppet Warp*
Edit Images with a Vanishing Point Perspective
Correct Image Distortion with the Distort Filter
Use Liquify
Return Unfrozen Areas to their Initial State
Extend Distortions from Frozen Areas into Unfrozen Areas
Create Custom Patterns
Use Tool Presets
Create and Delete Tool Presets
Create a Custom Brush
Use the Lens Correction Filter*
Use the Clone Source Panel to composite

ADVANCED LAYERING/LAYER COMPS


Apply Layers to a Vanishing Point Filter
Create Layer Comps
Auto-Align and Auto-Blend Layers
Align Linked Layers
Preview Text Effects Using Layer Comps

WEB IMAGES


Save for the Web
Optimize JPEG and GIFs
Create Slices
Create Slices based on Layers
Align, Distribute, Combine, Promote, Divide and Name Slices
Create an Animated GIF Using Tween Animation
Export to the Web
Set Web Export Options
Use Zoomify
Create Rollovers
Create Frame Animations

USING ACTIONS AND AUTOMATION


Use the Actions Panel
Create an Action
Manage Actions
Add Commands to an Action
Rerecord, Duplicate and Delete Actions
Save Action Sets
Use PhotoMerge
Create a 360 degree Panorama
Create a Picture Package
Batch Process Images
Create and Use Droplets
Use Scripts

USE PHOTOGRAPHY TOOLS


The Camera Raw Interface
Make Adjustments in Camera Raw
Use the Straighten and Retouch Tools
Set Camera Raw Options
Use Device Central
Preview different lighting conditions in Device Central
Test Photoshop Images in Device Central

ADOBE BRIDGE


Interface Overview
Sort, Filter and Search for Images
Change the View
Rate Photos
Work with Stacks
Work with Metadata
Batch Rename
Synchronize Colours
Merge to HDR
Create a Web Photo Gallery
Use the Image Processor
Use Mini-Bridge*

WORK WITH 3D


Create a 3D movie
Use 3D Edit, Composition and Animation Tools
Create a 3D Postcard
Use Repousse*
Use 3D Materials and Picker*
Use Depth of Field for 3D*
Use Shadow Catcher*
Use Image Based Lighting*

* CS5 only




Prerequisites & Certificates

Pre-Requisites

Prerequisites include an introductory course in Photoshop or equivalent working knowledge with the software.

Certificates offered

Certificate of completion




Cancellation Policy

ctc TrainCanada - We Never Cancel*:
We are unique in the corporate training field in that we do not cancel desktop applications courses due to low enrollment. When there are less than 3 students, ctc TrainCanada will personalize the class (students then receive more time with the instructor to address their individual needs allowing the student to complete the full course in less time) or connect the student remotely to a class at one of our other branches via TrainLive remote classroom instruction. *Microsoft Certified Courses and other technical courses require a minimum enrollment of three students. Business Skills courses require multiple students in order to run due to the interactive nature of the training. Selected Desktop Applications courses may require a minimum enrollment of two students to run. ctc TrainCanada® reserves the right to deliver Microsoft Certified and other technical courses via TrainLive remote classroom instruction in order to guarantee the course to run.

ctc TrainCanada Cancellation policy:
You may cancel or reschedule this registration in writing with no penalty with a minimum of 10 business days' notice prior to the first day of the course. Full payment is required if you cancel or reschedule this registration within 10 business days prior to the first day of the course. However, substitutions are welcome. If you do need to cancel or reschedule a publicly scheduled course within the 10 day non-cancellation period (not a client dedicated course), payment is to be made and a training voucher for a public course will be issued to you. This allows you to attend a future date for the same course at no charge (subject to availability).
No-shows will not be issued a training voucher.

Complimentary Service: We offer all our students coffee, tea, juice or pop, muffins or pastries in the morning and cookies baked in our own oven each afternoon.


Map & Reviews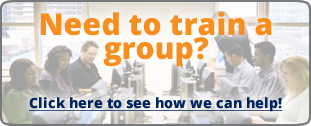 This course currently does not have any dates scheduled. Please call
1-877-313-8881

to enquire about future dates or scheduling a private, in house course for your team.
This page has been viewed 5544 times.