Adobe Illustrator - Level 2 & 3 / Advanced
» back to Search Results
You will create complex illustrations, trace graphics, add masks and effects, work with graphs, set advanced print, web and mobile device options, and add interactivity.
Course Outline

You will create complex illustrations, trace graphics, add masks and effects, work with graphs, set advanced print, web and mobile device options, and add interactivity. This course is intended for people working in design or marketing professions who want to maximize their Illustrator skills. Items marked with an asterisk (*) are taught for version CS5 only.

Course Outline
FILTERS


Use Bitmap Filters and the Filter Gallery
Use Color Filters
Rasterize Objects


CREATE COMPLEX ILLUSTRATIONS


Use the Pathfinder Panel
Create Compound Paths
Offset Paths
Erase Shapes
Use Perspective Drawing*
Use the Shape Builder Tool*
Use the Draw Inside Mode*
Select and Draw Behind*
Use Symbols
Use the Symbol Panel and Symbol Sprayer Tool
Modify Symbols Using Symbol Sprayer Tools Flyout
Create Custom Brushes
Create a Pattern Swatch
Create a Mesh
Modify Global Colours
Use the Appearance Panel


CREATE A VECTOR VERSION OF A RASTER GRAPHIC


Manually Trace
Live Trace
Adjust Tracing Results
Apply a Custom Preset
Convert a Tracing Object to Paths


COLOUR ARTWORK USING LIVE PAINT


Apply Colour Using Live Paint
Correct Gaps in Objects
Convert Objects to Live Paint Groups
Colour Objects in Groups
Apply Colour Using Live Colour


MASKS


Simplify Paths
Create, Edit and Remove Masks
Create and Use Clipping Masks
Modify Clipping Masks in Isolation Mode


EFFECTS


Use the Effect Gallery
Edit Effects
Use Resolution Independent Effects*
Create Blends and use the Blend Tool
Create 3D Effects
Share Graphic Styles


WORKING WITH GRAPHS


Create a Graph
Format a Graph


ACTIONS


Use the Actions Panel
Record , Edit and Play Actions
Save and Load Sets
Resetting and Replacing Sets
Create Variables
Create Datasets


CREATING IMAGES FOR THE WEB AND MOBILE DEVICES


Use Web Safe RGB
Create Slices
Add SVG Interactivity
Create Web Page Headings
Optimize Web Graphics
Work in Raster View
Create JavaScript Rollovers
Use Image Maps
Export Web Graphics
Preview an Illustration for Mobile Devices


SAVING FOR THE WEB


Images for the Web
Saving in GIF Format
Saving in JPEG Format
Saving in PNG FormatÃNLGNLG,


ADVANCED PRINTING


Adding Bleeds and Crop Marks
Tile Pages
Print Oversized Documents
Printing Oversized Documents
Print a Composite Proof
Preview and Print Separations
Using Separations Dialog Box
Scale Documents
Trap Shapes and Text
Use Adobe Kuler, Live Colour and Separations Panels
Create Multiple Artboards
Add and Reorder Artboards*


ADVANCED EXPORTING


Export Multiple Artboards
Edit PDF files
Export Bitmap Images
Export Methods
Export to PDF FilesÃNLGNLG, and Vector Images
Export Layers as an Animation
Exporting to a Flash Format
Use Scripts
Use Round Trip Editing for Adobe Flash Catalyst*


* Illustrator CS5 only




Prerequisites & Certificates

Pre-Requisites

Prerequisites include an introductory course in Illustrator or equivalent working knowledge of the software

Certificates offered

Certificate of Completion




Cancellation Policy

ctc TrainCanada - We Never Cancel*:
We are unique in the corporate training field in that we do not cancel desktop applications courses due to low enrollment. When there are less than 3 students, ctc TrainCanada will personalize the class (students then receive more time with the instructor to address their individual needs allowing the student to complete the full course in less time) or connect the student remotely to a class at one of our other branches via TrainLive remote classroom instruction. *Microsoft Certified Courses and other technical courses require a minimum enrollment of three students. Business Skills courses require multiple students in order to run due to the interactive nature of the training. Selected Desktop Applications courses may require a minimum enrollment of two students to run. ctc TrainCanada® reserves the right to deliver Microsoft Certified and other technical courses via TrainLive remote classroom instruction in order to guarantee the course to run.

ctc TrainCanada Cancellation policy:
You may cancel or reschedule this registration in writing with no penalty with a minimum of 10 business days' notice prior to the first day of the course. Full payment is required if you cancel or reschedule this registration within 10 business days prior to the first day of the course. However, substitutions are welcome. If you do need to cancel or reschedule a publicly scheduled course within the 10 day non-cancellation period (not a client dedicated course), payment is to be made and a training voucher for a public course will be issued to you. This allows you to attend a future date for the same course at no charge (subject to availability).
No-shows will not be issued a training voucher.

Complimentary Service: We offer all our students coffee, tea, juice or pop, muffins or pastries in the morning and cookies baked in our own oven each afternoon.


Map & Reviews




Reviews

We have not received any reviews specific to this course as yet, however here are some reviews of the training vendor.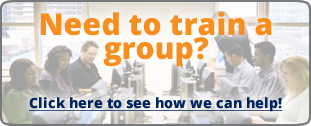 This course currently does not have any dates scheduled. Please call
1-877-313-8881

to enquire about future dates or scheduling a private, in house course for your team.
This page has been viewed 4816 times.