Adobe Acrobat Professional
» back to Search Results
This Course Will Teach You Everything You Need To Know About Acrobat From The Very Basics Right Through To Using Digital Security Certificates To Secure Your Documents.
Course Outline




This Course Will Teach You Everything You Need To Know About Acrobat From The Very Basics Right Through To Using Digital Security Certificates To Secure Your Documents. Students wishing to learn to create interactive forms should consider Adobe LiveCycle designer for Acrobat version later than 6.0

Course Outline Lesson 1.1 Opening Adobe Acrobat 7


A History Of Pdf
What Is Adobe Acrobat 7?
What's New In Adobe Acrobat 7?
Launching Adobe Acrobat
Interface Overview
Closing Adobe Acrobat


Lesson 1.2 Understanding The Interface


Interface Overview
Menu Overview
Toolbar Overview
Showing And Hiding Toolbars


Lesson 1.3 Creating A Pdf File


Creating A New Pdf File
Selecting Text
Typing Text
Deleting Text


Lesson 1.4 Working With Your Pdf File


Saving Files
Opening Files
Switching Between Open Files
Closing Documents


Lesson 1.5 Getting Help In Adobe Acrobat


Opening Help
Using The Help Screen
Searching For Help
Using The Table Of Contents And Index
Getting Help In A Dialogue Box


Lesson 2.1 Ways To Create A Pdf File


Creating A File From An Existing Document
Creating A File From Several Existing Documents
Creating A File From A Web Page
Creating A File With The Print Command
Creating A File From Scratch


Lesson 2.2 Navigating In Your Pdf File


Using The Navigation Pane
Navigating Using The Mouse
Navigating Using The Keyboard
Using The Scroll Bars And The Status Bar
Using The Find Dialogue
Using The Search Pane


Lesson 2.3 Using Acrobats Tools


Using The Hand Tool
Using The Select Tool
Using The Snapshot Tool
Using Ocr
Extracting A Single Page


Lesson 2.4 Moving Text


Cutting, Copying, And Pasting Text
Using Undo And Redo
Finding Text
Replacing Text


Lesson 2.5 Window Tools


Using The Zoom Tool
Using The Loupe Tool
Using The Fit Commands
Rotating The Page
Using The Window Menu


Lesson 3.1 Working With Pdf Pages


Inserting Pages
Deleting Pages
Moving Pages
Replacing Pages
Rotating Pages


Lesson 3.2 Polishing Your File


Running A Spell Check
Adding Headers And Footers
Adding Page Numbers
Formatting A Story As An Article


Lesson 3.3 Linking Files


Using Bookmarks
Creating Links
Removing Links
Removing All Links


Lesson 4.1 Using Collections


Using The Organizer
Creating A Collection
Adding A File To A Collection
Removing A File From A Collection
Using Folders And Collections


Lesson 4.2 Sending A File For Review


Using The Tracker
Sending A Pdf File For E-Mail Review
Using Browser-Based Review


Lesson 4.3 Reviewing The File


Adding Notes
Adding Stamps
Adding Highlights
Adding Drawing Markup


Lesson 4.4 Viewing Comments


Exporting Comments
Summarizing Comments
Viewing The Comments List


Lesson 4.5 Protecting Your File


Digitally Signing A Pdf File
Setting Security Policies
Protecting Multiple Documents




Prerequisites & Certificates

Pre-Requisites

Certificates offered

Certification of Completion




Cancellation Policy

ctc TrainCanada - We Never Cancel*:
We are unique in the corporate training field in that we do not cancel desktop applications courses due to low enrollment. When there are less than 3 students, ctc TrainCanada will personalize the class (students then receive more time with the instructor to address their individual needs allowing the student to complete the full course in less time) or connect the student remotely to a class at one of our other branches via TrainLive remote classroom instruction. *Microsoft Certified Courses and other technical courses require a minimum enrollment of three students. Business Skills courses require multiple students in order to run due to the interactive nature of the training. Selected Desktop Applications courses may require a minimum enrollment of two students to run. ctc TrainCanada® reserves the right to deliver Microsoft Certified and other technical courses via TrainLive remote classroom instruction in order to guarantee the course to run.

ctc TrainCanada Cancellation policy:
You may cancel or reschedule this registration in writing with no penalty with a minimum of 10 business days' notice prior to the first day of the course. Full payment is required if you cancel or reschedule this registration within 10 business days prior to the first day of the course. However, substitutions are welcome. If you do need to cancel or reschedule a publicly scheduled course within the 10 day non-cancellation period (not a client dedicated course), payment is to be made and a training voucher for a public course will be issued to you. This allows you to attend a future date for the same course at no charge (subject to availability).
No-shows will not be issued a training voucher.

Complimentary Service: We offer all our students coffee, tea, juice or pop, muffins or pastries in the morning and cookies baked in our own oven each afternoon.


Map & Reviews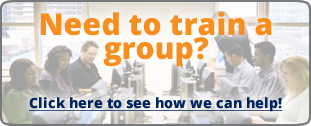 This course currently does not have any dates scheduled. Please call
1-877-313-8881

to enquire about future dates or scheduling a private, in house course for your team.
This page has been viewed 677 times.