» back to Search Results
In this course, you will create complex documents in Microsoft Word 2007 by adding components such as, customized lists, tables, charts, and graphics. You will also create personalized Microsoft Word 2007 efficiency tools.
Course Start Date:

Nov. 29

Location: Toronto

(Map)

Time:

9:00 am - 4:30 pm

(Note on end times)

Please Note: End Times are approximate and depend
on the number or students and pace of the class.
It is important to allow for the class to run a little bit longer,
or finish a little sooner, than expected.

Duration:

1 day
Delivery Method(s):Instructor Assisted (Mentored)

Mentored training is a revolutionary training method
that provides you with the quality training that
you have come to expect, and combines it with
flexible learning and a self paced environment.
For more information click here.

Discount Seats Available:

2

Category:

Microsoft Word Training Courses
Course Outline

In the first course in this series, Microsoft Word 2007: Level 1, you gained all the basic skills that you need to create a wide range of standardized business documents. If you use Microsoft Word 2007 on a regular basis, then once you have mastered the basic skills, the next step is to improve your proficiency. To do so, you can customize and automate the way Microsoft Word 2007 works for you. You can also improve the quality of your work by enhancing your documents with customized Microsoft Word 2007 elements. In this course, you will create complex documents in Microsoft Word 2007 by adding components such as, customized lists, tables, charts, and graphics. You will also create personalized Microsoft Word 2007 efficiency tools.

Introducing the Acend Modern Classroom

Classes Guaranteed to Run

An assessment process takes place at the start of class that results in the creation of a personalized learning plan for each participant . We integrate each individual's specific project objectives with their skill gaps to create the learning prescription. The instructor assumes the role of consultant and guides each participant through the process of filling the critical gaps identified in the learning plan.

Course Outline

Lesson 1: Managing Lists

Topic 1A: Sort a List
Topic 1B: Renumber a List
Topic 1C: Customize Lists

Lesson 2: Customizing Tables and Charts

Topic 2A: Sort Table Data
Topic 2B: Control Cell Layout
Topic 2C: Perform Calculations in a Table
Topic 2D: Create Charts

Lesson 3: Customizing Formatting with Styles and Themes

Topic 3A: Create or Modify a Text Style
Topic 3B: Create a Custom List or Table Style
Topic 3C: Apply Default and Customized Document Themes

Lesson 4: Modifying Pictures

Topic 4A: Resize a Picture
Topic 4B: Adjust Picture Appearance Settings
Topic 4C: Wrap Text Around a Picture

Lesson 5: Creating Customized Graphic Elements

Topic 5A: Create Text Boxes and Pull Quotes
Topic 5B: Draw Shapes
Topic 5C: Add WordArt and Other Special Effects to Text
Topic 5D: Create Complex Illustrations with SmartArt

Lesson 6: Inserting Content Using Quick Parts

Topic 6A: Insert Building Blocks
Topic 6B: Create Building Blocks
Topic 6C: Modify Building Blocks
Topic 6D: Insert Fields Using Quick Parts

Lesson 7: Controlling Text Flow

Topic 7A: Control Paragraph Flow
Topic 7B: Insert Section Breaks
Topic 7C: Insert Columns
Topic 7D: Link Text Boxes to Control Text Flow

Lesson 8: Using Templates to Automate Document Creation

Topic 8A: Create a Document Based on a Template
Topic 8B: Create a Template

Lesson 9: Automating Mail Merges

Topic 9A: Perform a Mail Merge
Topic 9B: Mail Merge Envelopes and Labels
Topic 9C: Use Word to Create a Data Source

Lesson 10: Using Macros to Automate Tasks

Topic 10A: Perform a Task Automatically Using a Macro
Topic 10B: Create a Macro



Prerequisites & Certificates

Pre-Requisites

Certificates offered

Certificate of Completion




Cancellation Policy

Cancellations or postponements received more than ten business days prior to the first day of the course will be fully refunded less a $75 processing fee. The cost of the course is payable, in full, for any cancellations or postponements received within ten business days, or less, prior to the first day of the course.


Map & Reviews

Toronto Training Center
69 Yonge St
Suite 1200
Toronto, Ontario
Canada M5H 1A1




Reviews

We have not received any reviews specific to this course as yet, however here are some reviews of the training vendor.
Registration is fast, and will take approximately 3 minutes. There is no membership fee.
» You are also welcome to Make an Offer

Not enough budget for this course? Maybe you just love to make deals!
In either case, our Make an Offer feature gives you the opportunity to name
your own price. Try it out, you might get lucky, just keep in mind it can
take up to 1 full business day to get a response!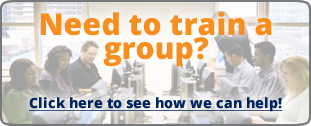 This course is also scheduled on the following dates:
Not interested in this Course?
Tell us why:
This page has been viewed 11 times.